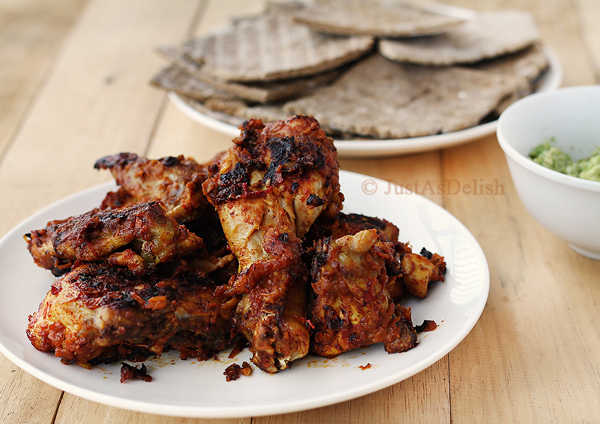 Again my eyes tinkle when I saw this Ayam Golek Gaya Pahang (Pahang Style Spicy Grilled Chicken) at Phong Hong's blog. It reminded me of Kay Pachok (Skewered Chicken) recipe for Terengganu month. Yes, this month we are cooking Pahang cuisine for Malaysian Food Fest.
Pahang Darul Makmur is the largest state in Peninsular Malaysia. With more than 80% population are Malays, hence the  popular Pahang malay term "Moh Makan" invite among friends and colleagues which means "mari makan" or "let's eat". It's not surprising to hear this term in Pahang, as in the whole of Malaysia, people enjoy nothing more than having great food.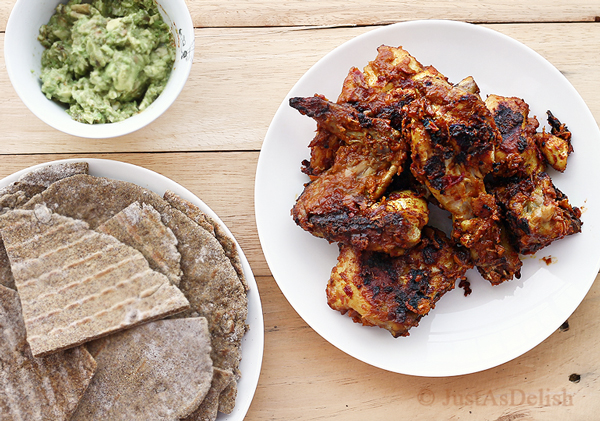 There's different variation of Ayam Golek recipe in each state. The word "Golek" means to roll or rotate.  I guess it refers to the way the chicken pieces are rotated for grilling. This dish is not difficult to prepare, just need to spend some time to peel the shallots and waiting for the chicken to cook in the oven or the grill pan. I cook the chicken with my newly bought grill pan and serve them with flat bread.
Verdict – I like the char bits and it was indeed finger licking good (food eaten by hand always taste better.. ). As predicted, the taste is almost similar to Kay Pachok. Using the grill pan gives a crispier outer layer and moist meat, compared to oven baked Kay Pachok which was all moist.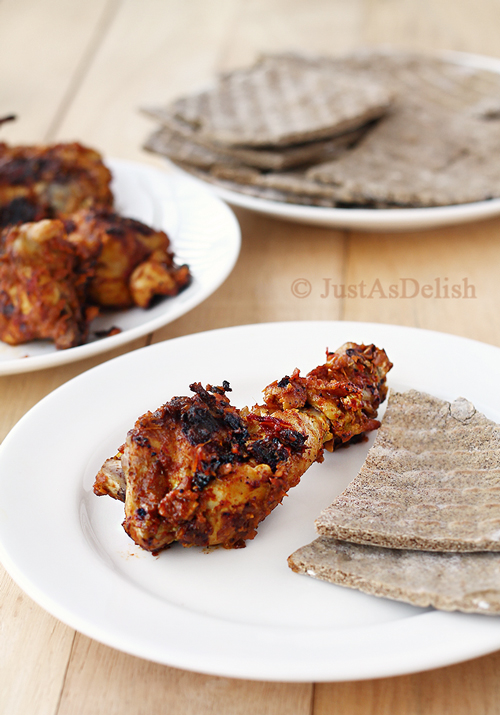 I am submitting this post to Malaysian Food Fest, Pahang Month hosted by WendyinKK of Table for 2…..or more.

Ayam Golek Gaya Pahang (Pahang Style Spicy Grilled Chicken)
Author:
Rasa Malaysia by Betty Saw, as seen on Phong Hong Bakes
Ingredients
1 whole Chicken, about 1.5kg - cut into 8 large pieces
2 teaspoon Salt
2.5cm Fresh Turmeric - pounded (or 2 teaspoon Turmeric powder)
1.5 tablespoon Meat Curry Powder
Blended Chili Paste
2 pieces Asam Keping (Dried Tamarind)
500ml thin Coconut Milk (dilute 250ml coconut milk with 250ml water)
Blended Chili Paste
20 Dried Chilles - soaked
300g Shallots - slice thickly
2 stalks Lemongrass - thinly sliced only the white part
1.25cm Ginger - slice thickly
1 teaspoon Salt
Instructions
Marinate chicken with salt and tumeric for 15 minutes.
Mix blended ingredients, curry powder, sugar, salt, asam and coconut milk in a pot and simmer over low heat until thick.
Grill chicken for 15 to 20 minutes until both sides are brown and cooked (You can also grill in the oven at 180C for 15 minutes)
Spoon the gravy onto chicken and continue to grill for 5 minutes until fragrant and oil rises to the top (After grilling the chicken for 15 minutes, keep basting the chicken generously every 10 minutes for another 30 minutes until the chicken is cooked and gravy is thick and slightly browned).
Serve with rice or flat bread.