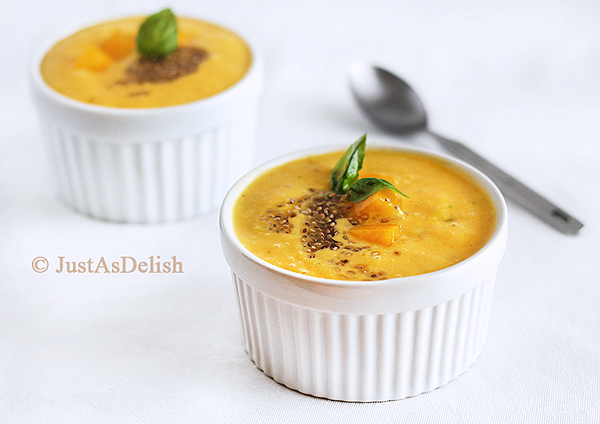 As I was about to make the Mango Sago Dessert, a light bulb went off.. one of my AHA moments. Don't you love AHA moments? There are times when my creative juice is way low or brain just freezes over. AHA moments with inspiration like this are always welcomed.
Mango sago dessert is a popular refreshing dessert you will find in Hong Kong or Cantonese restaurants. I love this dessert maybe because mango is one of my favourite fruits. This is such a refreshing and easy dessert to have on a hot and humid days like now in KL. Instead of cooking sago pearls, I substitute with chia seeds.
What is all this hype about chia (pronounced chee-ah) seed? You might have read about this super food somewhere online. When I first saw a packet of 200g of chia seed sold at RM25, it's enough to keep me away from it. Who wouldn't be when the price double that of the super flaxseed?
According to various online articles, Aztecs and Mayans consumed chia seeds regularly around 3500BC. At that time, chia seeds were considered to be almost magical because of their ability to increase stamina and energy over long periods of time.. Modern scientists and nutritionists start to recognize the nutritional benefits of chia and thus chia gained popularity as a "super" food. Chia is rich in fiber, omega 3 and antioxidants with minimum calories.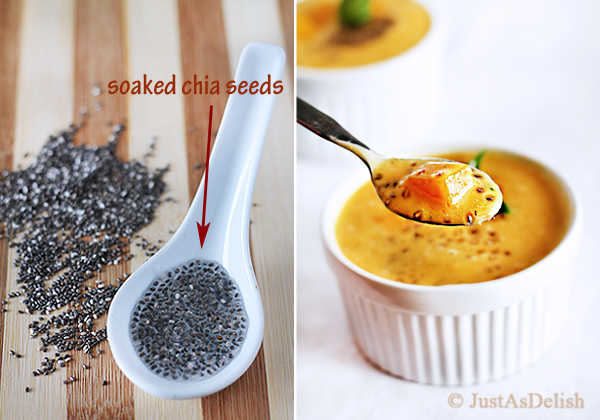 When chia seeds are combined with liquid (like water, milk), they form a gel due to the soluble fiber that they contain. Chia seeds are available at organic/health food stores and online. It is not advised to consume chia daily, I found it the hard way when I ended in the toilet 3-4 times a day. And now I take ½ tablespoon of chia on alternate days (in granola, smoothies, juice) and a 200g packet lasts me about 3-4 months.
Have you tried chia seed and how do you consume chia?
More about chia seed:
Chia – The Ancient Super Secret (doctoroz.com)
Blueberry Chia Pudding (choosingraw.com)
Chia Citrus Cooler (an alternative to bubbletea) (glueandglitter.com)
On a side note, my chinese name also ends with CHIA.. Am I also considered super?

Mango Chia Dessert
Refreshing chilled Mango Chia Dessert for hot and humid days. Adding chia seed gives you an extra boost of fibre and omega 3
Author:
inspired by Ping's Pickings
Ingredients
2 medium-sized ripe Mangoes
200ml Coconut Milk
Honey to sweeten (or any preferred sweetener)
2-3 Sweet Basil Leaves (optional)
2 tablespoon Chia Seed
5 tablespoon Water
Instructions
Add chia seed with water in a small bowl, leave it to soak & bloom for about 10minutes.
Meanwhile, peel and dice mangoes. Set aside 2 tablespoon of diced mangoes for garnishing.
Place mango, coconut milk, honey and sweet basil leaves (if using) in a blender, and blend till smooth.
Stir in soaked chia seeds and refrigerate. Serve chilled and garnish with cubed mangoes.
Notes
Some mangoes are already naturally sweet, add sweetener if needed