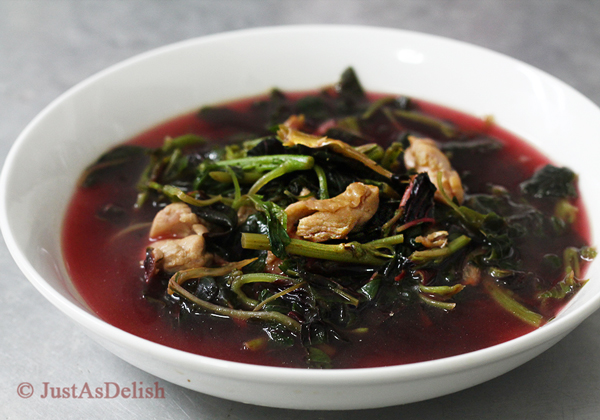 At 92 years old, Kong Kong (my paternal grandfather) is considered fit and healthy for someone his age. "It's Pharmaton that keeps me so healthy" he will always remind us grandkids and gifting us with bottles of Pharmaton (multivitamin health supplement) during every Chinese New Year. Mama said we should contact the company as he will make the best Pharmaton ambassador 🙂 Sometimes we grandkids or even my uncles & aunts would consider him naggy.. kept repeating the same story or question, or just call to ask if we have eaten. Well The things we took for granted..
But ever since AhMa (my paternal grandmother) passed away one year ago, Kong Kong changed but coping ok. Who wouldn't be, if your partner for 70 years has passed on. They have gone through some hard times together when they flea China.. I've written the story is here. His health deteriorate and it has affected his eyesight and hearing. I simply cannot imagine what's it like living in the world without seeing and hearing.
Despite all the family feuds and disagreements, all that doesn't matter anymore. Being so far away, the least I could do for Kong Kong is to  him to KL to get a new hearing aid fixed. While he stayed a few days with me while waiting for the new equipment to be ready, I feel priviledged to have spent this short time with him. It's hard to believe or comprehend how I can patiently serve & take care of him yet I am impatient with mama. I prepared the food that he can eat, make sure everything is ok for him before getting on with work. Even though he's a grown man, taking care of somebody else is a new experience for me. Even though it's a short few days, I have a new sense of respect for mothers and caregivers who give unconditionally to their loved ones.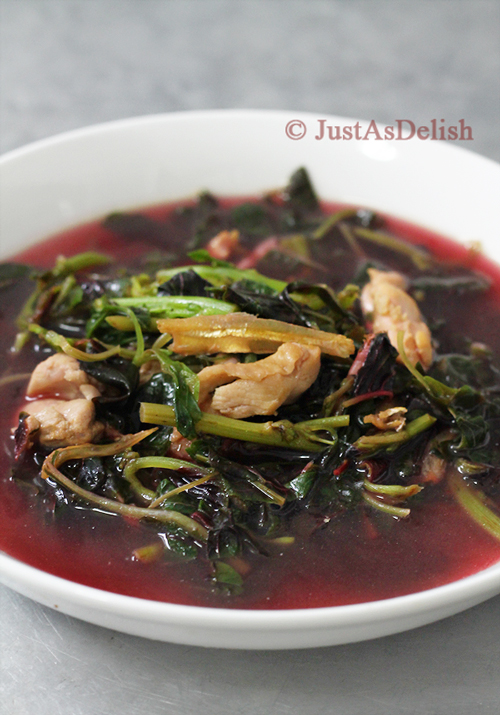 As Kong Kong no longer have teeth, all the dishes has to be cooked really soft or mushy. Chinese Spinach Soup is one dishes he can easily eat, he is a soup lover and the chinese spinach is cooked until very tender to swallow easily. This soup is quite common in Chinese food stalls or restaurants. I love this dish and I love all the different versions of it – those with clear broth, with or without wolfberries & century egg, and also those with thicker broth that usually comes with salted eggs as well. For this recipe, I used the red chinese spinach with dried anchovies.
Other Chinese Spinach Recipes:
Palak Paneer (Spinach in Cottage Cheese)
Chinese Spinach Porridge

Chinese Spinach Soup (上汤菠菜)
Ingredients
250g Chinese Spinach - ends trimmed, separate stems and leaves
1 tablespoon Dry Anchovies - rinsed and pat dry
3 tablespoon Vegetable Oil
2 cloves Garlic - peeled & sliced thinly
10g of Chicken Fillet - sliced thinly (optional)
200ml Water
Salt to taste
Instructions
Heat oil, lightly fry dry anchovies till crispy (about 3 minutes) and set aside.
Using remaining oil in wok, add garlic slices and chicken fillet, stir fry till garlic is slightly browned. Add spinach stems and stir fry about a minute or so. Then add spinach leaves and stir fry till all the leaves are wilted.
Add water, bring to a quick boil and simmer for about a minute.
Serve immediately and top with the fried dry anchovies
Notes
Recipe variations / additional ingredients: - ½ to 1 century egg, yolk portion cut to smaller pieces - If you do not like century eggs, you can substitute with wolfberries instead. Soak 1 tsp of wolfberries in water till they are puffy. - You can add all types of ingredients to jazz up the dish - dried shrimp, dried scallops or mushrooms.