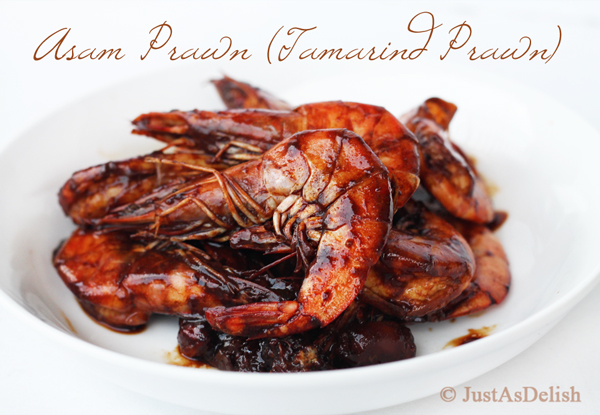 Hey wonderful peeps!! It's been a while since the last post. The lack of updates were due to yo-yo health problems since Christmas.. There's a lot about down time that I'm yet to learn and grasp. Like how not to loath spending more time in bed – instead of enjoying the much-needed rest. Like, how I need to learn to "let-go" and allow others to pamper me by over-indulging. But it's all under control now, so let's indulge with this deliciously simple Asam Prawns.
Jiu Hu Har (Jicama & Cuttle Fish Stir fry), Asam Prawns (Tamarind Prawn), Gerang Assam (Spicy Sour Fish Curry) – these are some of the dishes my mom cook during my growing up years. My parents have always preferred home cooked food, and we hardly eat out.. which limits my knowledge of other type of food when I was living in Penang. All this while I just thought these dishes are Penang Hokkien/Teochew dishes.. It was only after I moved out that I realised that they are Peranakan Nyonya recipes.
While most Nyonya dishes require many ingredients and tedious preparations, Asam Prawns is surprisingly easy to prepare with only 4 ingredients: asam jawa (tamarind paste), sugar, and salt. Despite the easy recipe, asam prawns are absolutely succulent – the bold and tart tamarind flavours accentuating the sweet delicate flavour of the prawns.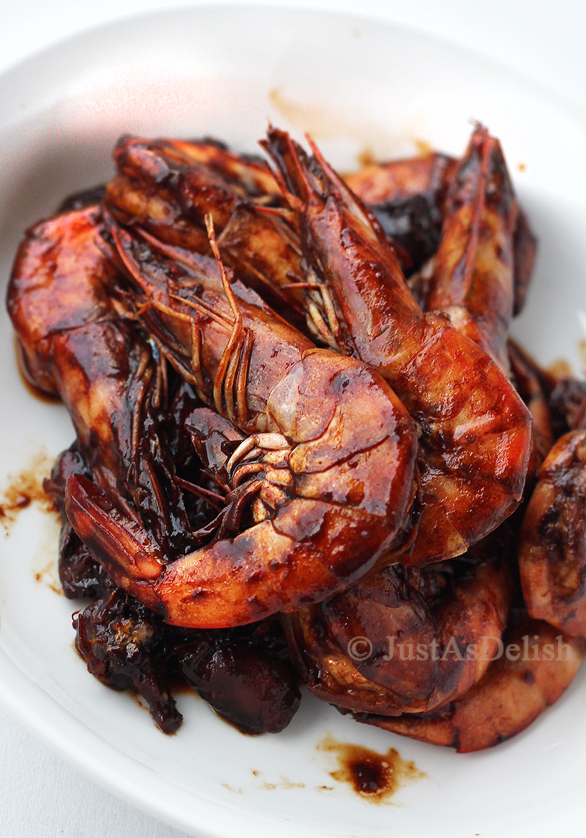 Like me, some of you might hate peeling prawns on dinner table, but it is important to not cook this dish with de-shelled prawns. The juice is in the shells..  The seasoning will naturally sip into the prawn and using your mouth to peel the prawn also ensure that you get to suck on the caramelized bits off it. Trust me, you will suck the tamarind sauce out of the shell clean.

Asam Prawn
Succulent Nyonya Asam Prawns - the bold and tart tamarind flavours accentuating the sweet delicate flavour of the prawns
Cuisine:
Malaysian Nyonya
Ingredients
600g Big Prawns - cut away the tentacles and devein
2 tablespoon Asam Jawa (Tamarind Paste)
2 tablespoon Dark Soya Sauce
1 tablespoon Sugar
1 tablespoon Cooking Oil
Instructions
Mix dark soya sauce, sugar, asam and prawns in a mixing bowl for 5 minutes.
Heat up cooking oil in the work to medium/high heat
Add the seasoned prawns and stir fry till the shells starts to show some caramelization. This is a dry sticky dish.
Serve immediately.