I normally avoid deep frying recipes – not favouring the amount of oil used and the CLEAN UP afterwards. But I just can't resist to make these when I found this easy Spicy Fish Cakes recipe by Rohani Jelani. What caught my eye is the twist to the usual Thai Fish Cake recipe and it can be made in a jiffy with a food processor. Also this method is shallow fry instead of the usual deep frying for fish cake recipes.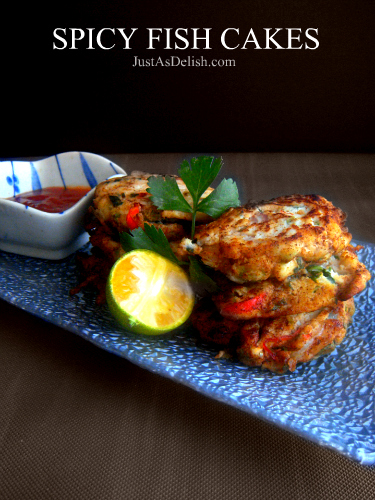 I tested out this recipe to prepare for the Chinese New Year family dinner middle of this month. I got skeptical when the batter turn out to be a bit watery and I could not form proper patties (I would reduce the amount of yogurt next time). With a squeeze of lime juice and a dip of sweet Thai chili sauce, these juicy fish cakes are simply delicious and rather addictive. These fish cakes can be made ahead of time and quickly reheated (in a pan or microwave oven) just before eating. I'll definitely add these Spicy Fish Cakes to my family Chinese New Year dinner.
This recipe is the twist to the usual Thai Fish Cake recipe and it can be made in a jiffy with a food processor
Ingredients
100ml Plain Yogurt
300g Mackerel Fillet (Tenggiri) - de-bone and cut into 2cm chunks.
1 Egg
3 tablespoon Thick Coconut Milk
1 level teaspoon Salt
1 level teaspoon Pepper
1 level teaspoon Sugar
1 tablespoon Fish Sauce
1 tablespoon Lime Juice
1 small Onion (70g) - quartered and sliced
1 Red Chilli - halved lengthwise and thinly sliced
3 heaped tablespoon roughly-chopped coriander (leaves and stalks)
2 Kaffir Lime Leaves - finely shredded
2 Long Beans - thinly sliced
4 - 5 tablespoon Vegetable Oil
Instructions
Place the first 8 ingredients into the food processor and whiz until mixture forms a thick paste.
Transfer mixture into a bowl and stir in the onion, chilli, coriander, kaffir lime leaves and long beans. Mix well.
Using two spoons, form mixture into 3cm wide patties.
Heat oil in a frying pan over medium heat. Dip a wooden chopstick into the oil. The oil is ready when bubbles begin to appear around the tip of the handle.
Cook fish cakes for two to three minutes per side or until golden brown. Remove with a slotted spoon. Serve with a squeeze of lime juice and Thai chilli sauce.


Related articles