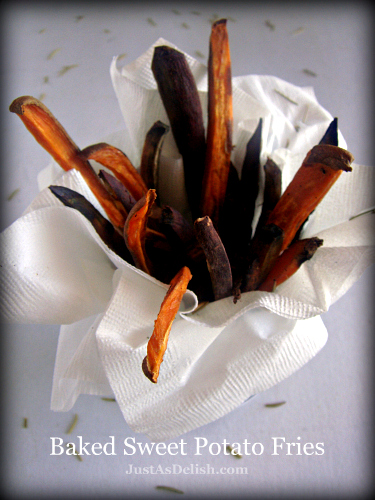 If you're craving a high-fat and salty treat like deep-fried French fries, try this healthier baked sweet potato fries recipe. Baked sweet potato fries are much lower in fat than a deep-fried version and are very quick to prepare. These easy Low-Fat Baked Sweet Potato Fries got me so addicted to sweet potatoes and it's a much simpler version of my other favourite – Roasted Sweet Potato Stacks. Kids will love these as well. Even my man who does not like snacking could not stop munching these fries that I bake for myself.
Mind you, these are not burnt fries, they are purple and orange sweet potatoes with skin (I like the skin). The purple sweet potatoes look so miserably 'burnt' on the photo. I know the photo did not do these addictive baked fries justice, you just have to trust me! Ground paprika and ginger powder goes well with the sweet potato or you can add any herbs or spices that you like. I like mine with rosemary & thyme with a pinch of salt.
Easy Low Fat Baked Sweet Potato Fries Recipe. Healthier version of deep-fried fries. Addictive Snack. Best with ground paprika and ginger powder, or any spice and herb of your choice
Recipe type:
Healthy Snack
Ingredients
350g purple and orange sweet potato
¼ tsp ginger powder
¼ tsp ground paprika
¼ tsp sea salt
1 Tbsp vegetable oil
Instructions
Pre-heat the oven at 220C/428F and place a baking tray on the middle rack of oven.
Rinse the sweet potato and dries them completely before cutting them. If you prefer without the skin, peel the skin and you can skip the washing.
Cut into strips or wedges, about 1cm thick. Transfer into a large bowl and mix well with the other ingredients.
Remove the preheated tray from the oven and arrange the sweet potato onto it. Baking in a preheated tray makes the sweet potato crisper.
Bake for about 30 minutes. After the first 15 minutes, take the tray out and turn the sweet potato to the other side. Continue to bake until cooked through and evenly browned.

Notes
* Try to cut the wedges evenly and lay them on single layer (do not overlap) on the tray so they all cook at about the same rate. * They baked well in toaster oven too.
Other Sweet Potato Recipes