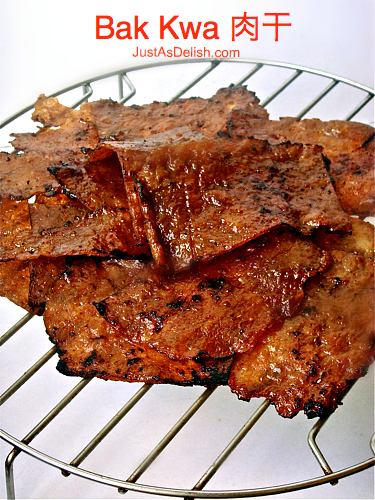 My oh my, look at these juicy Bak Kwa!
Over the weekend, I spend my time spring cleaning the house, bake peanut cookies and making Bak Kwa (Barbecued Dried  Meat). Chinese New Year (CNY) is just a week away! Before CNY, it is a tradition to spring clean our house to sweep away the old and any 'ill luck' to welcome the incoming good luck of the new year. Chinese New Year also known as Lunar New Year, celebrates the start of spring in China, which is also the 1st day of a new Lunar year.
Bak Kwa, also known as rougan 肉干,  is a Chinese salty-sweet dried meat product similar to jerky, made in the form of flat thin sheets. It is often made with mince pork or chicken in Malaysia, beef and mutton are also common in China. In Malaysia and Singapore, Bak Kwa has become a highly in demand gift  during Chinese New Year (CNY). When you start to see long queue outside popular Bak Kwa shops for this RM90-RM100/kg (USD30/kg) Bak Kwa, you know Chinese New Year is around the corner. It's even madness in Singapore where the queue can be more than 1 hour! While demand is particularly high during the festive seasons, Bak Kwa has also become a popular snack throughout the year.
Because of the high price of Bak Kwa, I always thought the process must be too complicated. My friend Prisca told me she used to make 20kg of bak kwa as CNY gifts with the process of drying the mince meat on the roof top under the hot sun (long and tedious traditional method). "You've got to be kidding me! On the roof top?" "Yes on the roof top for the whole day and you have fresh bak kwa." Phew!
It was until I read about a MUCH simpler process on some food blogs that made me attempt to make my own for CNY. Best of all, I can control the amount of seasoning and sugar (the store-bought ones are usually too sweet). With a big oven and grill, you can have bak kwa in practically no time at all. Roll out the mince into sheets with a rolling-pin, then bake, cut and grill. And there you have it – juicy grilled Bak Kwa to savour your heart (or tummy!) out.
I attempted 2 different recipes – the first was using lean mince beef (trying to be healthy) with orange zest (recipe from MyKitchenSnippets). I used a spoon to flatten, baked until totally dry and skip the grilling. As you can see from the photo, the beef version on the left looks thicker and dryer. The orangy flavour blends quite well with the Bak Kwa.
Citrus ad Candy's OHMYGOODNESS Bak Kwa photos had me screaming in my heart "I have to try a 2nd batch!". With fattier mince pork and combination of the seasoning from the 2 recipes, out came my thinking hat. Not having flat baking tray, I layer foil over wooden cake boards, roll into sheets with a rolling-pin, bake and grill them over my stove! Kitchen is my new playground and I will do whatever it takes to churn out the food I enjoy! Just see the difference for yourself.. thinner, juicier and more oily!
With Bak Kwa being such a craze in Malaysia, this recipe definitely has to be submitted to Muhibbah Malaysian Monday!. Check out this month's Muhibbah Malaysian Monday! for more Malaysian Chinese New Year goodies.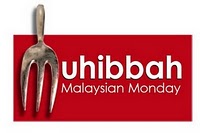 I'm also submitting this post to Your Best Recipe, a monthly roundup of your best recipes hosted by Spicie Foodie. This Bak Kwa recipe is definitely my best recipe for January, go check the roundup of all the other recipes here.
Homemade Bak Kwa
Bak Kwa (rougan 肉干) is a Chinese salty-sweet dried meat made in the form of flat thin sheets. Popular snack and a must have for Chinese New Year.
Author:
Adapted from Citrus and Candy & MyKitchenSnippets
Serves:
about 900g Bak Kwa
Instructions
Thorughly combine all the ingredients in a large mixing bowl or container. Add red food colouring, if you prefer dark red shade. Cover and marinate overnight in the fridge.
Preheat oven to 100°C. Wash and dry flat baking trays. If you don't have any, simply turn over your baking trays to use the flat bottom. I use wooden cake boards and wrap with aluminium foil.
Place mince onto the tray then spread and press down to form a thin sheet over the surface of the tray to a thickness of 3-5mm. You can either use wet fingers/spoon to manually press it or you could lay a sheet of plastic or baking paper over it and roll it thin with a rolling pin. Try to keep the edges as straight as you can so you can cut into neat squares.

Place the trays in the oven for about 20 minutes or until the meat has dried out - the surface is dry to the touch, most of the liquid has evaporated and is holding together without breaking (It's fine to be a little moist underneath the sheet). Continue pressing and drying out the remainder of pork with the rest of your trays.
Cut the dried meat sheet into squares with a kitchen scissors.
Heat up your charcoal bbq, grill or broiler and grill each square until darkened and caramelised. It's totally ok to have the tiniest hint of charring but keep your eyes on them because they burn quickly and easily.

These Bak Kwa does not have preservatives, so it's better to keep them in an airtight container in the fridge with sheets of greaseproof baking paper between each slice of Bak Kwa. When needed, reheat Bak Kwa in grill or microwave.
Notes
* Oven toaster can be used in place of the grill.
* You can also store and freeze the bak kwa after you have dried it out in the oven. Once cooled, place sheets of greaseproof baking paper between each slice of pork. Wrap very well with clingwrap and place in a container to freeze. When ready to use, defrost in refrigerator and grill as normal.
Check out my other favourite CNY goodies: