The Chicken Vindaloo with Flat Bread photo on the calendar in my kitchen wall keeps calling out to me.. I hesitated a few times to try the recipe because the flat bread recipe looks a bit strange to me. Finally I succumbed to my senses, and gave both recipes benefit of the doubt? I told myself if the recipe is good enough to appear on the calendar of a worldwide brand, it should be credible.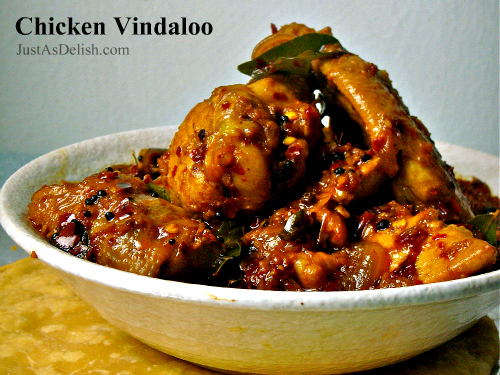 True to my earlier judgement, the flat bread turn out to be a disappointment. The dough turns out too soft and moist. The bread tasted more like a hard biscuit more than a bread. Lesson learnt! My search for a good flat bread recipe continues.. and of course from food bloggers!
Nevertheless, the Chicken Vindaloo is so delicious that I must feature it here. I think Vindaloo is one of the most popular Indian dishes in the world, you can find Vindaloo in any Indian restaurants. You might notice that the Chicken Vindaloos served in restaurants have potatoes in them. After some research, I found that potatoes are not really an essential ingredient. A traditional Vindaloo just has meat, garlic, wine or vinegar and lots of chilies in it.
Even though I'm used to fiery hot dishes, this dish is still too fiery hot for my taste bud. Vindaloo masala is a chili based preparation and that is where it gets all its flavors. You can tweak the amount of spices and heat according to your taste. The spices all go so well together. I know if I have a good flatbread, I will have an awesome finger licking meal.

Chicken Vindaloo, one of the most popular Indian dishes, with spices, vinegar and lots of chilies
Ingredients
800g Chicken Thigh (cut into small pieces)
3 sprigs of Curry Leaves
10 Dried Chili (reduced half if prefer mild hot)
10 Shallots
6 Garlic cloves
1 inch Ginger
1 inch Tumeric (or replace with 1 teaspoon of turmeric powder)
1 big onion – cut half and sliced thinly
1 teaspoon Coriander Seeds
1 teaspoon Cumin
10ml water
2 tablespoon Rice Vinegar (add more if you like)
Salt to taste
3 tablespoon vegetable oil
Instructions
Grind dried chili, ginger, turmeric, shallots and garlic in a food processor into paste.
Heat oil in a deep pot on medium heat. Add coriander seeds and cumin and stir until coriander seeds and cumin starts to crackle.
Add in onion slices and cook until onion is light golden brown.
Add in blended chili and stir fry for 1-2 minutes.
Add in chicken pieces and curry leaves, stir to cook chicken pieces for 1-2 minutes. Add water and cover to simmer on low heat for about 8-10 minutes until chicken is done. Add a little more water if the sauce dries up.
Add vinegar and salt to taste.
Serve Chicken Vindaloo with flat bread (naan or chapatti) or rice.