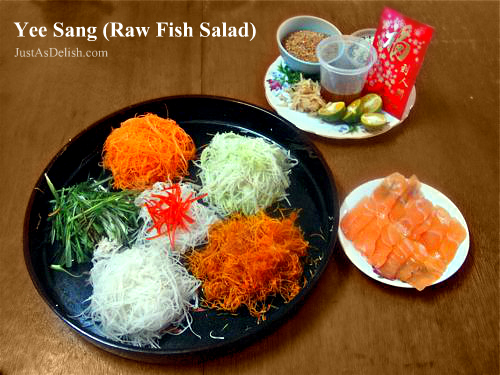 What a week it has been, I'm over my food quota for the month! Lots of cooking, delicious traditional Chinese festive food, sweet treats, laughter, firecrackers and more fabulous street food of Penang. Starting with the 10 dishes reunion dinner on the eve of Chinese New Year at my paternal grandparents house, steamboat lunch on 1st day of Chinese New Year and dinner at my 2nd Aunt's house.
One of the dishes I've prepared is Yee Sang (Raw Fish Salad), a popular Chinese New Year dish in Malaysia. This dish, also known as Yu Sheng 鱼生, literally means "raw fish" but since "fish (鱼)" is pronunced is the same as abundance (余) in Mandarin, therefore this Yee Sang dish is used to symbolise an increase in abundance, prosperity and vigor for the year. This dish usually consists of strips of raw fish (commonly use salmon), mixed with shredded vegetables and a variety of sauces and condiments.
Often served as an appetizer, the base ingredients are first placed attractively on a round plate with side ingredients such as the fish, the crackers and the sauces to be added before serving. All diners at the table then stand up and on cue, proceed to toss the Yee Sang into the air with chopsticks while saying various "auspicious wishes" out loud. It is believed that the height of the toss reflects the height of the diner's growth in fortunes, thus diners usually toss very enthusiastically!
I am submitting this post to Aspiring Bakers #15: Auspicious Dishes for CNY (January 2012) hosted by Wen of Wen's Delight

Yee Sang (Raw Fish Salad) - the Prosperity Toss for Chinese New Year
Yee Sang (Raw Fish Salad) is served during Chinese New Year in Malaysia as a symbol of increase of abundance
Ingredients
200g White Radish - finely grate
200g Carrot - finely grate
200g unripe Mango - finely grate
50g Spring Onions - finely grate
200g Sweet Potato - finely shred
2 Red Chilli - finely shred
75g Pickled Papaya - finely shred
20g Pickled Ginger - finely shred
8 Kaffir Lime Leaves - finely shred
200g Pomelo - peeled and separate the sacs
100g Salmon Sashimi slices
50g Toasted Sesame Seeds
70g Roasted Peanuts - grounded
Seasoning
200g Plum Sauce
3 tablespoon Lime Juice
3 tablespoon Honey
1 teaspoon Sesame Oil
½ teaspoon Salt or to taste
10g Chinese Five Spice Powder, put into a red packet
Instructions
Deep-fry shredded sweet potatoes in hot oil until crispy. Drain well on kitchen paper.
Mix well the seasoning ingredients in a small bowl.
Arrange the other shredded ingredients attractively (different colours) on a big, round serving platter.
To serve, pour the seasoning over the arranged ingredients and sprinkle on five-spice powder, sesame seeds and peanuts.
Everyone toss the Yee Sang using chopsticks, as high as possible while saying 'prosperity greetings' out loud to wish everyone for the year.