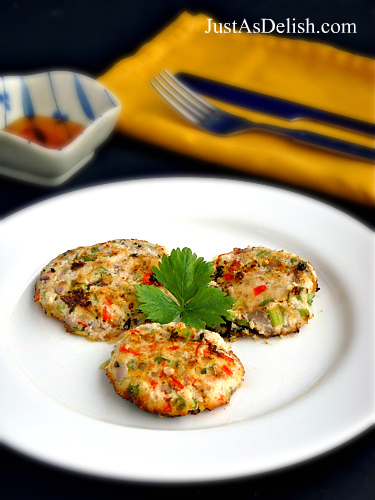 After you have made your own soy milk, you will be left with the soybean pulp (okara) after all the "milk" is strained out. Don't throw them away because okara is a nutritional powerhouse, containing soluble and non-soluble fiber, protein, calcium and other minerals. Fresh okara has a short shelf life, like soymilk or tofu, or you can freeze it or dry them in the oven for longer shelf life.
Okara by itself taste bland, but it is extremely useful when added to other food. You can add it to baked goods, use it as an egg substitute, add it to soups and stews, or mix it into veggie burgers.
Reading about okara burger patties and okara crab cake recipes had me came up with this recipe inspired by my Spicy Fish Cake recipe that I have posted earlier. I flavour it with nori (japanese seaweed) flakes and made it into Seaweed Okara Cake. Instead of deep-frying, I shallow fry half of them and baked the other half in the oven. The baked ones taste as good as the shallow fry one. The seaweed does give these Seaweed Okara Cakes a nice seafood flavour and it's soft and crunchy all at the same time. It could easily pass as Fish Cakes!
Look out the very fluffy Carrot Okara Muffin recipe in my next post.

Vegan Seaweed Okara Cake, made with okara (leftover soybean pulp) and taste like fish cake!
Ingredients
1 stick Celery stick - finely chopped
1 Large Onion - finely chopped
1 Carrot - finely chopped
½ Capsicum - finely chopped
½ Red Chili - deseeded and finely chopped
¼ cup Chopped Parsley
1 cup Okara (soybean pulp leftover from making soymilk)
½ cup Oatmeal
1 tablespoon Nori Flakes
½ teaspoon Salt
½ teaspoon Pepper
Instructions
Place all ingredients into a bowl and mix well.
Take 1 tablespoon of the mixture and form into patties using your hand.
Heat oil in a pan over medium heat.
Cook patties for 2 to 3 minutes per side or until golden brown.
Serve with sauce of choice (I use sweet and sour sauce).

Notes
* The vegetables can be easily chopped in the food processor if you are lazy like me :) * Instead of shallow fry, these cakes can also be baked for 10 minutes on each side.

Other Okara Recipes: