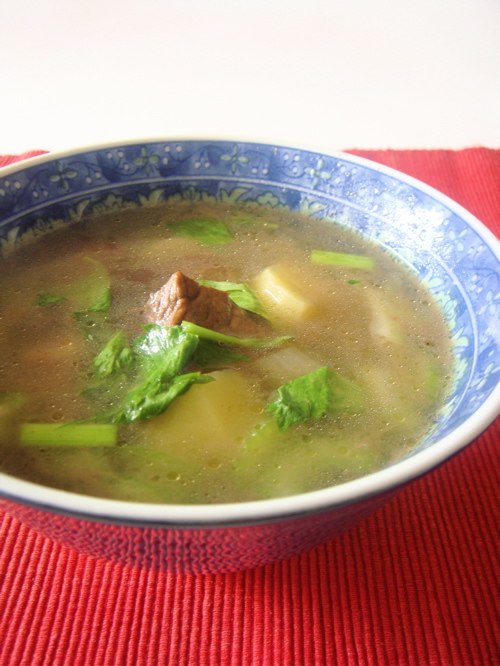 I'm back from a trip to Singapore, and surprisingly I was constantly thinking about cooking and blogging.. Oh well.. time for another holiday where I can do nothing and just laze around.. It was certainly very difficult to maintain the October Unprocessed Challenge, anyhow now am back home and back on track.
Sup Tulang or Sup Daging is one my favourite dishes to order when I visit a Malay eatery. Sup Tulang, literally Bone Soup in Malay, usually refers to beef soups which are made with beef that is still attached to bones. I did not have any bones, I use beef shanks instead – making it Sup Daging (Beef Soup in Malay). Using the bones develops the broth with an intense flavour and is very aromatic compare to the ones that is made with just meat and using pre-made stock
The other main ingredient is Spice Mix called Sup Bunjut, which is easily available anywhere in Malaysia. Inside you'd find a cinnamon stick, one or two star anise, green cardamom and clove with one cute little muslin parcel filled more aromatic seeds – a mixture of peppercorn, cumin, coriander, mustard seeds, star anise and shredded cinnamon. You can make your own little Muslin bundle and tie it together with a little white thread or use a tea strainer, which can easily be washed and re-used again.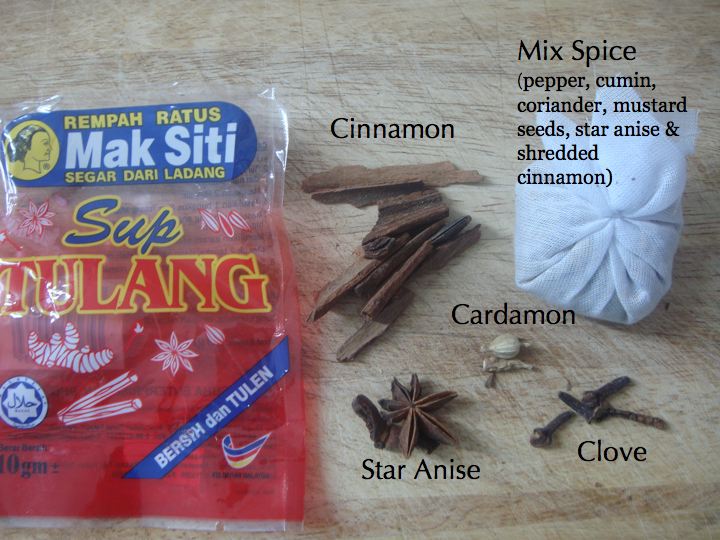 The soup is then left to simmer for one and a half to two hours before rewarding you with this amazing broth eaten with either noodles, rice or flat bread.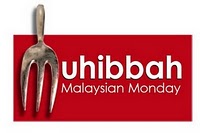 This Sup Daging recipe will be submitted to Muhibbah Malaysian Monday October Round-up

Malaysian Sup Daging (Beef Soup)
Sup Daging (Beef Soup in Malay) is an aromatic broth eaten with either noodles, rice or flat bread. It uses the same spice mix for Sup Tulang.
Ingredients
700g Beef Bones or Beef Flank
4 Potatoes - cut into 4
10 cups Water
1 packet of Sup Tulang Spices *
2 stalk of celery with leaves - cut thinly
2 tablespoon Vegetable Oil
Salt to Taste
Fried Onion
Ingredients to Grind:
10 biji Small Red Onions
5 clove Garlic
1cm Ginger
* Spice Ingredients:
1. Loose Spices:
4 Cardamon
1 Cinnamon Stick
3 Aniseed
2 Cloves
2. Spice Mix in Muslin:
1 teaspoon Coriander Seed - pounded
1 teaspoon Cumin - pounded
½ teaspoon Aniseed - pounded
1½ teaspoon Black Pepper - pounded
3 petals of Star Anise
Some broken pieces of Cinnamon Stick
a pinch of Mustard Seeds
Instructions
In a medium pot, heat oil on low fire and saute the grinded ingredients and the loose spices until fragrant.
Add in Beef / Ribs and saute until the meat is half cook.

Add in 10 cups of water and Spice Mix in muslin, boil until the meat is tender, about 1 hour.
Add potatoes and boil for 30 minutes or until soft.

Remove from heat and add in celery and spring onion. Dish out and garnish with fried onions.