Fresh, healthy and spectacularly satisfying Vietnamese street food that's easy to recreate at home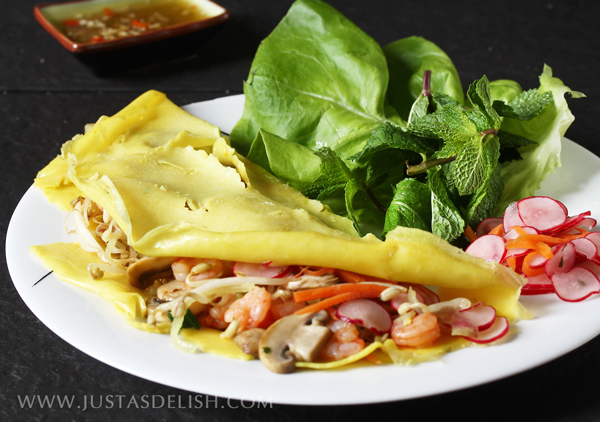 A crepe without egg and naturally gluten free? With a basic 2 ingredient (rice flour and coconut milk), you can make a savory and crispy Vietnamese crepe filled with shrimp, meat and veggies. Bánh Xèo is a sizzling crepe sold by street vendors in Vietnam. Ever since I had my first taste of Bánh Xèo in a Vietnamese restaurant in KL, I've been having cravings for it. You might have noticed on this blog that I LOVE Vietnamese cuisine.
I'm glad I gave it a go, as these crepes are pretty easy to make at home. I'm currently in Europe and made these crepes last week in the Netherlands. Ethnic food supplies are readily available with such a large international community (from South America, Middle East, to Asia) here in the Netherlands. I was surprised to see mung bean sprouts (taugeh) at the local supermarket. The only downside is the pan I get to use is a cast iron pan, not a non-stick pan, so I had difficulty trying to get a good crepe to the photography. A few crepes ended up in shreds but taste just as amazing. Not pretty but it doesn't matter because the crepe is going to be torn and wrapped in a lettuce leaf.
The secret to a great Bánh Xèo is the thinness and crispiness of the crepes, which can be achieved by adding some oil around the edges when the crepe is almost cooked. Each region in Vietnam has it's slight variation with the filling, the southern region have more veggies and mung beans, and the central region typically smaller and without the mung beans. Feel free to omit them if you don't have access to mung beans sprout. Marinated panfried tofu is a great substitute for a vegetarian version. I think it's awesome even if it's just fully loaded with any type veggies. Bánh Xèo is sometimes eaten with pickled carrot & daikon, which I made with radish that's in season in Netherlands now. And don't forget the Nước chấm (the dipping sauce), it's where the magic happens.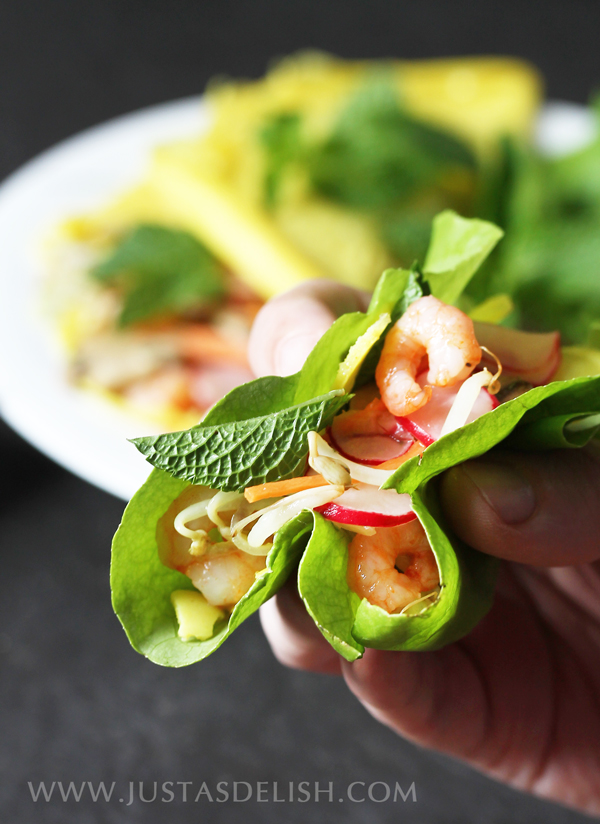 If I can make this when I'm on vacation, why not you give this a try. Simple, fresh, and spectacularly satisfying street food at the comfort of your home.
I am submitting this post to Asian Food Fest – IndoChina hosted by Kelly Siew Cooks.

Vietnamese Crepes (Bánh Xèo)
Fresh, healthy and spectacularly satisfying Vietnamese street food
Ingredients
Fillings
200g Shrimp (I use small shrimp) - peeled and deveined
1 medium Onion - thinly sliced
3 cups of Bean Sprouts (Tauge)
4 fresh Shiitake Mushrooms (I use fresh button mushrooms) - thinly sliced
2 Spring Onions - thinly sliced
½ teaspoon Salt
½ teaspoon Fish Sauce
Black pepper
Crepe
Accompaniments
Whole green lettuce leaves, mint, vietnamese basil, coriander
Nước chấm (Dipping Sauce)
Pickled Carrots and Radish (recipe below)
Instructions
Filling
Season shrimp with a touch of salt and pepper and set aside. On high heat, Add 1 teaspoon of cooking oil in a nonstick frying pan on medium heat and saute onion slices until soft. Add in beansprout, shrimp, fish sauce and quickly saute them for 1 minute until shrimp fully turns colour to cooked. Remove to a bowl and set aside.
On the same pan, saute mushrooms with oil on medium heat for 2 minutes.

Crepe
In a mixing bowl, whisk the crepe ingredients (except oil) and mix well.
Heat up a 18cm (7 inch) non-stick pan, add ⅓ cup batter full into the center of the pan and quickly swirl the pan to evenly distribute a thin layer batter to the very edges of the pan. Try to go for as thin a layer as possible. You may have to adjust how much batter you use depending on how big your pan is.

Arrange the fillings (beansprout, onion, prawns, mushroom) and chopped spring onion over half of the crêpe. When cooked through, the edges start to curl up and are browned, distribute 1 teaspoon of oil around the edges so the crepe gets crispy, won't burn, and will be easier to flip. Using the flexible spatula , carefully fold the crêpe over and slide onto a plate. Repeat for second crêpe.

Serve immediately as an appetizer to share or a main dish. To eat, wrap a piece of the crêpe into a lettuce leaf with a few herbs. Dip into the sauce and enjoy along with pickled carrots and radish.
Pickled Carrots & Radish
Ingredients
1 bunch of Radish - thinly sliced with knife or mandoline
1 small Carrot - cut into matchsticks
2 tablespoon Sugar
a pinch Sea Salt
½ cup Rice Vinegar or White Vinegar
1 Bird's Eye Chili - sliced
Instructions
Mix radish, carrots, sugar and salt in a colander, and let it sit for 30 minutes. This will draw the water out of the vegetables and makes them crunchy.
After 30 minutes, place the vegetables into a small jar or bowl, add in vinegar and sliced chili. Make sure the vegetables are covered in vinegar. Let it sit for 15 minutes or more before serving. Store in jar, chilled in fridge. It can store up to 2-3 months.