Tender falling-apart Chicken Adobo in a tangy, vinegary garlic sauce. The quintessential dish of the Philippines.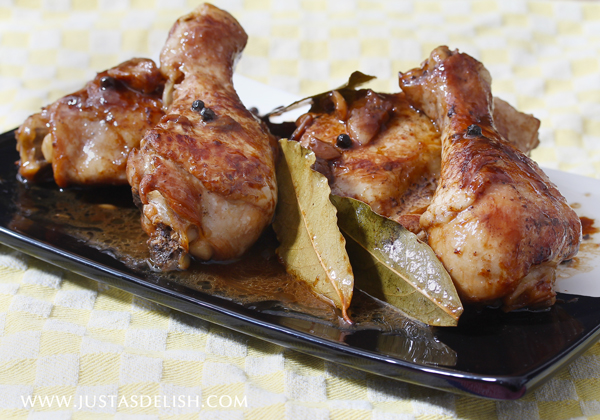 If April Bloomfield (chef and co-owner of 3 Michelin starred restaurants) deemed Filipino adobo worthy to be included in her "A Girl and Her Pig" cookbook, then you must definitely give adobo a try. At least once. Adobo, a tangy, salty dish of stewed meat in soy sauce and vinegar, is 'the' quintessential dish of the Philippines. Some even name it the unofficial national dish.
This is my first time tasting a Filipino dish. I didn't get a chance to taste any when I was on Palawan Island (one of the 7,000 beautiful islands that made up the Philippines), because of being on a 7-day Raw Food Retreat. Furthermore, most Filipino dishes are made with pork (mainly influenced by the Spanish colonisation) and I do not eat pork.
Fortunately, chicken adobo is just as delicious. There are several variations out there on how to cook adobo and it all comes down to your own personal preference . The traditional way of cooking this dish is real easy, dump everything in a pot or wok and simmer until the chicken is cooked through, usually eaten with rice.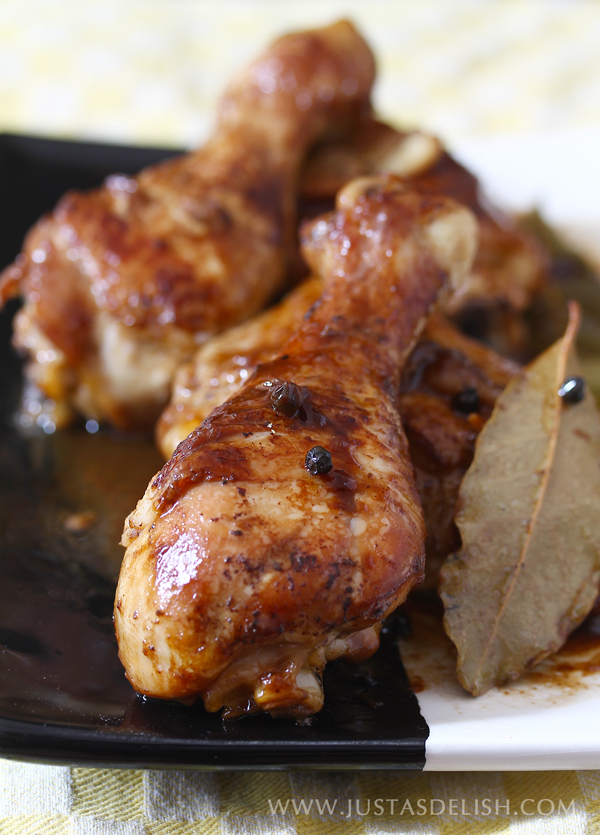 I chose the method of adding the vinegar at the end of the cooking time, instead of letting the meat cook in it. When marinated or cooked in harsh acids for long periods of time, the meat becomes dry and tough and nobody likes a dry piece of meat. Adding vinegar at the last 10 minutes of cooking will yield tender falling-apart chicken in a tangy, vinegary garlic sauce, that is neither too sour or salty. My boyfriend and I love the sauce, we'll definitely see this easy dish on our weekday menu.
I am submitting this post to Asian Food Fest – Philippines hosted by The Sweet Spot.

Filipino Chicken Adobo
Tender falling-apart Chicken Adobo in a tangy, vinegary garlic sauce. The quintessential dish of the Philippines.
Ingredients
2 whole Chicken Legs - cut in half
3 tablespoon light Soy Sauce or low sodium Soy Sauce (use Tamari for gluten free option)
3 cloves Garlic - mashed
1 cup Water
1 tablespoon Vegetable Oil
3 pieces dried Bay Leaves
12-15 whole Black Peppercorns (give about 3 per piece of chicken)
2 tablespoons Vinegar (I use Rice Vinegar)
Instructions
Combine soy sauce, garlic, chicken in a large pot or container, and marinate for at least 1 hour, but if you have the time let it marinate overnight.
Heat the oil in a large pan on medium heat. Place the chicken on the pan and brown on all sides for about 2 minutes per side. The oil will splatter a bit, so it's better have a cover or splatter guard at the ready.

Once both sides of chicken pieces are browned, pour in the remaining marinade of soy sauce and garlic, water, bay leaves and peppercorns into the pan. Bring to a boil. Taste and adjust by adding more water if needed. Switch the heat to medium-low to low and simmer for 30 minutes. Do not let it come to a hard boil.
After 30 minutes, stir in vinegar and simmer for another 10 minutes, or until chicken pieces are tender.

Serve hot with rice.