Caramelised grilled plantain with a dab of butter & brown sugar. So easy & DAMN DELICIOUS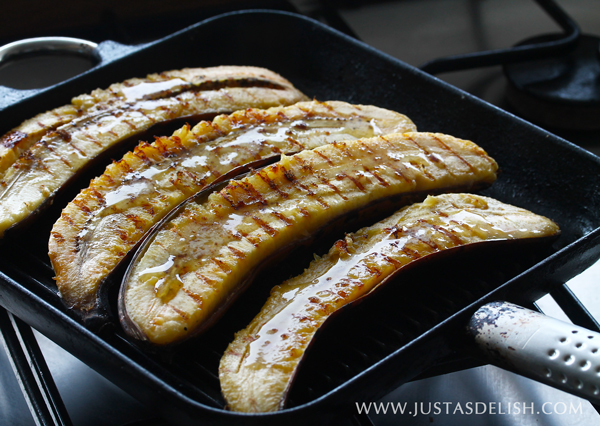 The first time I tasted the delicious plantain was in a Suriname shop in Rotterdam, The Netherlands (or commonly known as Holland). Bakabana is the Surinamese version of fried banana, but with plantain dipped in batter and fried, and some places serve it with spicy peanut sauce. As part of South America was under the Dutch colonization, the Dutch, too, brought other colonies (Indonesian & East Indian) influences to Suriname during the colonization years. That explains the Indonesian style peanut sauce with the plantain.
If all these sound new to you, don't worry. I was equally intrigued with this mix of influences when I first travelled to the Netherlands. One of the world's most multicultural cities, Rotterdam is home to more than half a million people who represent a staggering 174 different nationalities. Residents with a Surinamese background (Suriname is a former Dutch colony in South America) make up the largest immigrant community, followed by Turkish, Moroccans and people from the Dutch Caribbean. Phew. And Malaysians think having 3 major ethnic groups is considered multicultural.
Due to Rotterdam's melting pot of different cultures, one of the best known cultural event is the Zomercarnaval – a summer carnival filled with all sorts of Caribbean and Latin festivities, music, exotic foods and drinks.
Some of the popular Suriname food includes roti (bread), nasi goreng (fried rice), bakmi (noodles), pom (chicken casserole). Even the dish names use Indonesian & Indian terms. Basic ingredients include cassava (tapioca), rice, potatoes, sweet potatoes, lentils, and plantains.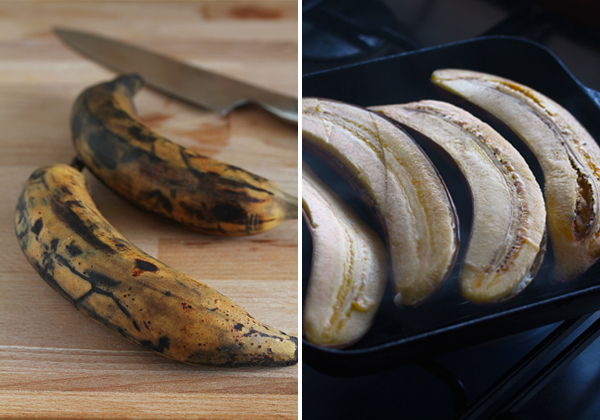 I've heard of plantain years ago, during my strategy-pc game playing years. It's one of the traded commodities from South America in a game. I've seen plantains hanged outside when I passed by kampung (village) areas and in recent years, sold at some fruit stalls near my KL apartment. Later I found that those are called Pisang Tanduk, the Asian plantain species, is slightly different from the species in Africa and South America. Plantain looks like a huge banana, but it cannot be eaten raw like dessert banana. As a staple food, plantains are treated like potatoes, with similar neutral flavour and texture by cooking unripe green fruit with steaming, boiling or frying. Green plantains (with hard flesh and stiff peel) contain more starch and less sugar than dessert bananas. Mature yellow plantains have softer flesh, with some of the starch being converted to sugar, but still not tasty when eaten raw.
Plantains have complex carbohydrates and have a naturally low glycemic index. This means that eating a reasonable amount of plantains that have been cooked appropriately won't result in rapid blood glucose increase, which is typically the effect when eating carbohydrate-rich processed products like bread, crackers, or cereals.
Don't get shocked if you see black peel plantains being sold, these are not rotten fruits. When the outside is totally black, they are used for frying bakabana or Cuban maduros. Instead of frying, grilling plantains makes a perfect snack. Or turn them into a guilt free heavenly dessert with with a dab of butter and sprinkle of brown sugar.
In this summer months of barbecuing, why not throw in some plantains on the grill?

Grilled Plantains (Pisang Tanduk)
Easy & delicious caramelised grilled plantain with a dab of butter & brown sugar.
Recipe type:
Snack / Dessert
Ingredients
2 semi-ripe Plantain / Pisang Tanduk (slightly soft with some brown spots)
1 teaspoon Butter - cut into 4 pieces
½ teaspoon Jaggery / Coconut Sugar
Instructions
Cut the plantain in half lengthwise.
Preheat your grill to medium heat, then place the plantain halves on direct heat, skin side down, for about 8 minutes. They will be ready to flip when the bottoms are browned and the fruit starts to detach from the peel.
Set the heat to the lowest before flipping over to the fruit side (this reduce burning). Grill with the fruit side down for about a minute, Then serve immediately with a piece of butter and sprinkle of jaggery.