Baked Salmon Packets – a no-fuss, super easy salmon & vegetables dish, that's gently steamed for a tender and flavorful salmon.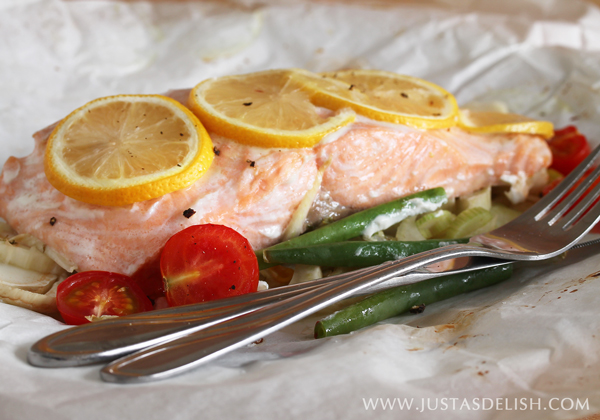 Sometimes I come across people who remind me of how I used to be. Recently I came across someone who said she likes cooking but she's a lazy cook, coupled with a picky husband and daughter. Her cooking for her family involves heating up pre-cooked food from the supermarket. Frozen croquettes, meatballs, pizza, potato salad, pasta and pies. For a moment, I was saddened. Then I recalled I was like that too, years ago. After a long day at work, it was much easier to heat up pre-cooked food just to fill my hungry tummy.
This recipe is not for the lady, it's not for me to judge anyone's journey. I just thought of her when I was making this Baked Salmon Packets over the weekend. I was feeling extremely lazy, so this no-fuss easy recipe was perfect. Thank goodness that most simple recipes are equally delicious, or else I'll just be having granola or fruits (equally delicious) for dinner when I'm burnt out. I wasn't planning to shoot this dish. When I saw how beautiful the dish is, I quickly whipped out my camera for a couple of quick shots before the dish turns cold. My shortest photoshoot ever.
Cooking in baking paper packet or en papillote (pah-pee-YOHT), may sound really fancy or intimidating, but it's really an easy no fuss and healthy method of preparing fish. It's a classic cooking technique that's almost foolproof. Just need some slicing, squeezing and wrapping action for this meal. For this Baked Salmon Packets, Simply wrap in baking paper a portion of sliced vegetables, top with salmon and a squeeze of lemon juice. Pop the packets into oven and steam builds up in the packet to cook food quickly yet gently, with all the flavours beautifully infused. That's it.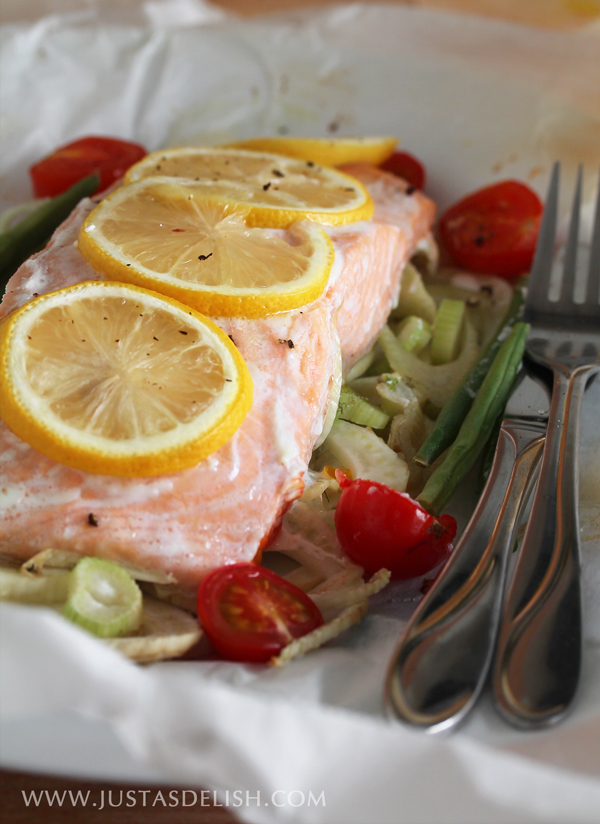 This method works well for different types of fish fillets and vegetables. Choose vegetables that have moisture and are easy to cook such as capsicum, zucchini, beans, fennel and tomato. Just make sure the packet is sealed properly, as you don't want any steam escaping because that's an important part of cooking the fish. And the best part – it's easy to clean up.
So tell me readers, are you a lazy cook like me? How often do you have pre-cooked food?

Baked Salmon Packets with Vegetables
Ingredients
2 pieces 200g skinless Salmon Fillets
1 Fennel bulb - thinly sliced paper thin (a mandoline works best)
a couple of French Beans
a couple of Cherry Tomatoes - halved
Zest of half a lemon
8 very thin Lemon Slices
1 tablespoon Lemon Juice
Sea salt
Freshly ground black pepper
2 long rectangular Baking Paper
Instructions
Preheat oven to 225°C (450°F).
Fold a baking paper in half to create a crease, and open it up again. Place several slices of fennel bulb above the crease of the paper and sprinkle with salt. Place one fillet of salmon on top of the fennel bulb slices, beans and tomatoes on the side. Squeeze lemon juice over the ingredients and sprinkle generously with lemon zest, salt and pepper. Lay 3-4 thin slices of lemon over salmon.

Fold the parchment over the salmon and secure close. Seal the parchment paper well by repeatedly folding little sections over each other around the edges, taking care to make sure it is well sealed.

Place on a baking tray and bake for 10 minutes.
Serve packets on individual plates immediately. Open up the folded packet or cut open the middle to enjoy the meal.