Finger-licking braised chicken in sesame oil, rice wine and soy sauce with Thai basil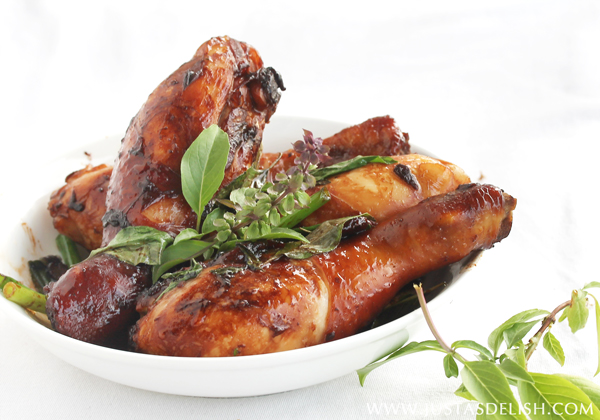 I've returned from my long vacation, gleeful to find my edible plants have thrived under CM's (my elder sis) care. She's indeed a great plant-sitter this time, and she seemed to have developed a fondness for them from the way she speaks about them. Yay! Another happy plant mama in the making. 🙂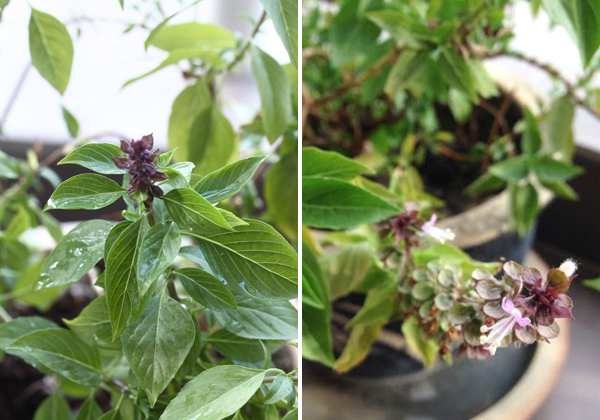 I left her with the plants that are easy to regrow (in case they didn't survive :P) – Thai basil, mint, pandan, savoy spinach & kale. The Thai basil pot was only left with a few sprigs of leaves. It is a hardy tropical plant that is super easy to grow from scraps. After using the leaves, stick the sprigs into a pot with moist soil. In 31°C Malaysian weather, they can survive even if only watered once every 2 days. No bug attack after 2 years of growing, even measly whiteflies ignored them. Don't they look pretty when the flowers bloom?
Not only is this herb commonly used in Thai & Vietnamese dishes, accompanying with other meat dishes adds a new dimension to the dish. One of them is Taiwanese Three Cup Chicken (San Bei Ji 三杯鸡). As my plants are overgrown, I added a big handful of the herb into the dish.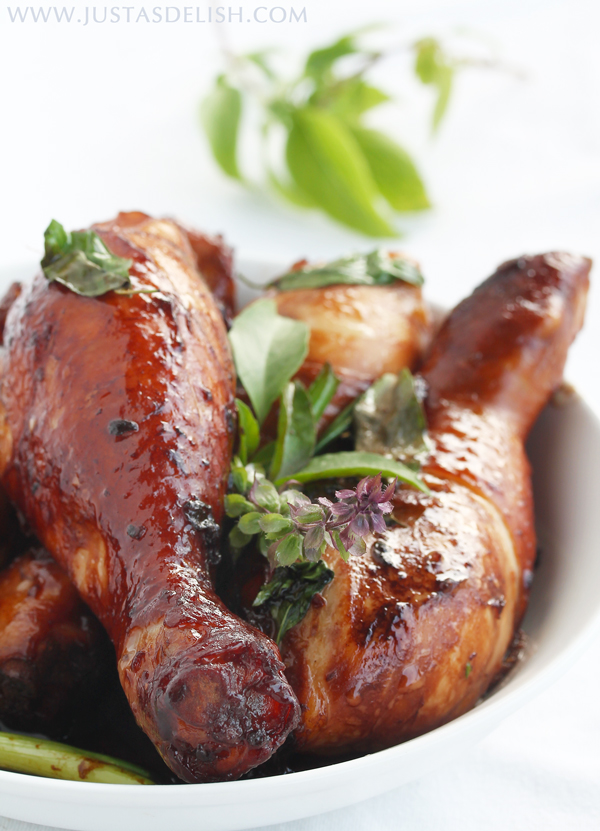 The recipe Three Cup Chicken originates from 3 cups (or portions) of soy sauce, sesame oil & rice wine each. But each household has it's own version that does not always equate to 3 equal cups (or portions) of each ingredient. And some use Thai basil instead of spring onion in the dish. As I have both plants, I use both in my dish to make the best out of all recipes. This recipe works best with on the bone-in chicken pieces, the flavours of a dish with bone-in chicken is more intense.
More recipes with Thai Basil to try:
Malaysian Herb Rice (Nasi Ulam)
Thai Chicken Basil from thaitable.com
Vietnamese Shrimp Rolls
Thai Green Curry
I am submitting this post to Asian Food Fest #10 Aug 2014 : Taiwan hosted by travelling-foodies.

Three Cup Chicken (San Bei Ji 三杯鸡)
Finger-licking Three Cup Chicken - braised chicken in sesame oil, rice wine and soy sauce with Thai basil
Ingredients
500g (1 lb) Chicken Drumsticks - cut into chunks (I use whole drumsticks for photography purposes. You can also use chicken drumettes or wings)
2 tablespoon Sesame Oil
1-2 inch Ginger - thinly sliced
2 cloves garlic - finely chopped
60ml (¼ cup) Shaoxing Wine (cooking rice wine)
2 tablespoon Water
2 stalks of spring onions - cut into 2 inch pieces
Small bunch of Thai basil
Instructions
Place sesame oil, ginger, garlic and half of spring onions into a huge wok (or pan) on medium heat, for 1 minute to let the aromatic ginger and garlic infuse the oil.
Then add the chicken to the wok all in one even layer, so every piece gets seared equally on both sides. Don't over-crowd the wok.

Once both sides are browned, stir in cooking wine, soy sauce and water. Cover the wok and simmer for 15 minutes to get the chicken cooked through.
After 15 minutes, remove the cover and turn up the heat to rapidly reduce the sauce. If the sauce has dried up, add a splash of water. Stir the chicken until they turn a rich, dark colour.

Toss in Thai basil and remaining spring onion and stir 1-2 times to quickly wilt the herbs.
Plate and serve immediately. I toss in raw Thai basil because the flavours of raw herb is more intense.

Notes
Recipe adapted from
The Woks of Life
If you want to use whole drumstick, cook the chicken for an extra 5 more minutes before adding Thai basil