Sour, tart, crunchy and pungent green mango with spicy, sweet, salty and sourish sauce – an explosion in your mouth.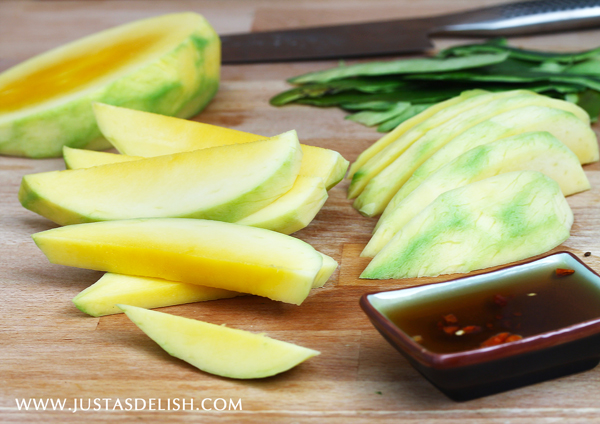 Being a fruit fiend, I would feel strange if I don't get my daily dose of fruits. Though I can't quite remember how I got through a whole month without fruits during my candida detox 3 years ago. At the beginning of my recent Europe trip, I was totally ecstatic with the abundance summer fruits. However towards the end of the 2 months, I can hardly believe I had an overdose of the luscious summer berries and stone fruits. Day after day at the fruit stall or grocer, the options are mostly cherries, berries, plums, peaches, nectarines and grapes. I remember saying out loud one day: "Oh no, strawberries again".
I was missing the tropical Malaysian fruits, not the fried noodles, satay or laksa. The place where mini bananas fall off into your hands with buttery sweetness that only comes from ripening on the trees. The gorgeous papaya on the trees in my neighbourhood. The fragrant passion fruit and the juicy sweet red passion fruit. Sweet bliss…
Of course tropical fruits are available in Europe, but the flavours are no where close to the ones you get locally. Aside from the sweet taste, fruit is consumed for its nutrients and high fiber content. Imported produce usually contain less amount of nutrients and are less flavourful, and to some extend bland as they are usually picked way before they ripen. The standard transporting procedure is to use gaseous hormone ethylene inhibitors to ensure that the produce arrive fresh and crisp in the supermarket, however the taste will shift and then some fruits will be artificially ripen with ethylene, or some illegal substances by unscrupulous traders. So please buy local. Ok enough of my rant.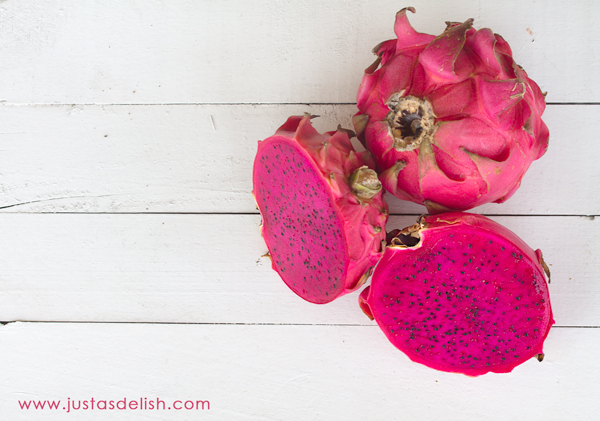 Now back to tropical paradise, I'm happily chomping down juicy exotic tropical fruits. Here, unripe/green fruits like banana, jackfruit, papaya and mango are sought after for recipes. Instead of making Green Mango Salad, it's easier to slice the green mango and dip in fish sauce. That's the typical way the Vietnamese enjoy their green mango; as a snack.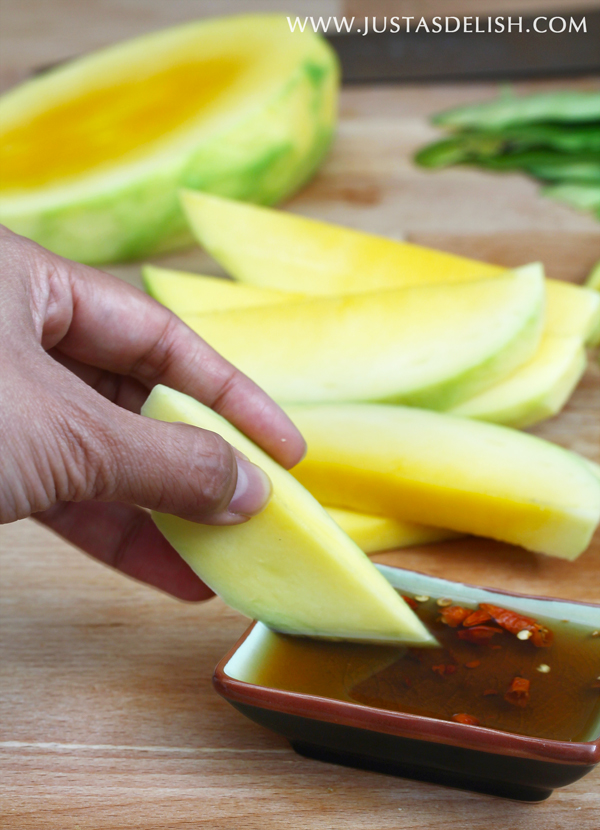 If possible, try to get hold of really, really raw mango. Raw to the point that it's interiors are still white and slightly green, sour, tart, crunchy and pungent. The sour, fragrant scent of the raw, green mango is addicting. The mango I used is already slightly ripe in the middle, less crunchy and tart but still as good. Add a bowl of spicy, sweet, salty and sourish sauce to the platter and it's an explosion in your mouth. This is not a snack for the light-hearted. But boy, is it addicting.

Green Mango with Fish Sauce and Eating Local
An explosion in your mouth with spicy, sweet, salty and sourish mango snack
Ingredients
1 large Green Mango
1 tablespoon Fish Sauce
1.5 tablespoon Raw Honey (or preferred sweetener)
1 Bird's Eye Chili (or however many you'd like) - minced
Instructions
Peel and slice up the mango.
Mix the sauce ingredients together until well blended.
Dip into sauce and enjoy.