Sweet sour sticky Honey Lemon Chicken without the mess of deep frying. Delicious, easy & healthy weekday meal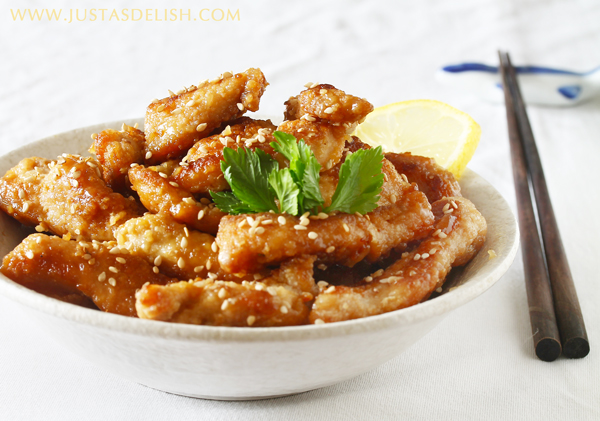 Honey chicken is apparently a very popular Chinese restaurant dish in the West, as well as a popular take-out meal. Another similar chicken recipe created by the West is Lemon Chicken. Both dishes are deep fried and coated with delicious sticky sauce. However both dishes did not originate from China, as honey or lemon ingredient is not common in traditional Chinese cooking, but they are nonetheless delicious.
I love both honey and lemon, so I combined both ingredients into one delicious sweet-sourish sticky sauce and without deep-frying the chicken. I lightly coat the chicken with flour and pan-fry them. I use rice flour for gluten free version and it gave a slight crunchy outer layer, without the 'floury' taste. A typical Chinese meal would be to serve this chicken with rice, and 1 or 2 more veggie/fish dishes. For a western meal, you can serve with a big salad, like Roasted Broccoli Salad here, or toss them together with salad.
Last week, I posted on Instagram and Facebook that my chicken and veggie stir fry lunch took 7 minutes from slicing to stir-frying. Most people I met, tell me they don't have time to cook and gave me a shocked look when I told them that I make my lunch 5 times a week. We have been constantly bombarded and influenced by advertisements telling us it's ok, if you don't have time to make your own meals, just buy pre-packed food or eat out. Actually it's not that they don't want to prepare their own food, most people just don't know how easy it is.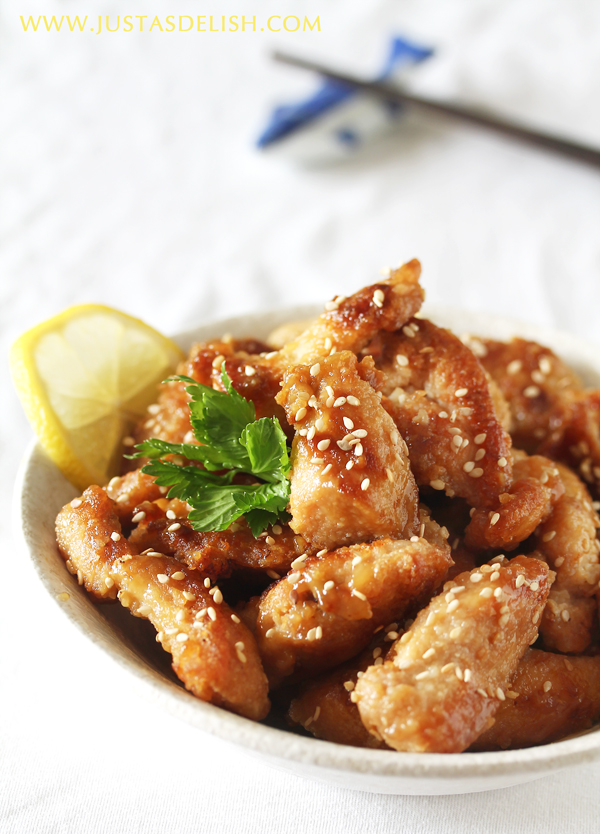 This meal of Honey Lemon Chicken with Roasted Broccoli Salad isn't exactly the fastest, but it doesn't take that long either. Here's a lowdown of the actual active time.
1 min      : Pre-heat oven, wash broccoli
3 mins    : Cut chicken fillet into pieces, season and coat with flour. Heat up pan with oil
15 mins   : Place chicken pieces onto pan, cook about 5 mins on 1 side (1 min). While waiting, cut broccoli into florets. Place onto baking tray and toss with oil and seasoning (2 mins). Put into oven for 15 mins. Toast sesame in another pan (1 min). Prepare honey lemon sauce (1 min). Flip the chicken when it's browned (1 min). Prepare salad ingredients (5 mins). When chicken is browned on both side, add in sauce and plate (1 min) . Wash up dirty dishes, clean prep area, set table (5 mins).
1 min     : When broccoli is roasted, toss with other ingredients and dinner is ready. Nomnomnom…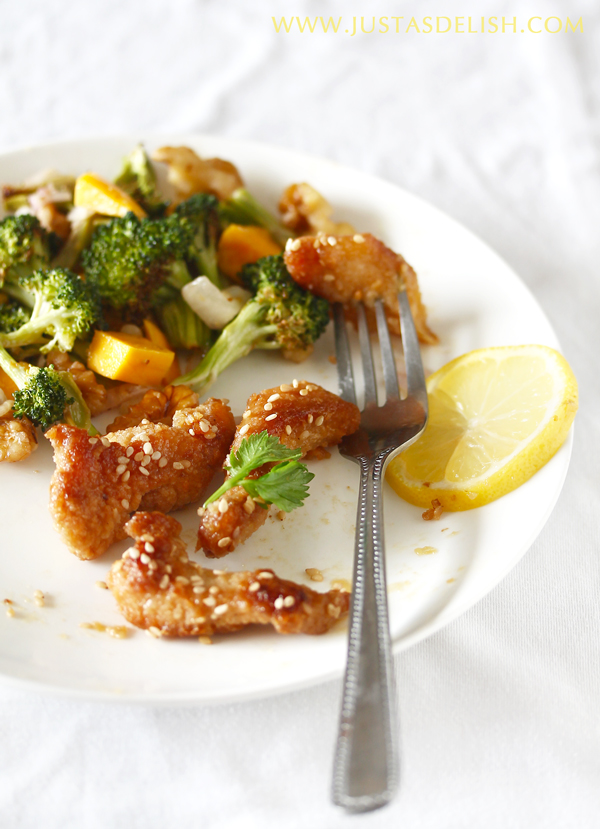 20 minutes of active time. It takes longer than the 7 minute stir fry of course, because the Broccoli Salad requires longer prep, but I think 20 minutes is pretty manageable for most people. For those who are totally new to cooking, it might take longer because you are not used to the way in the kitchen and preparation. The more you do something, you become the master of it and the faster it becomes.
With more requests on easy everyday meals from my followers, I look forward to showcasing how I create my daily meals. Happy cooking 😀

Pan-fried Honey Lemon Chicken
Ingredients
300g (10oz) skinless Chicken Breast/Thigh Fillet
3-4 tablespoon Flour (I use rice flour for gluten free version)
2-3 tablespoon Vegetable Oil
½ teaspoon White Sesame
½ tablespoon Soy Sauce (or Tamari for gluten free option)
½ tablespoon Shaoxing wine (optional)
Sauce
2 tablespoon Lemon Juice
1 tablespoon Honey
3 tablespoon Water
1 teaspoon Corn Starch / Rice Flour / Wheat Flour
Instructions
Cut chicken into 1 inch strips, place into a mixing bowl and mix well with soy sauce and shao hsing wine. Add in flour and toss the chicken, lightly coating it. Add in 1 more tablespoon of flour if the chicken pieces are not evenly coated.

Heat up a pan with oil on medium heat. When the pan is heat up, place chicken strips on single layer onto the pan and don't overcrowd it. If pan is not large enough, cook it in 2 batches. Cook for 5 mins and turn over with chopstick or thong to cook for another 5 mins
Meanwhile toast sesame in another pan over low heat for 1-2 minute, stir or shake the pan 3-4 times so that it doesn't burn. Prepare sauce by mixing all ingredients in a small bowl, until it's well mixed.

Cut a piece of chicken to check that it's fully cooked. Pour the sauce into the same pan, and remove from(or switch off) heat when the sauce starts to boil. Stir well to coat the chicken strips, plate and sprinkle with white sesame. Serve immediately with rice or salad.