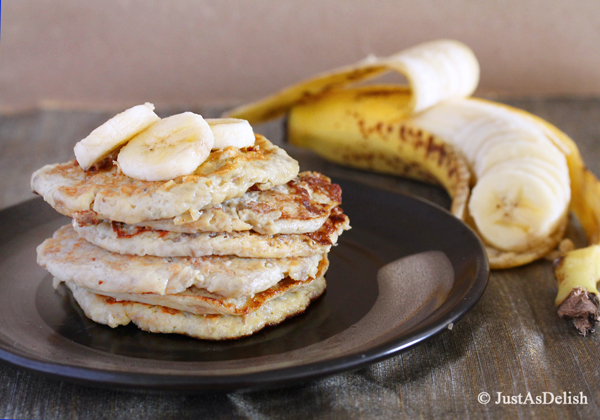 This Banana Pancake recipe isn't exactly a pancake, but it's shaped like a pancake, eaten like a pancake, just sans the flour in recipe. Yes you heard me. Flourless pancake, just banana and eggs, and taste just as delicious. Whoever created this recipe is a genius.
Now don't you agree everyone could use less flour in their food intake. Even though I am  intolerant to wheat, I still substitute wheat with other grain flours like rice, buckwheat, millet and sorghum. Whole-kernel grains does conceal an array of vitamins, minerals, phytonutrients and fiber. But when machines pulverize kernels into flour, even whole-grain flour, what's left behind is a starchy powder capable of wreaking havoc on the body. Foods made with wheat flour are particularly damaging. Carbohydrate in wheat is more easily converted to blood sugar than just about any other carbohydrate. Two slices of bread made with whole-wheat flour raise blood sugar higher than six teaspoons of table sugar and higher than many candy bars. With our busy lifestyle, it's easy to over consume flour without realizing – breakfast cereal, a sandwich lunch, ice cream cone treat, cookies for tea break, pasta for dinner, cakes for desserts. That's an easy few servings of refined grain every day.
A conversation with a Singaporean friend Kenneth cropped up a discussion on how to have a solution to substitute wheat flour for busy people who are on the move. Kenneth is always on the move, meeting clients, having discussions, going from one appointment to another. So he's always grabbing food on the go – biscuits, cookie, buns, breads and anything that have prolonged shelf life (usually processed food). That's what I used to do when I was having a sales job and busy with my newly setup event business. Until I fell sick and discovered I was wheat intolerant 4 years ago. The biscuits, cookies, buns and breads have been slowly replaced with fresh/dried fruits, nuts, homemade cereal bars, granola and yogurt.
Some would say I am lucky that I have the liberty to choose to work from home and can prepare my own food. Actually I chose my health over work and I'm grateful to be in the position to do that. My health condition 'forced' me to change my eating habits and the response from most people is that they usually do not change until they are in pain.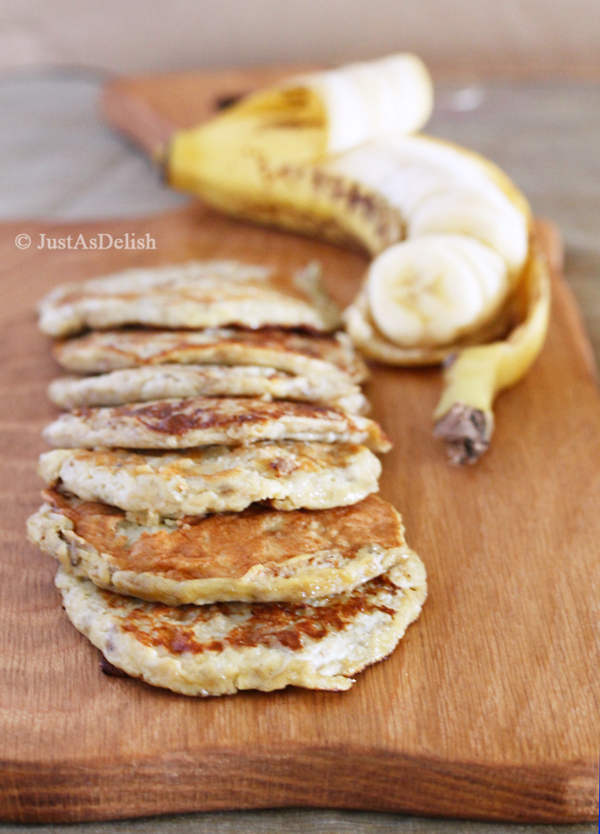 "But you can't expect everyone else to be like you, be a squirrel munching on fruits and nuts," laments Kenneth. 'Or have the time to make their own snacks. How about you produce some snacks for busy people? Save their time and effort to go look for it.'
Hmm.. a lightbulb just went off. Can I get some feedback from you readers? Would you pay for healthy snacks delivered to you every week?
While I mull over Kenneth's idea, why don't you try this Banana Pancake this weekend? Make a big batch over the weekend and freeze them. Reheat them for weekday breakfast on the go or afternoon tea break. Kenneth gave a thumbs up.
Cook's Note:
* I always cook by instinct. Once I made them with 2 bananas & 1 egg and posted on instagram, I was asked by a baker for the exact measurement of the ingredients. So I took the exact weight when I made them for this recipe post.
* The trick is to make the pancakes smaller (like pikelets) and pour slowly. Make sure it's set before you flip it carefully because it is very soft and break easily.
* I like my pancakes warm, learn the neat trick to keep my pancakes warm here.

2-Ingredient Banana Pancake
Recipe type:
Breakfast. Snack
Ingredients
2 Medium Bananas (about 250g with skin)
1 Large Egg (66g with shell)
Instructions
Mash bananas with fork until mushy. Add in egg and whisk well.
Heat non-stick pan on medium heat. If using normal pan, grease pan with a little butter or oil.
Use a about ¼ cup (or less) to scoop the batter and slowly pour onto pan. When the pancake is set on and starts to form bubbles on the top layer, gentlly use a spatula (preferly silicon) to loose the bottom and flip over. (Note: Be careful when flipping because the batter is very soft and the pancake might break). Continue with balance of batter.