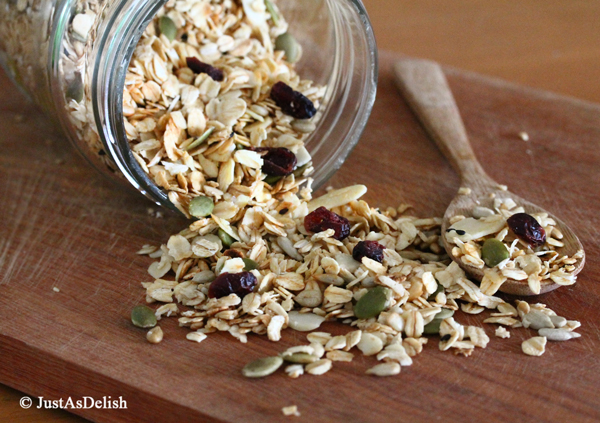 Don't laugh. I brought 1kg of my granola on my Europe vacation. As most breakfast options in Europe are wheat based food, my granola was my breakfast, my snack- sprinkled on yogurt parfait and my traveling munchies.
I love making big batches of granola. But sometimes there's not enough ingredients to make a big batch. Or it's just too hot to turn on the oven. Or the oven broke down, just like mine did after I came back from vacation.
So what's a girl to do? Use the stove. It is still an easy 3 step recipe and it's faster compared to using an oven. Mix all ingredients well (except dried fruits). Stir it in a pan for 8-10 minutes instead of baking in the oven for 30 minutes. Let it cool and add in dried fruits.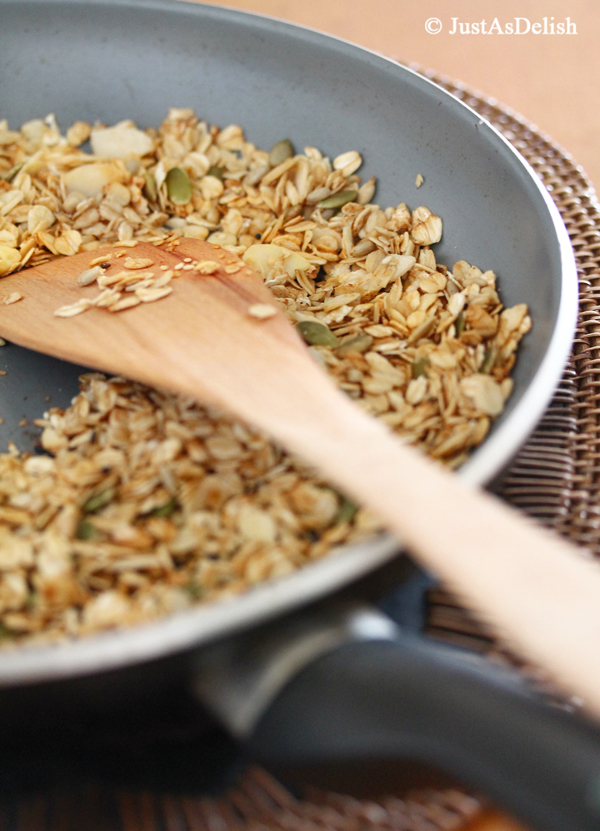 Making your own granola is so much fun because it's totally customizable to your preferred taste. I make this recipe with just a hint of sweetness. That's my preference. My breakfast class participants commented it's not sweet at all, but if you like it sweeter, just add more sweetener. If you love coconut in your granola, just add it in with the fruit at the end. Hate almond? Use walnut or another nuts of your preference. No cinnamon in your cupboard? Use nutmeg or other spice instead. Don't like honey? Try maple syrup or agave nectar instead. I've added suggestions on what I use in the recipe, but do what you want. This granola is YOUR granola. Make it how you like it.
If you prefer using the oven, use this Homemade Granola recipe.

Ten-Minutes StoveTop Granola
10 minutes Stove Top granola in 3 steps, faster than the using oven. with easy customizable recipe to your taste
Recipe type:
Breakfast, Snack
Ingredients
2 cups (350g) Rolled Oats (other options: millet flakes/quinoa flakes/barley flakes)
1 cup (100g) Nuts – I use slivered almonds & chopped walnuts
½ cup (50g) Seeds – I use sunflower seeds, pumpkin seeds and sesame seeds
½ teaspoon Spices – I use ground cinnamon & a pinch of ground cardamom
2 tablespoon Wet Sweetener – I used Grade B Maple Syrup
3 tablespoon Oil – I use Olive Oil
a pinch of Sea Salt
½ cup (100g) Dried Fruit – I use Dried Cranberries
Instructions
Place all ingredients (except dried fruits) in a big mixing bowl and mix well with a spatula.
Heat up a large pan on medium heat, pour mixture into pan and stir occasionally for about 5 minutes, making sure the mixture gets toasted evenly.
Notes
* This recipe can be doubled or made into bigger batches. You will need to divide the cooking into 2 times or more on the pan. Make sure the granola is spread on a thin layer on the pan for even cooking.
link