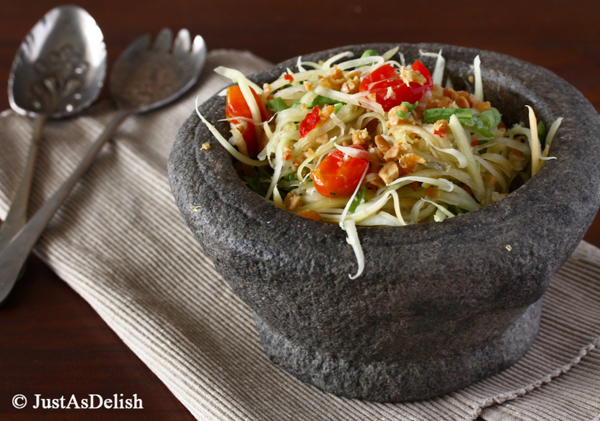 Grandpa loves to give away his papayas (pardon the pun) everything I visit. and I've made many visit since last year, hence papaya overload. He has 3 papaya trees in his backyard which he is extremely proud of. I do not understand why he loves planting just papaya and sugar apple trees in his huge backyard, I love other fruits too like mango, rambutan and passion fruits. Maybe I'll sneak in a mango tree next time I'm back.
Last weekend, I took back an unripe (green) papaya to make Som Tam (Thai Green Papaya Salad). It's one of the most recognisable Thai dish. Everywhere I turn in Bangkok, you can get Som Tam either at the roadside stall or in a restaurant. Many may not be aware that there are many different Som Tam variations. The Green Papaya version is a more "friendly" peanutty version that happens to be the most common one out of Thailand. It's also less intimidating than the fermented fish version or pickled fresh water crab version. There are also variations with other vegetables and fruits just like Green Mango Salad I posted long ago.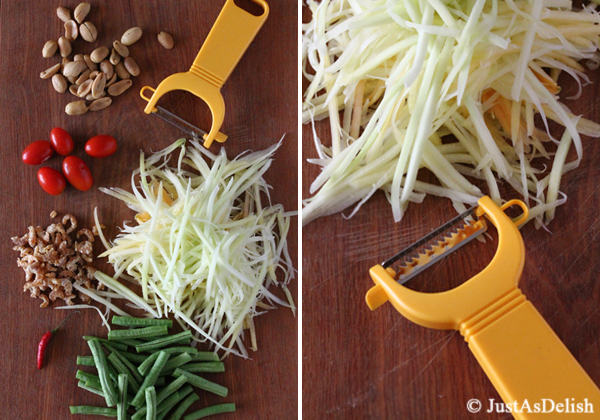 You will need a very firm green papaya (doesn't yield easily when pressed with your thumb) and shred its flesh into strands with salad shredder (I bought a cheap one at Daiso) or Kiwi Pro-Slice Thai Peeler. The standard preparation of Som Tam is crushing or pounding all the ingredients with a pestle and mortar, dressed with a spicy salty sour sweet dressing that's very appetizing. If you do not have a pestle and mortar (why don't you?), you can replicate the pounding by adding ingredients into a ziploc bag or sandwich bag and pound with your weapon of choice: a rolling pin, a baseball bat, or the bottom of a Mason jar. Be brutal. You have my permission. It's kinda therapeutic, no?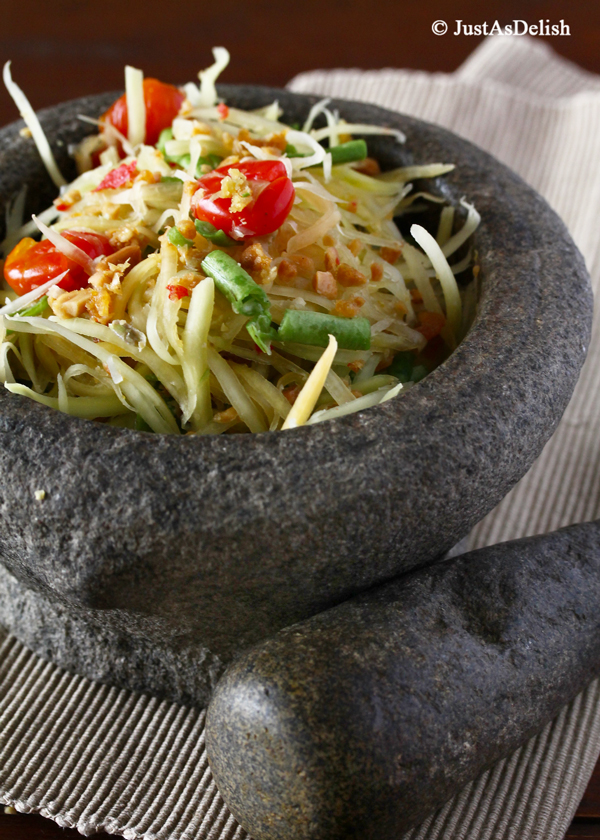 I am submitting this post to Asian Food Fest (Thailand) – Nov Month  hosted by Lena of Frozen Wings

Som Tam (Thai Green Papaya Salad)
Recipe type:
Salad / Appetizer
Ingredients
170g (6 ounces) Green Papaya Strands (from a small green papaya)
6 Cherry Tomatoes - halved
¼ cup Roasted Peanuts
2 tablespoon Dried Shrimp
⅓ cup Long Beans - cut into 1-inch (2.5cm) stick
1 Bird's Eye Chili
3 tablespoon Fresh Lime Juice
2 tablespoon Good Thai Fish Sauce
One clove Garlic
3 teaspoon Palm sugar or to taste
Instructions
Pound garlic and chilies in the pestle and mortar until they form a smooth paste.
Add dried shrimp and palm sugar and pound until the pieces are broken up, but not completely pulverized. The palm sugar is added now because you want to pound it to a paste so that it can be dissolved more easily and blend more readily with the other ingredients added later.
Add the peanuts and lightly pound until they are broken into tiny pieces.
Add the green beans and crush them with the mortar until they're splitting and lightly bruised. If your pestle and mortar is small like mine, pour out the contents into a big mixing bowl.
Add the papaya and tomatoes into the pestle and mortar and pound on them. Pounding the papaya strands will soften up a bit so they can soak up the seasonings more readily.
Add a couple of teaspoons of fish sauce and a couple of teaspoons of lime juice to the mix.
Use a large spoon with the other hand to help flip things over in and scrape down the sides of the mortar while your other hand pounds away with the pestle. Keep pounding and flipping for a few seconds.