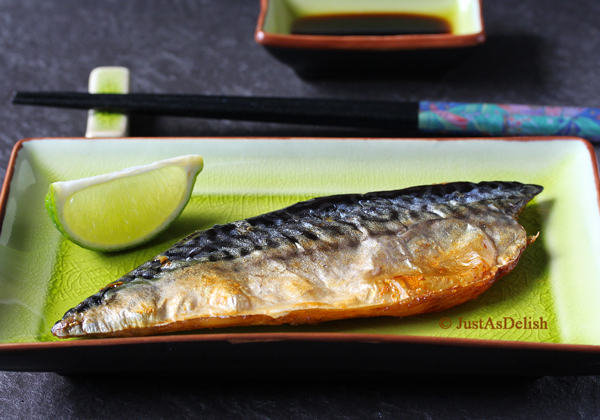 Salt Grilled Mackerel or Saba Shioyaki is a popular seafood dishes served as an entrée or part of a bento combination in Japanese restaurants.
I have to confess. I've never ordered Saba Shioyaki before in the restaurant. I always end up ordering salmon because it's usually almost the same price. Yes, I didn't think very highly of mackerel. The poor mackerel didn't get all the media hype like salmon does. Mackerel is one of the highly recommended oily fish for a healthy diet, rich in essential oils, vitamins, minerals and Omega fatty acids.
So I decide to make it for the first time. I'm lucky my fish monger is very kind to fillet the whole fish for me. If you can only find whole mackerel, don't worry. It's quite easy to fillet it yourself and remember to use a very sharp knife. This is a very helpful video tutorial to show you how.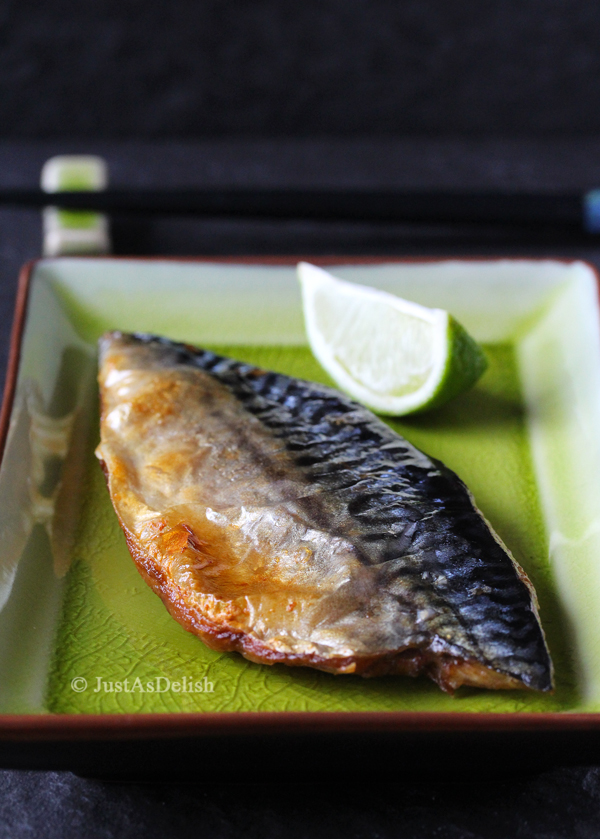 OMG I can't stop eating my Saba Shioyaki. Chomp down 2 fillets. Remember to squeeze lots of lemon juice on the saba, it's really refreshing!
You know what. I'll never look at Saba Shioyaki the same way again. It's delicious, healthy, QUICK and cheap.
Salt Grilled Mackerel (Saba Shioyaki)
Saba Shioyaki is a grilled mackerel seasoned with salt. Quick and easy seafood dish
Recipe type:
Main or Entree
Ingredients
4 fillets of Mackerel (saba)
2 tablespoon Sake
1 teaspoon Salt
Lemon/lime wedge
Instructions
Coat the fish in a plate filled with sake. Pat dry with paper towel.
Sprinkle salt generously on both side of the fish and let it sit at room temperature for 20 minutes. After 20 minutes… you should see the fish expel water, which makes the flesh denser. Wipe off any excess moisture on the fish.
Preheat the oven grill or toaster oven to 400F (200C). Place the fish skin side down on a baking sheet lined with aluminum foil or parchment paper (spray or brush oil so it doesn't stick). Bake for 15 minutes, or until the fish is cooked through.
Flip the fish over so the skin is facing up, place tray to a higher rack, nearer to the heating element and grill for another 3-5 minutes.