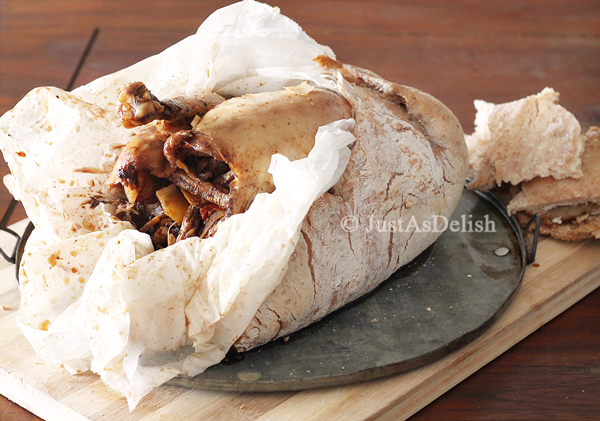 Like most popular dishes, Beggar's Chicken is a dish with an interesting story of origin. A starving, homeless beggar in rural China stole a chicken from a yard and was about to cook it when the emperor's guards passed by. In his state of panic, he tried to hide the chicken by covering it with mud and threw it into the fire. Hours later when the coast is clear, he ended up with a chicken that was said to be the most tender and flavoursome he's ever eaten.
Even today, Beggar's Chicken is considered a special dish – after all, mud and clay are not often used to cook food and requires special preparation. The dish used to be popular in the 70s & 80s where it's a signature dish in many restaurants. However now only 2 or 3 restaurants in Klang Valley remains popular with the dish mainly located in Ijok, on the old trunk road of Kuala Selangor and in Bukit Jugra, Banting. The chicken, stuffed with chinese herbs, are still cooked in the tradition of wrapping in clay and slow-baking, buried in the ashes of a dying wood fire.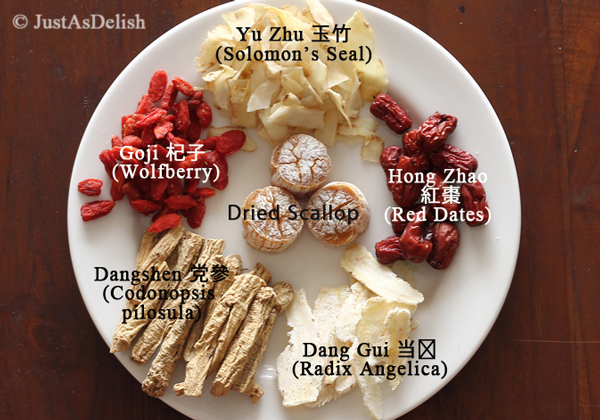 Of course, homecooks have adapted the recipe to make it practical to cook in a modern kitchen. The clay is replaced by a dough crust and the chicken baked in an oven instead of the dying embers of a wood fire. The dough is not meant to be eaten as it becomes rock hard after baked. But it does wonders in sealing in all the flavours and aromas. This is 2nd most eleborate recipe I've ever cooked, but it's so worth it. Once I've split open the dough after 2.5 hours of baking, the scent is simply marvelous, while the meat is fall-off-the-bone tender and juicy.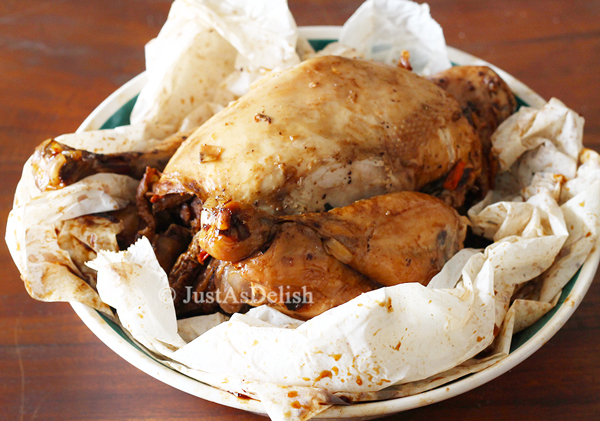 I am submitting this post to Malaysian Food Fest Kuala Lumpur Selangor Month hosted by Shannon of Just As Delish

MFF KL Selangor: Beggar Chicken
Author:
Debbie Teoh, published in Flavours Magazine Jan-Feb2007 issue
Ingredients
1 free range Whole Chicken, about 1.5kg
1 teaspoon Salt
1 teaspoon Pepper
Herbal filling
375ml (1 ½ cups) Water
30g Dang shen
20g Yu Zhu (Solomon's Seal)
15g Dang gui (Angelica Root)
12 Hong Zhao (Red Dates) - pitted
15g Goji (Wolfberries)
2 tablespoon Corn Flour + 2 tablespoons water, for thickening
1 tablespoon Rock Sugar
1 tablespoon Light Soya Sauce
1 teaspoon Dark Soya Sauce
2 tablespoon Chinese Rice Wine
1 teaspoon Sesame Oil
10g dried scallops
1 teaspoon Pepper
Salt to taste
Dough:
1kg plain Flour
10g Salt
550ml Water
Instructions
Wash chicken and pat dry with paper towels.
Marinate chicken with salt and pepper and refrigerate for 30 minutes.
Preheat the oven at 180°C.
Bring water and the 5 types of Chinese herbs to a boil in a small pot. Simmer for 5 minutes over low heat. Mix in the rest of seasoning ingredients, and remove from heat to cool down.
Combine salt and half of the water in a mixing bowl. Stir to dissolve salt then pour flour over. Mix and add enough water to form a dough. Rest dough for 30 minutes covered with a tea towel.
Place 2 sheets of greaseproof paper or aluminium foil (55cm x 40cm) together, and fold the 40cm sides about 1cm thick 5 times to secure it into a big piece, and place over a deep bowl large enough to sit the chicken.
Place the Chinese herbs into the cavity of the chicken and place chicken in the bowl. Pour cooled herbal stock over the chicken.
Wrap up the greaseproof paper over the chicken to make into a parcel.
Roll the dough out into a circle about of ½ cm thickness and wrap it over the chicken parcel.
Place the whole parcel onto a tray and bake in the oven at 180°C for 2 ½ hours.
Break the crust with kitchen scissors and discard dough. Be careful of the hot steam. Quickly get place chicken into a large bowl as the precious gravy would spill out.
Serve warm with steamed white rice or plain steamed dumplings.