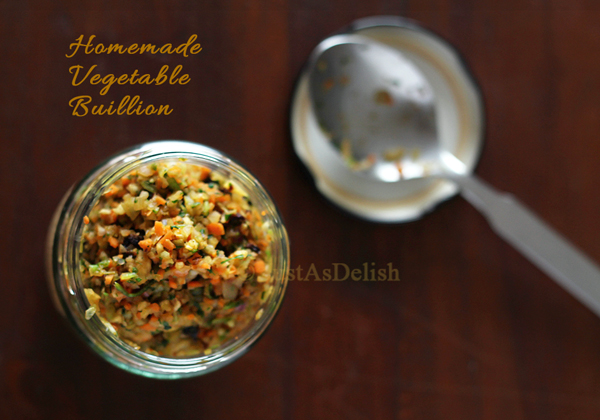 I get asked this question a lot: Where do you find time to make the made-from-scratch recipes? Who has the time to make everything from scratch? Everyone has different priority in life. Whatever you place your priority, you will find time for it, no matter how busy life gets. My health is my top priority at this moment in time, and so is eating real, unprocessed food. I get extreme high when I discover a made from scratch recipe (things that we think can only comes from the store) that I can conjure up in my own kitchen. Like walnut butter, yogurt, almond milk.. These recipes only takes 15 minutes out of my 1,440 minutes in a day. Besides, who eat sweetened condensed milk by the cans? If you do, please start praying. I've not made the condensed milk from scratch twice in the last 2 years.
I don't usually use vegetable & chicken stocks in my cooking. If there is a recipe that calls for stock, I'll just add water. I'm just lazy.. Ok, I've declared it in public. I'd rather have my dish turns out to be a bit bland than choking my body with msg-flavour- ladden chicken stock cubes. Once in a while, I do make some like this chinese chicken stock. When I come across this simple vegetable bouillon recipe, I just have to experiment.
A bouillon cube is a dehydrated cube or powder used to create an instant vegetable stock. This wet bouillon paste is more like a soup mix, to make quick flavorful broth for soups and risottos. As mine turn out to be chunky bouillon (my food processor doesn't grind finely enough), it's not suitable for clear soups as the chunky bits will be floating around. A good processor should be able to make them into paste. It's suitable for soups that will be blended/pureed like mushroom or pumpkin soup. It doesn't matter that mine was chunky bits as it was all finely pureed in the soup. You can also use the same ingredients as for your usual vegetable stock. Even though I'm not a coriander lover, the addition of herbs give the stock a burst of flavours. The original recipe uses a whole load of salt, which I was rather shocked. I halved it, I'd rather add in more salt during cooking if needed.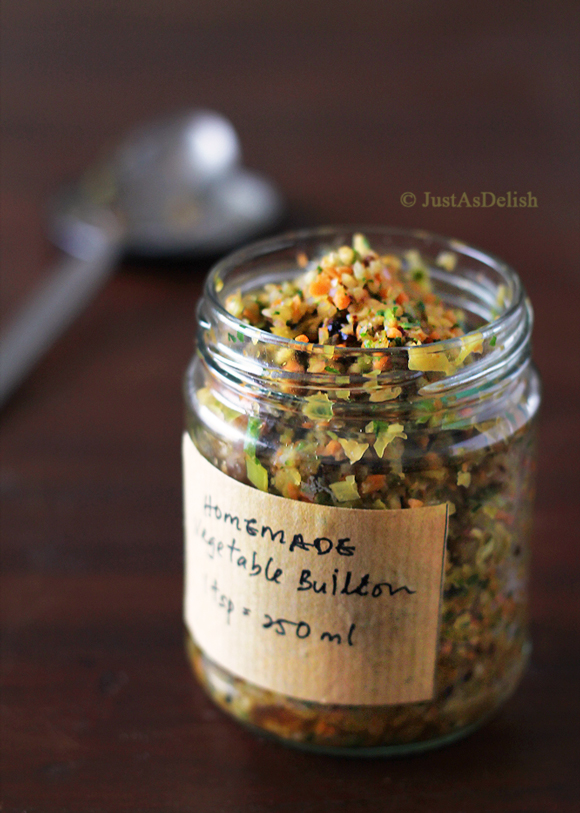 My 2nd experiment was making the bouillon powder by dehydrating the ingredients then grinding them finely. I prefer the powder version but I totally forgot to take any photos.. oh well.. if I ever get in the mood to make it again (most probably next year), I'll post the recipe. Till then, enjoy this version.

Homemade Bouillon
Recipe type:
Made From Scratch
Ingredients
2 ounces / 55g Leeks - sliced
3 ounces / 85g Fennel Bulb - roughly chopped
3 ounces / 85g Carrot - roughly chopped
2 ounces / 55g Celery - roughly chopped
2 ounces / 55g Celery root (Celeriac) - roughly chopped
½ ounce / 10g Sun-Dried Tomatoes soaked in oil - roughly chopped
2 ounces / 55g Shallots
2 medium Garlic Cloves
2.5 ounces / 70g fine grain sea salt
1 ounces / 20g Parsley - roughly chopped
1 ounces / 20g Coriander - roughly chopped
Instructions
Place all the ingredients (except parsley & coriander) in your food processor and pulse about twenty times. Add salt, parsley and cilantro, pulse some more. (Divide into 2 batches if your processor cannot fit all ingredients. You may need to scrap the chopped vegetables to mix the herbs, so they get chopped)
You should end up with a moist, loose paste. Keep ½ of it in a jar in the refrigerator for easy access in the coming days, and freeze the remaining ½ for use in the next month. Because of all the salt it barely solidifies making it easy to spoon directly from the freezer into the pot before boiling.
Start by using 1 teaspoon of bouillon per 100ml, and adjust from there based on your personal preference.