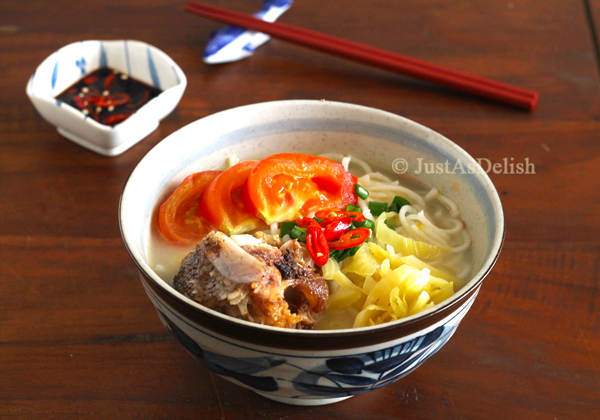 I'm no fan of fish head, except the silky smooth cheeks. Mama would "devour" the whole fish (the head, fins, tail) until the fish is irrecognisable. Many times she have failed to convince me to try the fish head. No way I will touch it, not even  scrumptious curry fish head. Yes I know some of you reading this will go "Eww, how can you eat the fish head". Mama will tell you it's very delicious, the cooked fish meat between the bones is super tasty and firm, break the bones with your fingers, and suck out the meat. There's no way avoiding getting your fingers dirty to truly enjoy fish head.
Fish head noodle is one of my favourite KL food. Strange? No. The fish head noodle has evolved to serving sans the fish head (I think there's many non-lovers out there too), just fish fillet. Thank god. But to cook an authentic fish head noodle I must stay true to using fish head. Oh no. You should have seen my sister CM's face when I told her I want to buy fish head. Are you sure? No way you are eating the fish head. It's better if you buy fish fillet.
So off we go to the Taman Maluri market, the fish sellers were direct from Kuala Selangor with very fresh and reasonably prized seafood . I was still very adamant on getting the garoupa (se pan) fish head. Blur as usual, I didn't do my research before going fish shopping. The recipe says garoupa, but I have no idea what it looks like & what size or weight I should get. I told the seller I want to cook Yu Tau Mai & he pointed to this humongous fish the length of my arms. The voice in my head goes "Are you crazy?" I asked for the smallest one and the head itself weighs 1kg, which costs me RM30. Ouch, this is yu tau mai is not a cheap dish. The seller said there's no meat in small fish head.. as if I'm going to eat it.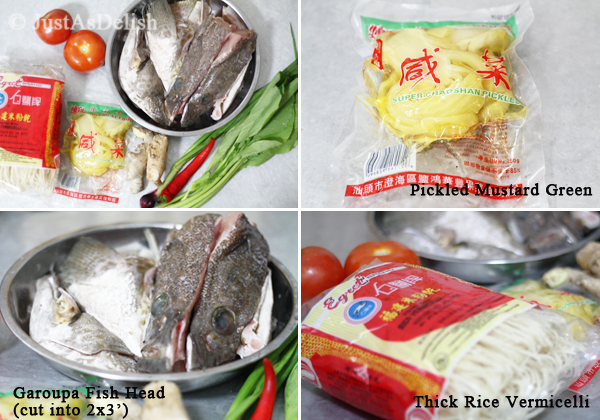 When I got home, I quickly "attacked".. I mean cleaned the fish head. I have prepared the chicken stock (from my previous post) the day before, so preparing the base broth is pretty fast. The dish is a milky base broth cooked with tomatoes, pickled mustard green, served with fish head chunks and usually thick vermicelli noodles (meehoon). Try to find Egret brand for thick vermicelli, it has the best texture – springy and firm and I used to lug back packets of it from Penang to KL.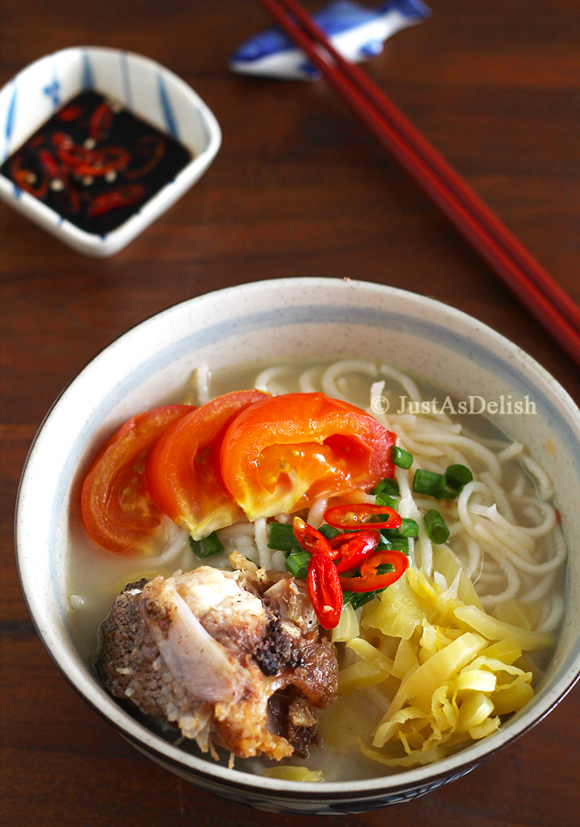 Fried fish head taste pretty good actually, although I have yet to learn to appreciate the gelatinous and cartilage parts. The seller is right about giving me a bigger head, there's more flesh for me to enjoy. Still, I think mama would be so proud of me.
What new ingredients have you tried and how did you phsyched yourself to try it?
I am submitting this post to Malaysian Food Fest Kuala Lumpur Selangor Month hosted by Shannon of Just As Delish

Fish Head Noodle (Yu Tau Mai)
Fish Head Noodle (Yu Tau Mai) - milky base broth cooked with pickled vegetables and tomato, served with fried fish head chunks and thick rice vermicelli (thick meehoon)
Recipe type:
Noodles / 1 Dish Meal
Ingredients
500g Garoupa Fish Head - cut into 2x3 inch pieces, clean & pat dry.
450g thick Rice Vermicelli - soaked in water for at least 30mins to soften & strain
70g young Ginger - thinly sliced
1 packet Pickled Mustard Green - thinly slliced
3 Pickled Plums
1 bunch Green Onions/Scallion - thinly cut
2 Tomato - cut into quarters
1 tablespoon Fish Sauce
1 bunch Choy Sum (Optional) - cut into 3 inches long
60ml (¼ cup) Evaporated Milk (I use 30ml milk + 30ml water)
A handful (about 30g) Dried Anchovies (Ikan Bilis)
1.5 liter (6 cups) Homemade Chinese Chicken Stock
2 tablespoon Chinese Rice Wine (HsaoTsing Wine)
Black pepper
Vegetable Oil - for shallow fry
Instructions
In a medium pot, simmer chicken stock with the anchovies for 10 minutes. Drain out the anchovies.
Marinate fish head lightly with salt and pepper.
Heat up the wok with 1 cup (250ml) of oil, when the oil is hot enough (bubbling when a wooden chopstick is dipped into the oil), slowly add in the fish head to shallow fry on all sides until it's brown and crispy. It will take about 15 minutes.
Heat up a another large pot, stir fry ginger with 1 tablespoon vegetable oil until fragrant.
Add in drained chicken stock, tomato, 1 cup of chopped mustard greens, and pickled plums to the pot. Let it boil over high heat for 10 minutes and lower the heat to simmer for another 10 minutes.

In another medium pot, bring 1 liter water to boil, add vermicelli to boil for about 1 minute until softened, then drain dry with a strainer. Set aside. Blanch choy sum for 1 minute.

To serve, put the cooked noodles and fried fish head into a serving bowl. Add evaporated milk and rice wine into soup, bring to a quick boil, then pour the soup over the noodle.
Garnish with tomatoes, pickled mustard green, green onions and choy sum. Serve with the soy sauce mixed with chopped bird's eye chillies or red chillis.

Notes
Fish fillet can be used instead of fish head