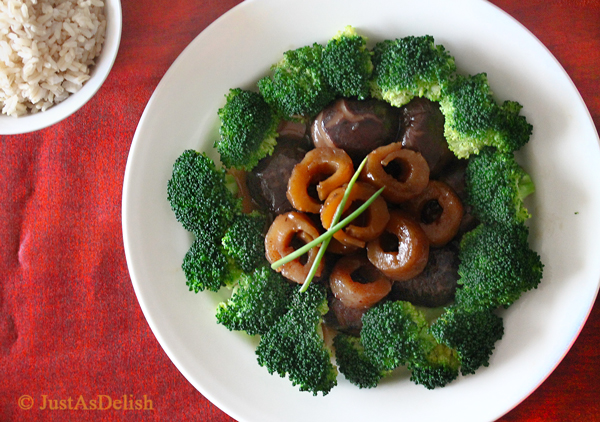 Festivities are usually the time to indulge. For the Chinese, most of us indulge in high-end and auspicious dried seafood during Chinese New Year. For some households, ingredients like dried scallops, sea cucumber and abalone are pretty common and highly regarded for their health benefits. Not mine though, luckily.  One will need deep pockets to enjoy them on a regular basis. Abalone is an acquired, expensive taste, like caviar or truffles. One fresh abalone can cost up to RM500.. *sweat*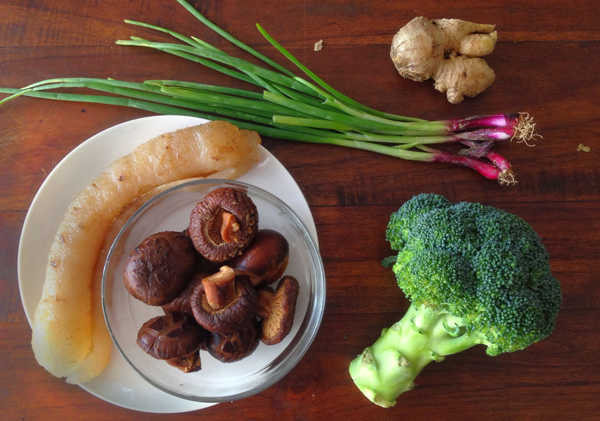 My braised mushroom, seafood with blanched broccoli during last year's Chinese New Year reunion dinner was well received by my relatives. The recipe I used was more complicated, so I was happy when I see a much easier braising method from Lee Kum Kee's recipe book that came with their CNY hamper (in last month's giveaway contest).  I used the method from the recipe book for this Braised Mushroom and Sea Cucumber, and it turned out to be an easy and delicious dish to prepare in the midst of crazy Chinese New Year preparation. The addition of blanched broccoli makes it a very pretty dish. The oysters sauce will make or break this dish, so splurge on a premium one.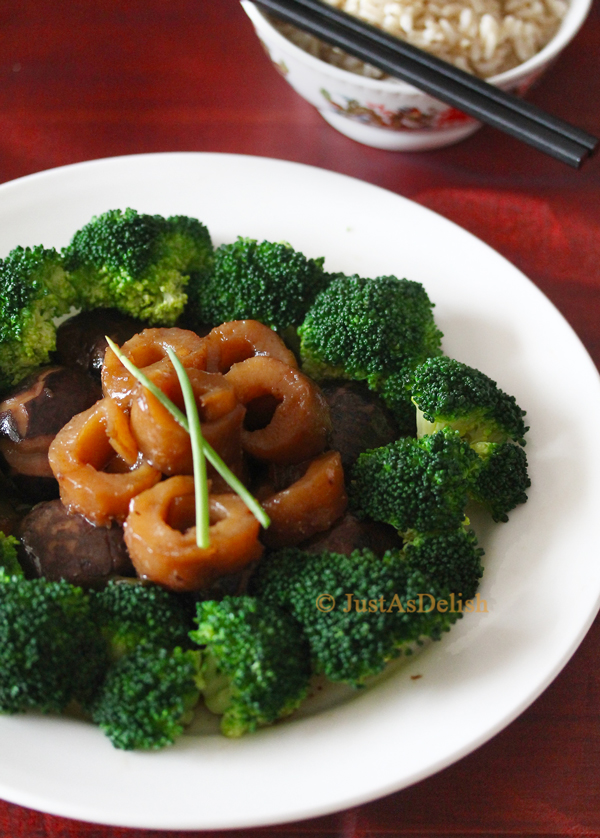 I don't quite fancy the other dried seafood, except sea cucumber. I love sea cucumber but have never tried cooking them before this. Dried sea cucumber requires about 1 week of tedious preparation and soaking before cooking, they will expand more than twice its dried size, then cleaning the grit and finally boiling it. The tasks look daunting & costly for this kitchen klutz, so I bought a pre-soaked sea cucumber from the wet market. In case you are wondering, sea cucumber is a living sea creature, not a plant.
If you want to add dried oysters and dried scallops, soak them in hot water for 30 minutes or until soft, then blanch them in boiling water with ginger and green onion.

Braised Mushroom & Sea Cucumber with Broccoli
Ingredients
50g Dried Shiitake Mushroom - soaked in hot water for 30 mins
150g Pre-soaked Sea Cucumber - cut into 1.5inch pieces
1 inch Ginger (smashed) & 2 Green Onion (white part only) - for blanching
4 slices of Ginger
1 Green Onion (white part only)
1 Broccoli Head (200g) - remove the stem and cut into florets
Sauce
2 tablespoon Premium Oyster Sauce
1 teaspoon Light Soy Sauce
200ml Water
1 teaspoon Cornstarch
¼ teaspoon Sugar
Instructions
Blanch broccoli florets in a small pot of boiling water for 1-2 minute. Remove with perforated ladle into a big bowl of ice water. This is to stop the broccoli from continuously cooking and keep the colour vibrant. Drain the florets dry immediately.
Add ginger and green onion into the same pot, let it boiling then blanch sea cucumber for 1 minute. Drain.
In another pot, saute ginger slices and green onion in 1 tablespoon of oil. Add sea cucumber and mushrooms, stir fry for 1 minute.
Mix sauce ingredients in a small bowl, add sauce to the pot and cook for about 10 mins or until sauce thickened.
Notes
* Use a good quality and premium oyster sauce
* I keep the broccoli stems, to place them under the mushrooms, to give them some height. (else the mushrooms will look lost in the broccoli forest. Thinly slice the stems and blanch them in hot water.
* If you want to add dried oysters and dried scallops, soak them in hot water for 30 minutes or until soft, then blanch them in boiling water with ginger and green onion.