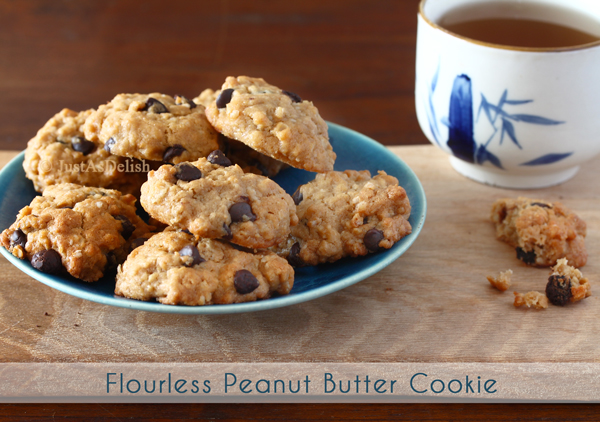 I'm in a rut. I'm not in any mood to make any Chinese New Year goodies at all. My usual favourites – peanut cookies and bak kwa (dried meat) doesn't turn me on. Don't get me wrong. I have a sweet tooth and am a big snack eater. Something is just not turned on this year. The only thing I felt like making is this deliciously chewy (and healthy) Flourless Peanut Butter Cookies.
Anybody can make this ridiciously easy cookie with just 4 ingredients. Ok 5.. but in my books, baking soda does not count as an ingredient.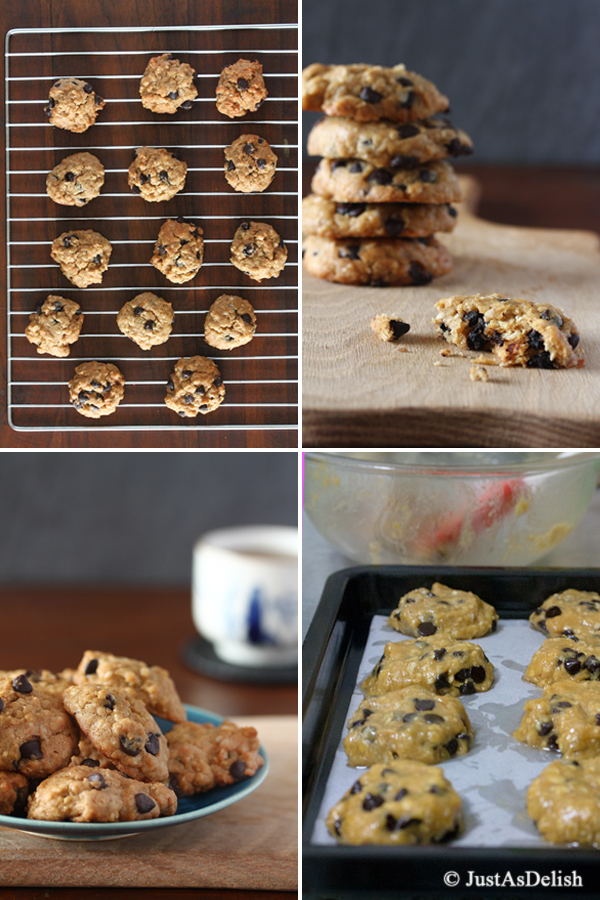 Something strange overcame me during that late night baking. My inner voice went "cookie cookie cookie" repeatedly when these babies came out of the oven. and that voice hasn't stopped since then.
Gosh am I turning in cookie monster? Maybe. No butter, no flour and no sugar in these addictive peanut butter cookies. Creamy peanut butter are normally very fragrant, salted and sometimes sweetened. The peanut butter I used are very flavourful, and the chocolate chips are plenty sweet, therefore no sweetener is added. Maybe that's why I'm so excited. Taste the peanut butter you are using, decide for yourself and add sweetener if needed.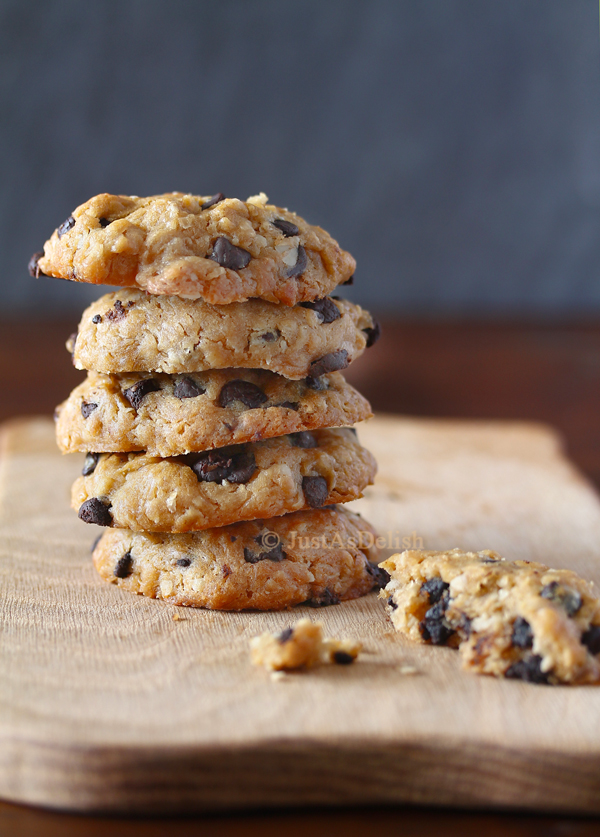 Are these cookies healthy? Maybe. Just nom nom nom.
cOOkie cOOkie cOOkie 😛

Flourless Peanut Butter Cookie
Healthy delicious chewy 5-ingredient Flourless Peanut Butter Cookie. No flour, no butter and no sugar
Ingredients
1 cup (250g) Creamy Peanut Butter
2 Large Eggs
⅔ cup (50g) Quick Cooking Oats
½ cup (40g) Chocolate Chips
1 teaspoon Baking Soda
Instructions
Preheat oven to 350 degrees F and line baking tray with baking paper.
In small bowl, mix oats and baking soda.
In a large bowl, beat peanut butter and eggs with a whisk (or wooden spoon) about 3 minutes until smooth. Gently mix in oats and chocolate chips with a wooden spoon. The dough should be pretty sticky.
Roll cookies into 2 inch dough balls with your hands and place onto baking tray about inches apart. If you are lazy, just scoop using 2 tablespoon (if you don't mind it being not so pretty). Lightly flatten the top of the cookie with your hand.
Bake cookies for 9-11 minutes and remove when edges barely begin to turn a golden brown. The cookies may look a little underdone, but they will continue to cook once you remove them from the oven. Cool for 2 minutes on the tray, then transfer to a wire rack to cool completely.
Notes
* You can substitute almond butter or another nut butter to replace peanut butter.
* Dried cranberries / raisins can be used in place of chocolate chips.
* I recommend doubling the recipe because they will disappear quickly