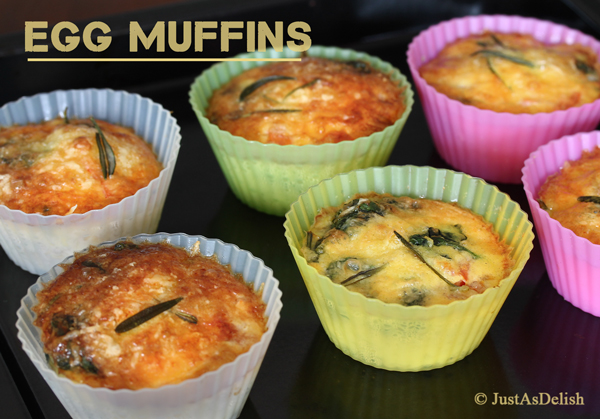 I have 2 confessions to make.
1st confession – I'm not a morning person and I become grouchy bear if I'm on empty stomach. So stay away from me in the morning, especially if I didn't get my breakfast. I will try to get as much sleep as I possibly can before waking up, I'd rather get an extra 15 minutes sleep than using them to do my hair or make-up.
2nd confession – I l used to eat in the car while driving to work, and I still do now when I'm running around in the morning.
Egg "Muffins" are great breakfast ideas for anyone who's busy in the morning and wants something that can be made ahead and eaten on-the-go. These Egg Muffins, or more like mini-quiches baked in muffin cups to create a grab-and-go breakfast that you can make on the weekends and then quickly reheat in the oven for a hot breakfast on the go. 
These muffins here are filled with tomatoes and savoy spinach from my balcony, and topped with cheese and herbs. I've been occupied with my edible garden for the past 6 months. Seeing plants grow from seeds or stems, then turning into edible plants or fruits is a satisfying accomplishment and brings me lots of joy. Gardening is extremely therapeutic and a great stress reliever.  Call me weird, but I enjoy talking to them on my morning watering routine.
These egg muffins are pretty versatile, fill them up with your favourite ingredient fillings.
Vegetable options: capsicum (bell pepper), tomato, spinach, broccoli, asparagus, mushroom.
Optional additions: ham, bacon, smoked salmon, flaked tuna
Optional topping: grated cheese, herbs/spring onion (I like to top with grated cheese to get a browned top). They taste good without cheese too.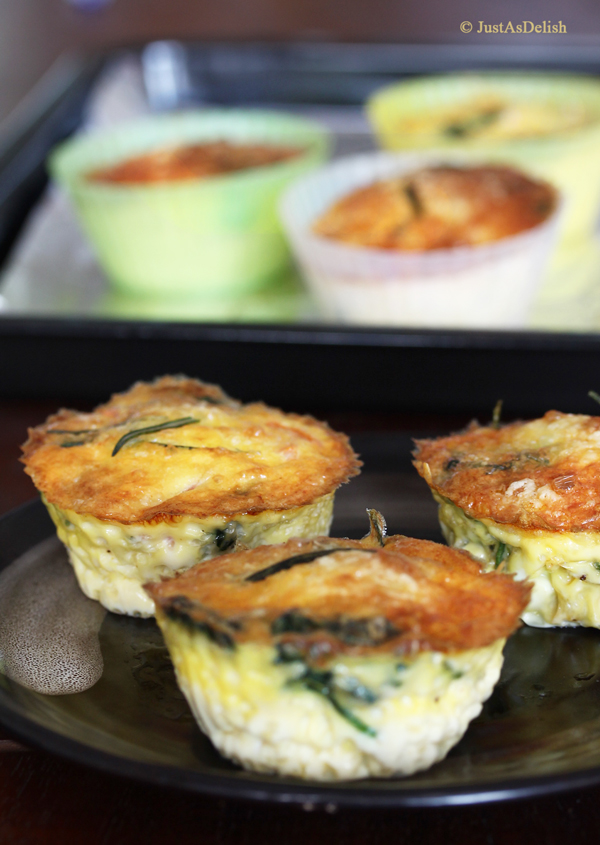 These little breakfast treats are high in protein, gluten-free, and perfect to feed to kids.  Egg muffins topped with cheese are pretty filling for me, two small muffins is enough for my breakfast.

Spinach Tomato Egg Muffins
Egg Muffins (or mini-quiches) are perfect grab-and-go breakfast. Freeze them and reheat on busy mornings. High in protein, gluten-free and great for kids.
Ingredients
1 clove Garlic - minced
4 cups Spinach
2 Tomato - diced
8 Large Eggs
½ cup (4 tablespoon) grated Cheese
sprinkle of Herbs (I used dried rosemary)
Pinch of Salt & fresh ground Pepper
Instructions
Preheat oven to 375 F. If using regular muffin pan, use waxed paper liners.
Dice tomatos into small pieces.
Saute garlic and spinach with a little olive oil on low fire until spinach is wilted.
Whisk egg with salt and pepper in a measuring bowl/cup with a pour sprout.
Place spinach and tomato into muffin cups. Add diced meat/fish, You want the muffin cups to be about ⅔ full, with just enough room to pour a little egg around the other ingredients.
Pour egg into each muffin cup until it is ¾ full. Top with grated cheese and herbs,