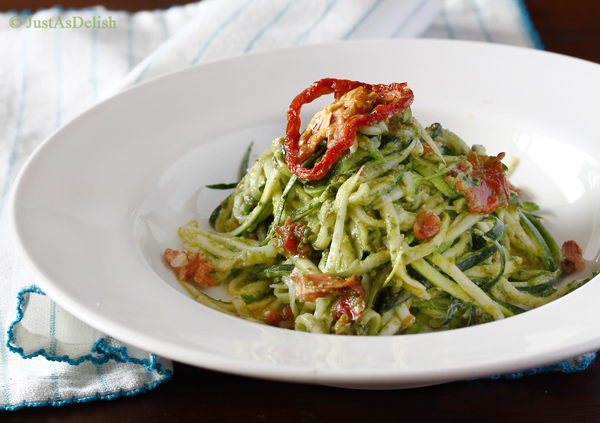 I know there's a lot of hype about going raw, paleo or whole30. Let's not start with the labeling. As long as it is whole food & real food, you can't go wrong there. As I'm wheat intolerant, grating zucchini into noodles (so it's zoodles?) is a great noodle substitute for me. Yes it's zucchini noodles, it can be eaten raw or if you don't like the raw veggie taste, blanch it with hot water. Oh but that's extra work.. so why don't you try eating zucchini raw for a change? 
I first tried making zucchini noodles with a spiroolizer at the Inner Food Workshop. Not wanting to get another gadget, I just use my handy RM5 vegetable peeler/shredder from Daiso.  Yes, I have a mandolin and a food processor but this tool is efficient, inexpensive, and quick to clean. I find the job gets done much faster by holding zucchini flat on chopping board with my left hand and "peel" with my right hand. You can have "noodles" on the table in no time flat! This handy peeler is useful for many salads too like Som Tam (Thai Green Papaya Salad).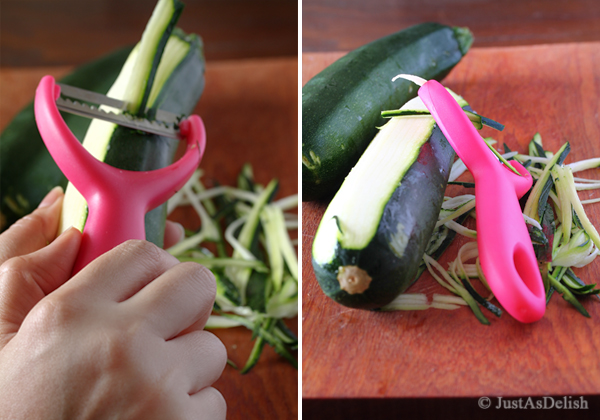 Zucchini noodles can be served with many sauces. Sun-dried tomato pesto is a wonderful change to add to your Italian recipes. This recipe is a great alternative (without cheese)  to the standard pesto recipe and the sun dried tomatoes add new sweet enjoyment to excite your taste buds.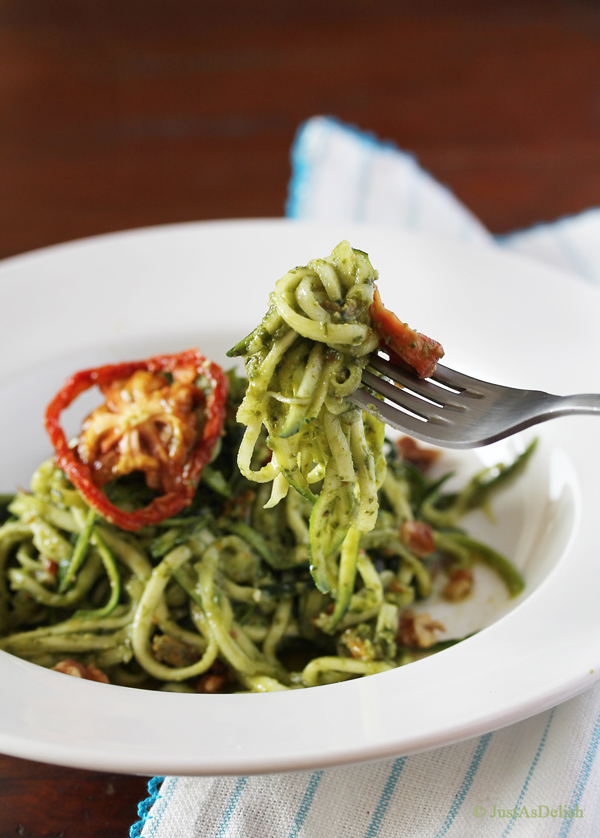 No cooking involved in this recipe. Just peeling & blending. Even a 7 year old can do it.
Oh, I made my own sun-dried tomatoes, it's easy if you live in a hot tropical country like Malaysia. Time to put the sun to good use. Will post the recipe soon.

Zucchini Noodles (Zoodles!) with Sundried Tomato Pesto
Ingredients
Zucchini Noodles
Sundried Tomato Pesto
½ cup (20g) Sundried Tomatoes + 2 pieces for garnish
2 cups (50g) Basil Leaves
2 Garlic cloves
Juice of ½ Lemon + plus more for storage
¼ cup Olive Oil
1 cup (100g) Walnuts
1 teaspoon Sea Salt
Instructions
Zucchini Noodles
Use a vegetable peeler to drag along the zucchini to create long, spaghetti-like noodles. Rotate around the zucchini, and continue to peel into noodles until you hit the seeds.
Place noodles in a large bowl, add the pesto and toss until everything is well coated.
Sundried Tomato Pesto
In a bowl, cover sun dried tomatoes with just enough water to soak it for 10 minutes till soft. Set aside 2 pieces, cut into small chunks for garnish.
In a food processor, blend all the ingredients until well combined. Refrigerate with extra lemon juice squeezed on the top to prevent oxidation, until ready to serve.