Happy Deepavali to all Hindu friends.
I am thankful to have the very talented Sri from Love2Cook Malaysia to share with us a delicious Diwali recipe. When I stumbled upon Love2Cook Malaysia earlier this year, I couldn't stop browsing through the gorgeous mouthwatering Malaysian food and bakes. Despite her busy schedule in preparing for Deepavali, the ever so lovely (& huge chicken lover) Sri has so kindly cooked up a scrumptious chicken dish: Chicken Kurma. Do head over to Love2Cook Malaysia to show Sri some love for this Deepavali festival.
I'd better not take up much space, let's have Sri's gorgeous food take over from here.
♥♥♥♥♥♥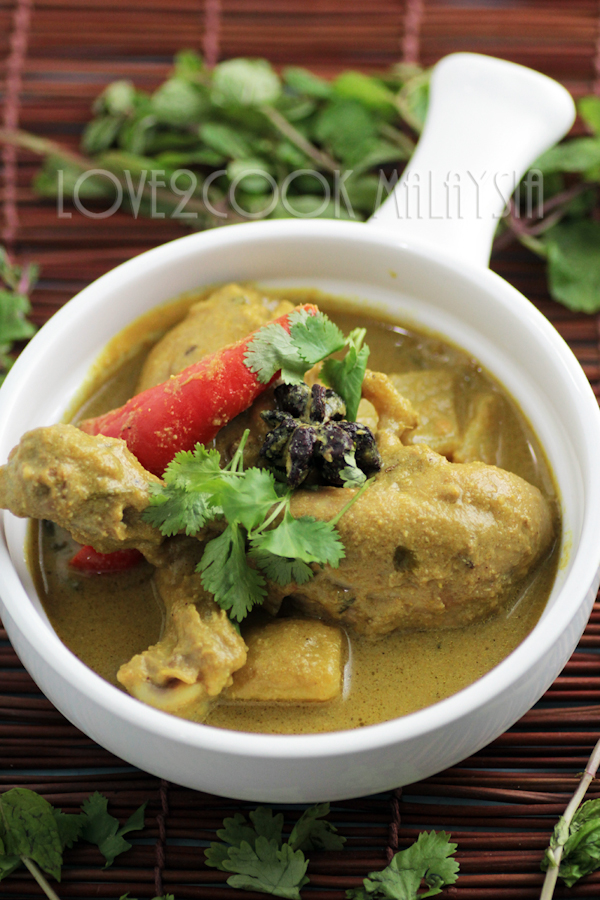 Hello Shannon and visitors of Just As Delish!
I'm so pleased and feel honoured at the same time to guest post in Shannon's yummilicious space. Shannon is a dear blogger friend of mine, whom I got to know just recently. I could not say no to her invite although I've turned down other guest post offers before due to unavailability of time. Shannon is a terrific cook who can make you salivate nonstop at her simple food presentations. Like you, I'm too wowed at her creations. I'd always blogwalk here whenever had the opportunity. But never thought I would be invited as a guest! Thank you Shannon for making this possible.  Much appreciated!
Well, I'm little nervous to write as this is my first ever Guest Post in my 3 years of blogging. Let me start with a brief introduction of myself. I'm Venisri Mahandran, or you can call me Sri.
Married to a Petroleum Geologist and a mother to my son and daughter, I feel my life is complete. I've been a homemaker since I delivered my son, just to be with him during his growing moment and it continued with my daughter. Although I loved working (formerly from HR background), I'm easily satisfied doing daily chores and most importantly be with my children. My husband works offshore around the world, so at least I could be with them during his absence.
To kill my free time, I learned cooking and blogged as Love2cook Malaysia. I cook mostly Malaysian style dishes and still in the learning process. I have a soft corner for chicken dishes and my blogger friends are aware of that. Some even call me a Hardcore Chicken lover!
In conjunction with Deepavali, the Hindus festival which falls on 13th of November this year, I would love to share my rich and creamy Chicken Kurma with all you here. This goes well with briyani rice or even chapatis. Enjoy and wish you well.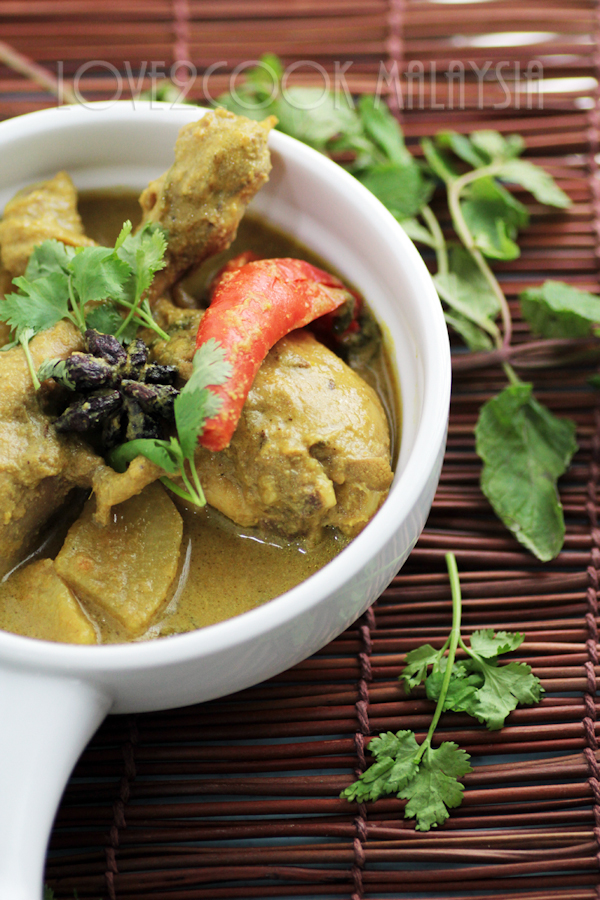 HAPPY DEEPAVALI!

Chicken Kurma
Rich & Creamy Chicken Kurma dish for Deepavali (Festival of Lights) celebration. Serves with briyani rice or capati
Author:
Sri of Love2Cook-Malaysia.com
Ingredients
A(Blend smooth together)
6 shallots
4 garlic cloves
1 inch ginger
3 green chillies
3 tbsps freshly grated coconut
2 tbsps cashew nuts (soaked in water for 10 minutes)
3 tbsp kurma powder
1 tbsp coriander powder
1 tsp turmeric powder
Little water
B
½ chicken ~ cut into pieces
1 cinnamon stick
2 star anises
4 cardamom pods
1 large onion ~ sliced
2 potatoes ~ cut into wedges
2 tomatoes ~ sliced
2 red chillies ~ halved
a sprig of curry leaves
1 handful of chopped coriander leaves plus extra to garnish
1 handful of chopped mint leaves
1 litre water
salt to taste
5 tbsp ghee
Instructions
Heat ghee in wok. Saute cinnamon stick, star anises and cardamom pods. Add onion and curry leaves. Stir until fragrant.
Add blended ingredient, coriander and mint leaves. Include the chicken pieces, stir evenly and allow to cook for 10 minutes. Stirring often.
Add water together with potatoes and salt.
Cook with lid covered for 15-20 minutes until potatoes cooked.
Add red chillies and tomatoes. Allow the gravy to simmer and do check for salt.
Sprinkle some chopped coriander leaves over before serving.
Tantalize your guests with Rich Chicken Kurma ☺
Cheers and best regards,
Love2cook Malaysia
www.love2cook-malaysia.com