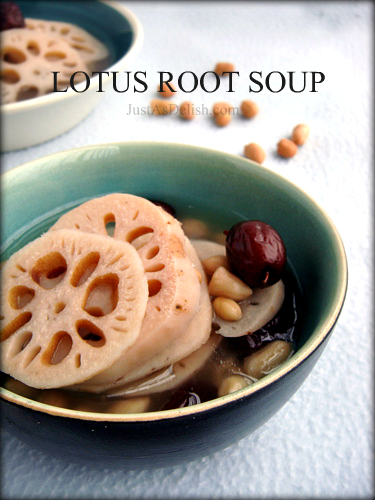 As I was digging around my files, I found this Lotus Root Soup photos in my archive that has yet to be published. The photos were taken almost a year ago. Time sure flies.
I come from a family of soup lovers, there's never a day without Chinese soup during my growing up years. Papa would come home after work and be happy with just a big bowl of hot simmered soup. And the tradition continues. Sometimes I do that too, on the days where I want a light dinner. Maybe others will find it strange that we drink hot soup in hot tropical weather. To me, a simple bowl of soup like this is the essence of the wholesome goodness of home-cooked food.
Lotus Root Soup is often found on my dinner menu.  There's some variations in the recipe in different families, this is how I like mine – simmered with chicken bones, peanuts and red dates. Always a sucker for all things crunchy, the lotus root and peanuts has to still remain crunchy for me. Love a good munch. Wonder what will happen if I grow old and lose my teeth? Oh no, I can't imagine what will happen..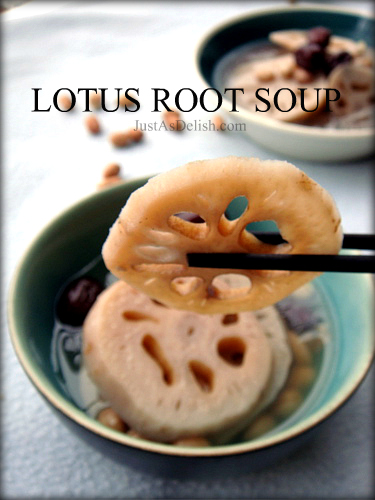 The days are cooling with frequent rainy days (monsoon season now), and there is nothing better than having a bowl of hot soup. Why don't you give this lotus root soup a try?

Lotus Root Soup
Hot Chinese Soup - Lotus Root with Peanuts & Red Dates
Ingredients
1kg fresh Lotus Root - peeled & sliced 1mm thick
1 Chicken Carcass (or 500g Pork bones/ribs)
½ cup Peanuts
½ cup Dried Red Dates
1.5 liter Water
Salt to taste
Instructions
Bring water to a boil in a huge pot.
In a big bowl, blanche the chicken carcass with boiling water to get rid of the scum.
Add in blanched chicken carcass with lotus root, peanuts and dried red dates.
Simmer on low heat for about 2 hours or until the lotus root reach your desired softness. Season with salt to taste.