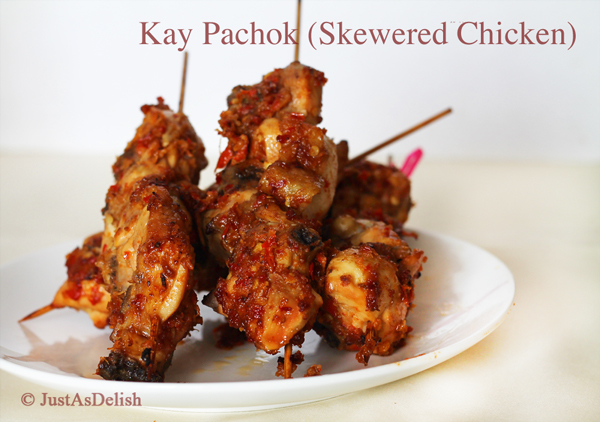 When I saw this Kay Pachok (Skewered Chicken) on Phong Hong Bakes, I immediately bookmarked to make it for Malaysian Food Fest: Terengganu Month hosted by Lena of FrozenWings. But this month has been so busy with my participation in the Nutriplus Baking Competition that I'm only managed to squeeze in time to post this recipe in the nick of time. More stories about the baking competition soon.
Kay Pachok is like gigantic satay (it uses chicken pieces instead) that had me salivating just thinking of them. Now who could resist gigantic satay? According to Phong Hong who hails from Terengganu, the name Kay Pachok originates from "Kay" is chicken in Hokkien and "Pachok" is the Terengganu dialect for the Malay word "pacak" which means spike.
The chicken pieces are steamed and then coated with a thick fragrant spice mix and cooked further on a charcoal grill (I only use the oven just like Phong Hong). It is then wrapped in banana leaves for that extra fragrance. Steaming the chicken and then grilling the chicken seals the juice and the fragrant spices gives each bite a burst of flavours. The only let down was I did not have enough coconut milk, and there's less basting spice mix to coat the chicken pieces. Phong Hong, I could eat the whole balang (tray) of Kay Pachok! It's finger licking good!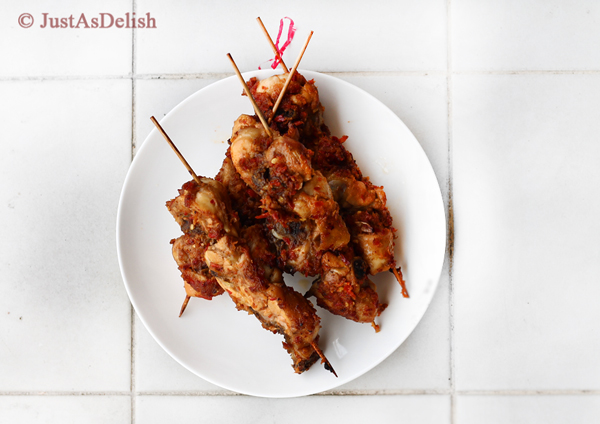 I am submitting this post to Malaysian Food Fest, Terengganu Month hosted by Lena of frozen wings.

Kay Pachok (Skewered Chicken)
Ingredients
4 Chicken Legs - each cut into 5 pieces.
Spice Mix
4 Dried Chillies - soak to soften (deseed if you don't want too hot)
5 Fresh Chillies (deseed if you don't want too hot)
400g Shallots
15g Lengkuas (Galangal)
30g Gula Melaka (Palm Sugar)
35g Belacan (Prawn Paste)
50g Kerisik (Pounded Roasted Coconut)
1 tablespoon Coriander Powder
1 teaspoon fennel Powder
200ml coconut milk
Instructions
Spice mix :
Blend chillies, shallots, lengkuas, gula Melaka, belacan and kerisik.
Put blended ingredients into a saucepot and add corriander and fennel powder. Mix.
Add santan and stir to mix.
Bring the mixture to a boil and simmer for about 10 minutes.
Set aside.
For the chicken :
Skewer 3 pieces of chicken per satay stick.
Steam the chicken pieces over rapidly boiling water for about 5 minutes.
Preheat oven to 180C and line a baking tray with foil (to make cleaning easier).
Place skewered chicken onto tray and coat with a layer of spice mix.
Grill for about 40 minutes, basting with the spice mix every 10 minutes until chicken pieces are well coated and the spice mix is browned.