Now that I am back and (almost) fully rested from a whole 15-days in China, I am ready to get back into my normal schedule, more specifically my healthy diet. Even though I eat an extra serving of dessert or while on vacation, I don't find myself buried in guilt because the most important thing is to enjoy and try out new food. Also, following this 5 healthy diet tips while on vacation helps a lot. These tips may be helpful if you are planning on a vacation in the next couple of months.
After 2 weeks of wonderful feasting, a light and healthy cleanse with beetroot was in order for the Saturday lunch. Grated Carrots & Beetroot Salad.. hmm..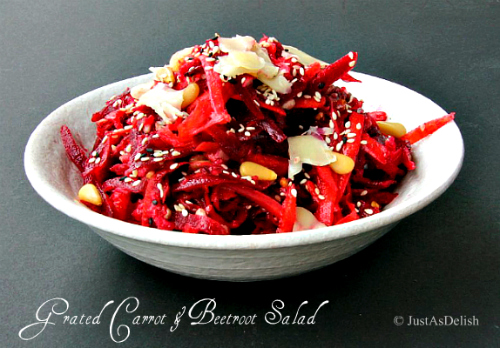 Beetroot (or beets) are rich in potent antioxidants and nutrients, including magnesium, sodium, potassium and betaine, which is important for cardiovascular health. Despite beetroot being highly nutritious, I've never really particularly liked the taste of beetroot. My first taste of beetroot was in a sandwich during my uni days in Australia, pickled sweet beetroot just tasted so strange in the sandwich. Even after numerous sandwiches with pickled beetroot, my taste bud just refused to accept the same love Australians have them.
But this Grated Carrot & Beetroot Salad quickly changed my mind about beetroot, and my body still craved for it the next day. Grated carrots is always in my salads, but the addition of beetroot adds a sweet deeper flavour, and it colors the whole thing with the beetroot's infectious purple. The slight tinch of heat from the garlic & dijon mustard blends perfectly into this light  salad, making it my new love.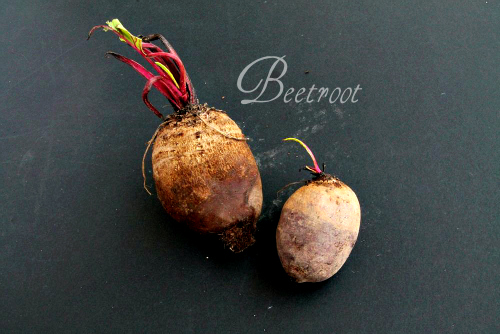 If you've never tasted beetroot in its raw state, I urge you to give this salad a try. This salad is so easy – grate and mix, no instruction photos are required.
In case you have missed out, head over to my last post to enter for the giveaway – 2 gifts from my China trip. Giveaway entrees are opened until 11th March 2012.

Grated Carrot & Beetroot Salad
Author:
Inspired by Chocolate & Zucchini
Ingredients
300g Carrots
300g raw Beetroots (get small young ones with smooth skin and firm flesh)
a handful of toasted Nuts & Seeds (almonds, pine nuts, sunflower seeds)
Shaved parmesan or any cheese
2 cloves Garlic - finely minced and pressed with the side of knife
1 tablespoon Olive Oil
1 tablespoon Cider Vinegar (or balsamic vinegar)
1 teaspoon Honey
1 teaspoon Dijon Mustard
a pinch of Sea Salt
a sprinkle of toasted Sesame Seeds
Freshly ground black pepper
Optional add-ons:
- Leafy fresh herbs (cilantro, or parsley), chopped
- Baby spinach leaves
- A grated apple or shallot
Instructions
Peel and grate the carrots and beets.
Place the grated carrots, beetroots and rest of the main ingredients in a large salad bowl, and toss until well combined. Add any desired add-ins and toss again.
Taste and adjust the seasoning, and set aside for 30 minutes if you can before serving. The juice from the beets and carrots will make the salad more moist. If you want to serve immediately, add a dash of lemon juice or tomato juice to make the salad moist.

Other amazing beetroot recipes to try: