There are days when I crave for a burger, especially the RM4 Ramly Burger Special. I prefer eating Ramly Burger anytime than any of the fast food outlet here. Who doesn't love a good burger? Even my 92 year old grandpa love it when he had his first burger last year!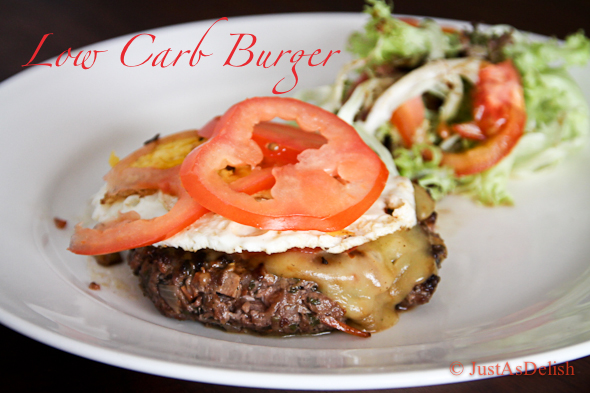 I made myself a Low Carb Burger, bun-less and guilt-free.  To fill myself up, I prefer having another piece of burger patty (more protein) than carb like a bun. Why order take-aways when you can enjoy these loaded hamburgers at home?
Making burger patties are extremely easy. You can either have a basic minced pattie with just salt & pepper, or add some ingredients to the minced like what I did. Then cook the burger patties, top with cheese until it melts and any of your favourite topping, or on the side. I made more burger patties to freeze, weeknight dinners can be a breeze when I just want something quick.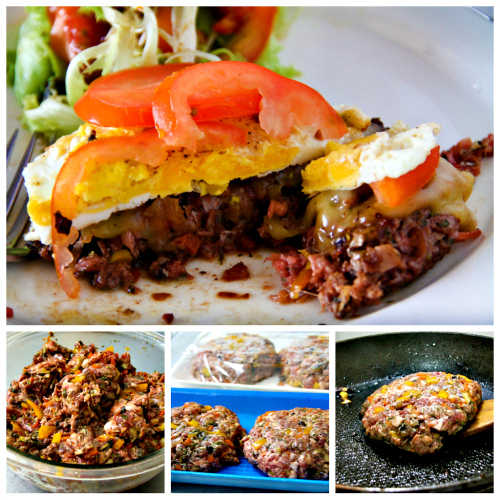 Burger without the carbs
Ingredients
500g Lean Minced Beef / Chicken
50g Button Mushrooms - finely chopped
½ Carrot - finely chopped
½ rib Celery - finely chopped
1 Shallot - finely chopped
2 cloves Garlic - finely chopped
Salt and Pepper to taste
2 tablespoon Olive Oil or vegetable oil
2 Slices Ceddar Cheese
4 Eggs
1 Tomato - sliced
1 Capsicum - sliced
Green salad
Instructions
In a pan over medium heat, heat 2 tablespoon oil or vegetable oil. Add the chopped vegetables, shallot and garlic; season with salt and pepper, cook about 2-3 minutes, then cool completely.
Combine the ground beef with salt, pepper and the cooled vegetables. Form four patties with your hands.
Heat the pan over medium-high heat. Cook the burgers for 10 minutes, turning once for medium doneness and top with ceddar cheese until melted.
After the patties are done, fry eggs in the pan. (or use another pan while the patties are cooking).
Top the burgers with egg, sliced tomato, capsicum and green salad.