Korean Spinach Banchan (Sigeumchi Namul) – seasoned with soy and sesame, one of the easy & common Korean side dish.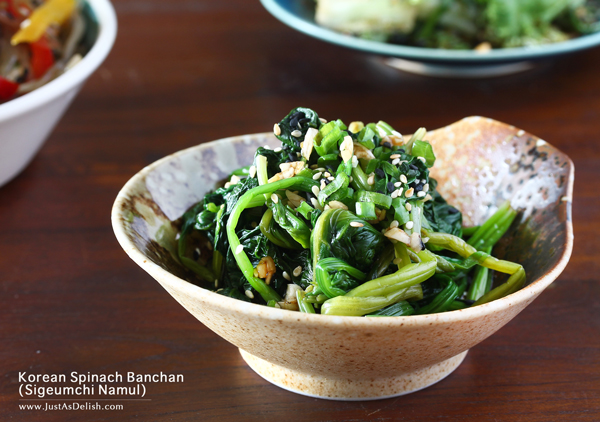 Today is Day 4 of the 2 Week Fruits & Veggie Cleanse. This is not a cleanse to try if you are new to cleansing or fast. As I've done a few cleanse before, the 3 days went by pretty uneventfully while snacking on pumpkin seeds & dried fruits. Until late last night when I walked into the kitchen, the pack of chocolate bar seems to be calling out to me. Then just before midnight while I was getting to bed, whiffs of curry aroma enveloped my room. My hardworking neighbor downstairs sometimes cook in the middle of the night.
Arrgghh! Doing cleanse at home definitely requires discipline and determination. It will only work effortlessly if the end result has a bigger purpose. Or it has been too painful not to do something different. It has been 4 years of recovery, everyday inching to a healthier body and mind. For someone who loves to experiment, cleansing is the perfect opportunity for me to explore new ingredients. Some of the 1st few recipes here (Rice Crackers, Millet Patties, No Bake Cookie Dough Bites) was created when I was on 1 month candida detox. Pardon the ugly photos 😛  I'm looking forward to discovering new recipes these 2 weeks.
Talking about discoveries, if you have yet to try Korean cuisine, you absolutely must. The Koreans view food as medicine (rather similar to Chinese cuisine), where the harmony in different ingredients when combined, should be balanced in the yin-yang aspects. Korean food is also one of the healthiest traditional cuisine in the world due to the common use of natural, seasonal ingredients: tofu, bean paste, chillies, garlic and tangy-spicy kimchi.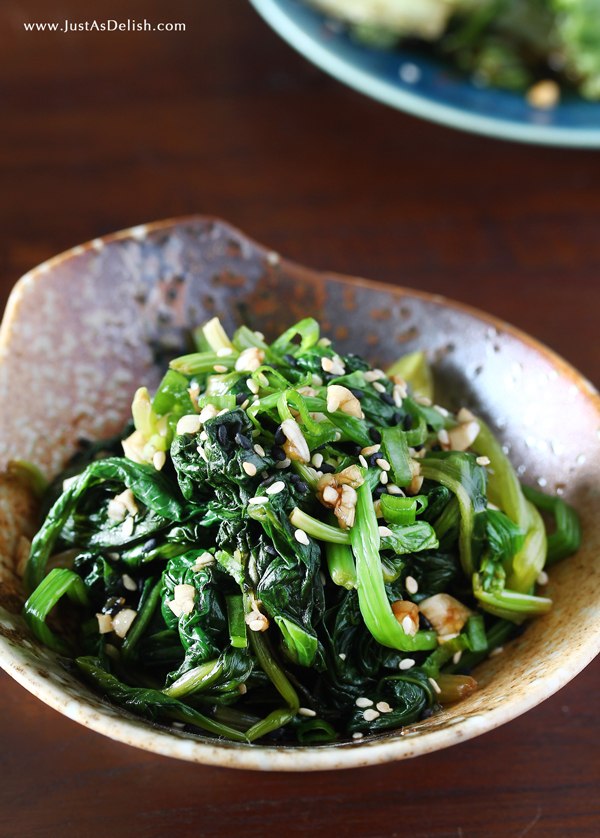 I'm in love with Korean food since it was introduced to me a few years back. Thankfully, I have a sister who's crazy about the food, K-drama (and now taking Korean lessons). She cooks a mean Korean meal and she's my "personal translator" when I'm doing grocery shopping (or she tries to be).
A Korean meal is served with wide variety of banchan – small assorted dishes of appetizers, pickles and salads. My Korean Chiropractor doctor's wife confirmed banchan is served at every meal. Phew.. It looks rather tedious to serve so many dishes everyday, luckily many of them can be made in advance in big batches. This Korean Spinach Banchan called "Sigeumchi namul" is one of the common side dishes. This is an easy recipe that can be made in advance. Thanks to Popeye, I'm sure you know spinach is mighty good for you.
I love banchan (my favourites are pickles, anchovies and lettuce salad), sometimes more than the main meal. Can I just order banchan with rice?
What's your favourite?
I am submitting this post to Asian Food Fest: Korea, hosted by Sharon of Feats of Feasts.

Sigeumchi namul (Korean Spinach side dish)
This spinach dish (Sigeumchi namul), seasoned with soy and sesame) is one of the easy & common Korean side dish (banchan).
Ingredients
200g Spinach – to use leaves and stem, remove the roots and wash 2-3 times
2 cloves Garlic – minced finely
1 Green Onion – sliced thinly
1.5 tablespoon of Soy Sauce (or Tamari for gluten free option)
½ tablespoon Sesame Oil
½ tablespoon Sesame Seeds - toasted
1 teaspoon Sea Salt
Instructions
Mix minced garlic, green onion, soy sauce and sesame oil in a large bowl.
In a medium pot of boiling water, add 1 teaspoon of salt and blanch a bunch of spinach for 30 seconds. Drain the cooked spinach and rinse it in cold water 3 times, and squeeze it gently to get the water out.
Cut the spinach a few times and place the spinach into the sauce bowl and mix by hand.
Transfer the spinach onto a serving plate and sprinkle toasted sesame seeds.