Amazing Korean salad bowl without the carbs, rock your favourite salad ingredients with spicy Gochujang paste – perfect for weekday lunch.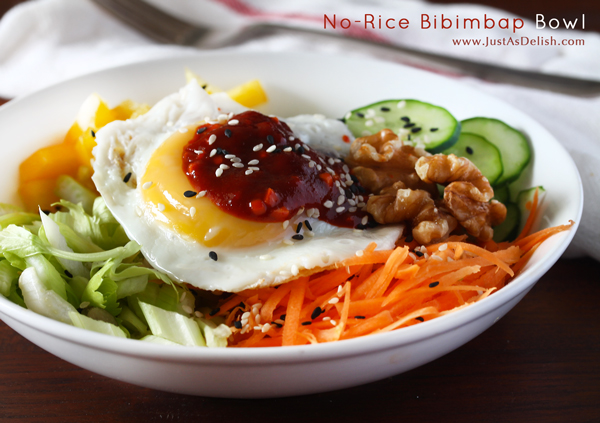 I'm pretty obsessed with Korean food, especially Gochujang paste. I love to use the paste to season meat or fried rice. Bibimbap (Korean rice bowl with gochujang) is on my weekday lunch menu almost every other week, usually with raw veggies. Some days it's just No-Rice Bibimbap Bowl, which makes it an amazing spicy salad bowl.
Mine is usually packed with raw veggies, fried egg and sprinkles of nuts and seeds. Slicing the veggies in different shapes and sizes adds texture to the salad. Use any of your favourite salad ingredients. Top with spicy gochujang sauce. That's how I rock my salad.
No-Rice Bibimbap Bowl
Korean style salad bowl with raw veggies, egg, nuts and seeds, topped with spicy Gochujang paste
Ingredients
½ small Cucumber – thinly sliced with mandoline
4 Cherry Tomatoes – cut into quarters
½ Bell Pepper – cut into small cubes
1 stalk of Celery – thinly sliced
½ small Carrot - shredded
3-4 Walnuts – toasted in pan
1 Egg
½ teaspoon Sesame Seeds – toasted in pan
½ tablespoon Gochujang Paste
1 teaspoon Sesame Oil
2 tablespoon Water
1 clove Garlic - minced
Instructions
Toast the walnuts and sesame seeds in a pan on low heat. Shake occasionally so the nuts don't get burned, remove them when the sesame seeds start making popping sound.
Meanwhile cut and slice up the veggies, place them in a bowl or salad plate.
Add 1 tablespoon of oil into a medium high heat pan, and fry the egg.
Mix gochujang paste, sesame oil, water and minced garlic in a small bowl, until it become a smooth paste.
To serve, top veggies with egg, walnut, gochujang mixture and sprinkle with sesame seeds