A warm bowl of comforting slippery garlicky "pasta" without the carbs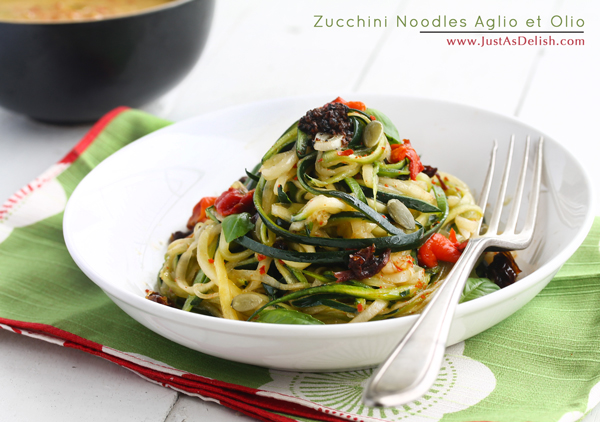 I jumped right in when I saw Dr John Cassone organized a 2 Weeks Fruits & Veggie Cleanse on Google+ right after Easter. Since my 7-day Raw Food Detox at Bahay Kalipay Retreat, I had been indulging more than usual over the months, causing me to feel bloated and sometimes sluggish. The 2 Weeks Cleanse / Fast was timely for me to detox and increase my energy.
The 2 Weeks Cleanse is part of the RESET Food Plan designed by Dr. John Cassone for patients with carbohydrate handling dysfunction (dysglycemia) and/or digestive disturbances (dyspepsia).  In general terms: a safe and effective strategy to balance blood sugars, improve digestion, lose weight and a general boost in health. What I like about the cleanse and food plan is that RESET is not based on an ideal diet but instead designed to address the physiological disturbances. As balance and normal function are restored, the food plan become less strict. Any trendy new diet which are often fanatical and preaches an ideal; may or may not be useful to your body's needs.
The cleanse is 2 weeks of Fruits and Vegetables only. Eat as much as you want and when you want; smoothies, cooked, or raw. Nothing else allowed. It's that simple. Dr John advised me to keep the raw veggies to the minimum, as they are hard to digest due to my digestive issues. The cleanse was unsupervised, no recipes to follow. The awesome thing was RESET community gave great support to keep each one of us who joined the cleanse motivated. Imagine no coffee for 2 weeks, I applaud those who succeeded!
I went in without a game plan, just bought a week loads of fruits and veggies the day before Day 1 and went with the flow. I have always looked forward to cleanse & detox, as it's a chance for me to experiment with new recipes. Started with fruits for breakfast, sauté / roasted veggies for main meals. The first 3 days were the hardest – low energy and fatigue kicked in, just as we were told to expect when the body switches from carbohydrate dependency to efficiently burning fat as fuel.
People around me started tempting me with other food – chocolate, fish, pastry. They give me the look & goes "What? Chocolate is not allowed? Poor You". I wondered which part of the term "Fruits & Veggies Only" they did not understand. Maybe they thought cacao grows on trees and technically cacao is a plant, making it "vegetable"? 😛
After a week, I couldn't believe how small my appetite became and I hardly got hungry even though my meal portions were sometimes reduced by half. I felt great with good energy. I didn't realize I've been overeating all these years, I thought my portions were normal. As I have to keep my food mostly cooked, it was rather difficult eating out due to the strict rules of the cleanse. No soy allowed rules out all the Chinese and Malay outlets. Vegetarian options at western food outlets are filled with carbs – pizza and pasta. Salad is the best bet, but I had to limit raw veggies. The only option left is Indian vegetarian. I was left stranded in KL's largest shopping mall, going in circles looking for lunch and end up eating fruits.
Not having any other food or sweet cravings during the entire cleanse caught me by surprised, and it continues even after 2 weeks as I am writing this. At the end of the 2 weeks, I was pretty amazed with the huge amount of veggies I've consumed and I love it. Never have I eaten so much veggies! My body's immediate reaction to raw veggies, revealed how sensitive it has become without the distraction of other food I have been stuffing myself with.
As I rested my body from the constant onslaught of food stuffs, I focused my attention inward, to listen and become quiet. And that quiet quality time, reconnects me into a deeper level with my body and inner being. Emotionally, I felt calmer, clearer and happier.
That was why fasting is a beautiful gift to myself or anyone. A vacation for my weary, overworked, under-appreciated body. Besides weight loss (a plus point), it has been a 2 weeks of getting to know myself better – gaining insight into my patterns with food and for making changes to my habits and lifestyle become much easier to accomplish.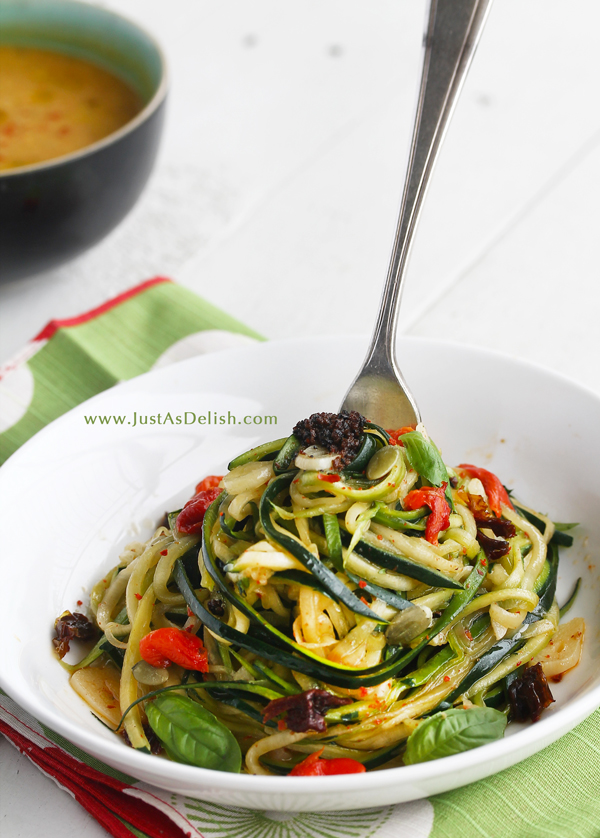 Going on a fast does not mean you are deprived of delicious food. These Zucchini Noodles Aglio et Olio gives you a warm bowl of comforting slippery garlicky "pasta". If you have yet to try using Zucchini as noodles/pasta, I'm sure you will be pleasantly surprised with the texture of a Pasta without the carbs. A spiralizer will give you perfect firm noodles or a mandoline (to make zucchini ribbons / fettucini). Using julienne peeler method like me, might produce some moisture, so don't skip the step of tossing them in salt to remove excess water to achieve tender crunchy noodles.
More Zucchini Noodles recipes:
Note: While the cleanse and food plan is general and does not harm you, they do not take place of professional care. If you have underlying health issues, please seek professional holistic care for individual assessment and personalised care plan.  

Zucchini Noodles Aglio et Olio
These Zucchini Noodles Aglio et Olio gives you a warm bowl of comforting slippery garlicky "pasta" without the carbs
Recipe type:
Main / Pasta
Instructions
Slice zucchini with julienne peeler, discarding the soft core. Toss the julienned zucchini generously with salt and let it sit for 20 minutes to remove excess water. Rinse with running water, drain well, and pat dry with paper towels. (This step ensures tender, rather than watery, noodles.)
Heat a large pan over medium-high heat and add the olive oil, garlic, and crushed red pepper, stirring with a spatula until the garlic is fragrant, about 20 seconds.
Add the prepared zucchini noodles and stir them for about 1 minute, make sure they are well coated. Turn off the heat and mix the parsley, salt, and black pepper into the noodles. (I tossed in some leftover sun dried tomatoes, roasted peppers, basil and pumpkin seed).