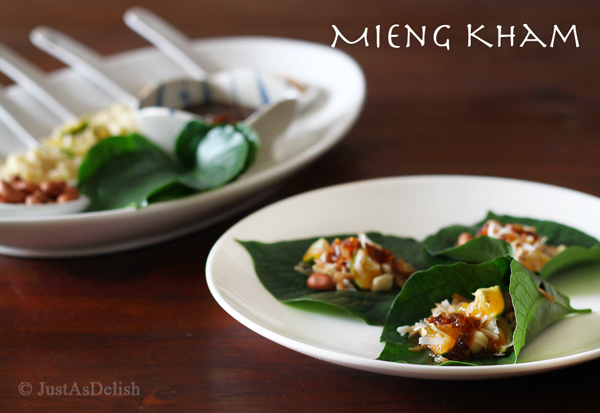 After tasting Mieng Kham prepared by Wendy of Table For 2 or More at the recent bloggers' potluck, I just had to recreate this addictive & traditional Thai street snack.
In Thailand and Laos, Mieng Kham is often sold in the street and the ingredients separately wrapped in small plastic bag. I lugged back a few packets during my trip to Bangkok's Chatchucak market a few years ago.
According to Wikipedia, the name can be interpreted as meaning "eating many things in one bite" – from miang (เมี่ยง), meaning "food wrapped in leaves", and kham (คำ), "a bite". Mieng Kham is a great, easy to make (although time-consuming) appetizer or snack. This is a also fun (and definitely healthy) dish to serve at a party.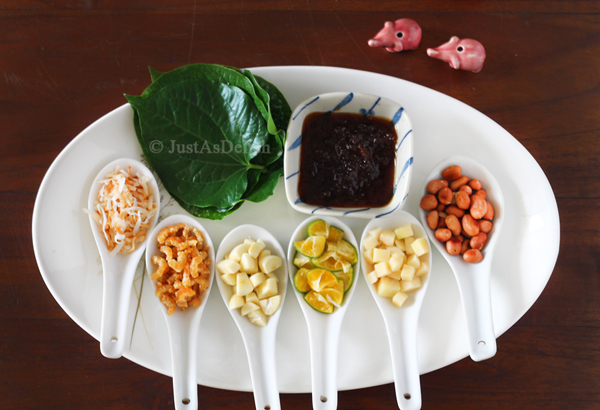 In Thailand, Mieng Kham is usually served with wild betel leaves (known as "cha plu" in Thai, "phak i leut" in Lao, "kadok" in Malay and "lá lốt" in Vietnamese), filled with roasted shredded coconut, toasted peanuts, lime, dried shrimp, bird's eye chili , topped with palm syrup sauce. Roll the leaf to make a packet and eat in one bite. Eating Mieng Kam is like a taste explosion!
The sauce in this recipe is made more than enough for another 5 rounds of Mieng Kham, and the sauce store well in the fridge for a few weeks. Every time my plant grow new leaves, it's Mieng Kham time with the ready made sauce. These wild betel leaves are quite impossible to find out of Asia, therefore you can follow the preparation in Laos of using cooked cabbage leaves or lettuce. 

Thai Mieng Kham (Wrap Betel Leave)
Thai healthy & addictive street snack - Wrapped Leaf Snack
Author:
Real Thai Recipes http://www.realthairecipes.com/recipes/leaf-wrapped-snack/
Recipe type:
Appetiser / Snack
Ingredients
¼ cup Dried Shrimp
¼ cup Toasted Peanuts
20-30 Betel Leaves, (or substitute Lettuce Leaves)
1 Lime (with skin - the thinner the skin, the better) - cut into small
¼ cup Shallots - cut into small pieces
20 Bird Eye Chilies (chili padi) - cut into small pieces
½ cup grated toasted Coconut
¼ cup Young Ginger - cut into small pieces
Palm Syrup Sauce
½ tablespoon finely sliced Galangal
⅛ cup chopped Shallots
1 cup Water
1 cup Palm Sugar (Gula Melaka) - grated/crushed
1 tablespoon Fish Sauce
¼ cup grated Toasted Coconut
Instructions
Dry roast the coconut in a wok on medium high, stirring constantly to avoid burning. Cook until the coconut is medium brown, about 5 minutes. Set aside the amount used for the sauce, and put the rest into a serving bowl.
Cut up all the ingredients which are not to be put into the sauce into small ¼″ pieces. Arrange in small bowls, or in piles on a plate.
Now, for the sauce… In a stone mortar & pestle, pound together the shallots and galangal until fine. Set aside.
To eat… Take a leaf and fold the bottom to make a pouch (see first picture above). Put a large pinch of roasted coconut, a piece or two of other ingredients: shallots, lime, ginger, peanuts, shrimp and a chili if desired. There is no 'proper' order to put them in. Then, add a bit of sauce on top, roll the leaf to make a packet, and eat in one bite. Eating Mieng Kam is like a taste explosion.
Sauce
In a small sauce pan, add the water, fish sauce, palm sugar & shallot/galangal mixture.
Boil over medium heat to reduce the sauce to the thickness shown in the picture below. You're going to boil off about ½ the liquid. Make sure to keep stirring every now and then.
Add the roasted coconut, remove from heat, and put into a small bowl.
Notes
The Palm Syrup Sauce is made extra, can be stored in the fridge for a few weeks