Easy hearty one-pot comfort meal packed with good-for-you multi-grains and enzyme-rich miso.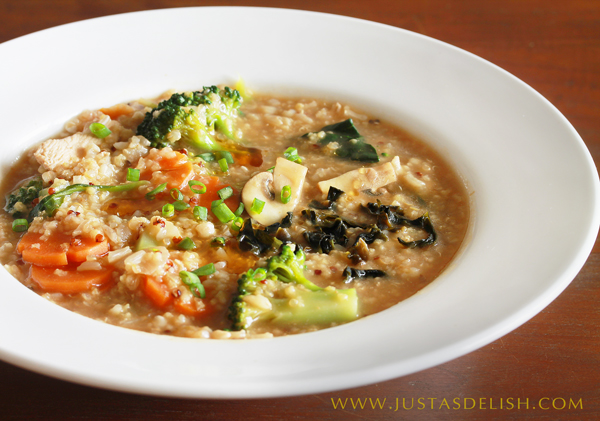 There's something comforting about a bowl of piping hot porridge, even on hot days. On days when I'm under the weather, tired,  or just do not feel like cooking, rice porridge is one of my go-to meal. Spinach porridge, chicken porridge, fish porridge or egg & pepper porridge. My current favourite is Multigrain Miso Porridge, which I'm loving for breakfast too.
Instead of using just plain rice, try multigrain rice which is much healthier and provides lasting energy, vitamins & minerals, and fiber to keep you feeling full for a longer time. You might have come across packets of 10 grain or multigrain rice, these are common staple in countries like Taiwan and Korea. The term multigrain means mixed grain or a combination of more than 1 grain. I prefer to mix my own as most of the pre-mixed packets have wheat in them (be aware if you are wheat or gluten intolerant). There is no one formula for what grains you have to use, you can usually mix 5-10 different grains. Brown rice, brown sweet rice, black rice, barley, wheat groat, rolled oats, amaranth, black pea, white pea, red bean, sorghum, millet, Job's tears, buckwheat and kidney bean are all examples of grains commonly used.
The grains that I prefer for porridge are brown rice, buckwheat, millet, sorghum and quinoa. These grains produce a watery consistency porridge instead of the thick gooey mushy congee. Actually whatever that's available in your pantry and fridge goes pretty well. Some days, it's just millet and carrots. which surprisingly is a very satisfying breakfast. I find, chicken for protein and some hard textured vegetables, goes well together. Choose vegetables that have a harder texture like cabbage, broccoli, carrot, beans or baby corn. I like to saute the onions and chicken to bring out the natural flavours before adding the other ingredients. The final step of seasoning with miso gives an "umami" flavour lift to the porridge. This is one of the reason why I'm hooked to this porridge.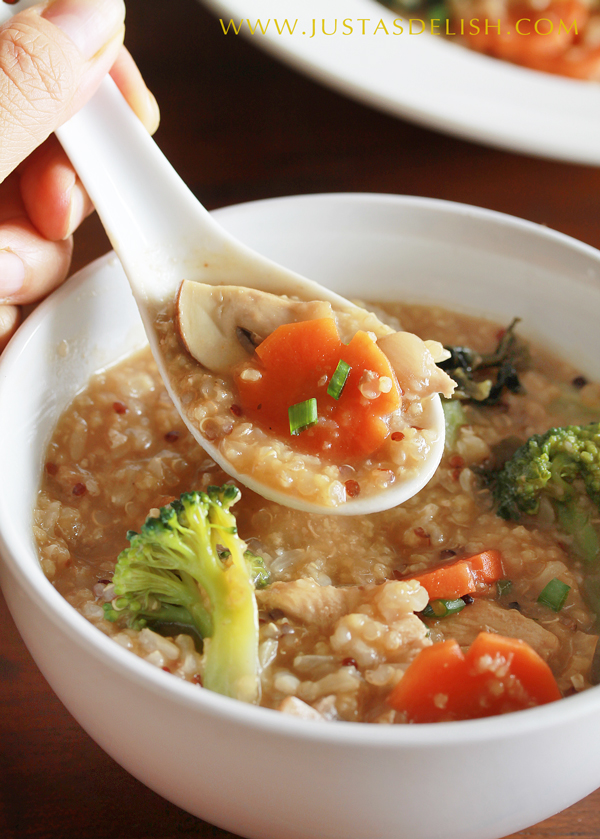 If your tub of miso has been sitting at the back of your refrigerator for an eternity, it's time to take it out and embrace the benefits of miso. Fermented foods like miso help build up the inner ecosystem and assure the digestive tract is amply supplied with beneficial bacteria. The Japanese population begins their day with a warm bowl of miso soup believed to stimulate the digestion and energize the body. Not only that, miso is rich with essential amino acids and antioxidants like vitamin E, as well as protective fatty acids.
Besides making miso soup, add miso paste to flavour noodle soup, grilled dishes, stir fries, even oatmeal. Now include this is effortless hearty one-pot comforting porridge that is perfect for your whole family.

Multigrain Miso Porridge
Easy hearty one-pot comforting porridge packed with good-for-you multigrain, and enzyme-rich miso that your family will enjoy
Ingredients
½ cup Multigrain mix (I use brown rice, millet, quinoa, sorghum, amaranth and buckwheat)
1 liter (4 cups) Water or more
2x2cm Kombu (Kelp)
1 small Onion - sliced
100g Chicken Fillet - thinly sliced
2 cups of mix Vegetables (Broccoli, Carrot, French beans, baby corn) - cut into bite size
a couple of fresh Mushrooms (if using dried mushrooms, soak them in hot water for 30 minutes) - sliced
1 tablespoon Cooking Oil
1-2 tablespoon Miso Paste (I use this brand of GMO free Miso Paste)
sprinkle of Wakame
Spring onion for garnish
Instructions
Wash and soak multigrain overnight or at least 3 hours. Soaked or sprouted grains take less time to cook and are easier to digest.
Place a medium pot with cooking oil on medium heat. Add in onion to saute for 1-2 minutes until soft. Add in chicken to brown on both sides.

Add in multigrain, kelp and water. Cover to bring it to boil, then lower the heat to simmer for 15 minutes. Check that the grains texture are cooked to your liking. If you prefer thick mushier grain texture like congee, cooked it a bit longer to thicken the mixture.

Add in the vegetables and mushrooms and simmer for 5 minutes, the texture of the vegetables should be just cooked, with a nice bite. If you prefer softer texture, simmer a bit longer.

Switch off fire or remove pot from heat. Mix miso paste with filtered water in a bowl and add into the porridge. Adjust seasoning to your liking.

Serve immediately with wakame and spring onions.