Hot, spicy and sour Thai-Style Kelp Noodle Salad, with crunchy cashew, fresh salads and juicy seafood. Every bite bursting with flavour and texture.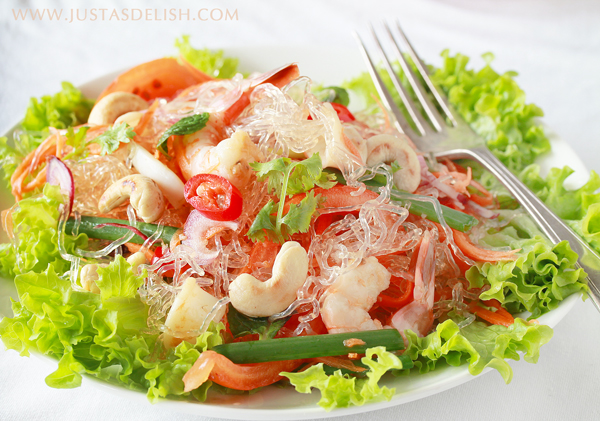 I first heard about Kelp noodles from my raw food teacher Daniw Arrazola. It was the 'noodle' ingredient in the raw noodle recipe that she taught, but Fine Organic Gallery that sold it ran out of stock. Luck was not on my side after a couple of times of dropping by that shop, but it never occur to me to pre-order it as it wasn't something I urgently wanted to try.
Out of the blue, I bumped into packets of fresh kelp noodles without looking for them, at Shin Sun Mi Korean mart in Solaris Dutamas. The Korean staff, with her limited spoken English, explained that they are noodles made from seaweed, and are normally used in salads. The 1kg packet is RM10.50.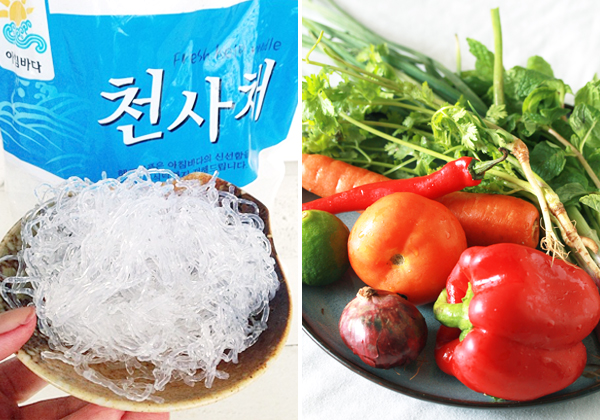 So, what are kelp noodles? They are clear, thin "noodles" made just from kelp, sodium alginate (a form of seaweed-derived salt), and water. Kelp is an edible brown seaweed that contains high amounts of iodine, commonly used in Japanese and Korean cuisine. Kelp noodles look quite similar to glass noodles, but kelp noodles don't taste or feel anything like noodle or pasta. It's tasteless, crunchy & can be eaten raw. Being low calorie and somewhat raw (not sure how true is that), kelp noodles are popular with raw foodist and those who are on grain free and paleo eating plan. I'm not against grains, so I'm happy to enjoy these noodles simply because they are mineral rich, versatile and great for me and friends who have food sensitivities.
For people with hyperthyroidism and Hashimoto's, please check with your medical practitioner on the dosage allowed in order to ensure that one isn't taking in too much iodine. As with all kind of food, I believe there should be a balance and moderation. Don't have too much or too little of one thing.
Look out for kelp noodles at organic or health food store and Asian grocery store. A few raw foodist have given great reviews for Sea Tangle Brand, available on iHerb, Vitacost and Amazon. The other brand that Amazon carries is Gold Mine. To prepare them, wash the kelp noodles under running water, and they can be eaten immediately with a little crunchy texture. Add them to salads, or use it as a pasta/noodle replacement. If you prefer softer texture, blanch them for a few minutes or let it sit in your sauce for 20 minutes.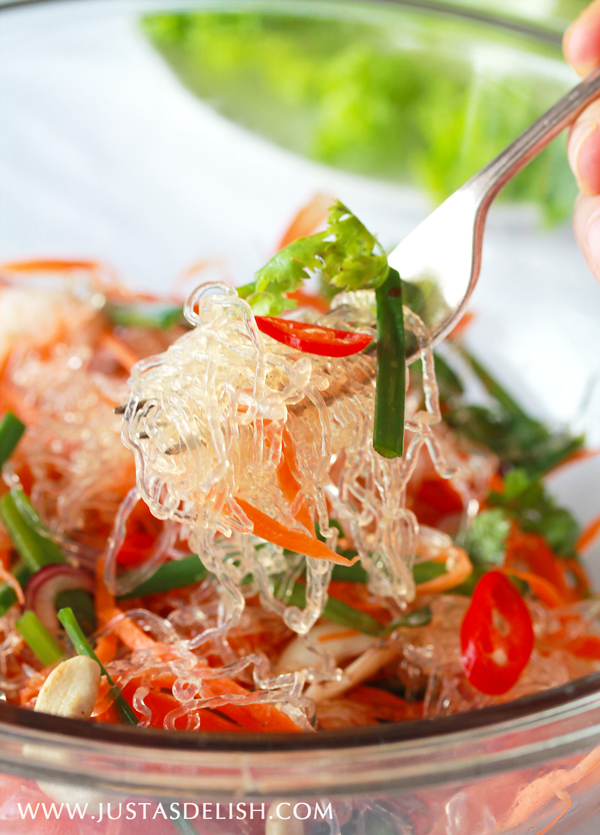 As they are pretty similar to glass noodle, this Thai-Style Kelp Noodle Salad is inspired by the popular Thai glass noodle salad (Yum Woon Sen). I love how the bland kelp noodles absorb the hot spicy sour dressing, while the cashews add the nutty, crunchiness to the salad. The coriander brings in the freshness and the seafood brings a nice bite. Every bite with a bit of this and that makes me wanting more.
I hope you'll all enjoy getting acquainted with this versatile kelp noodles. If you need some recipe inspiration, here are some delicious recipes to try:
Thai-Style Kelp Noodle Salad
Ingredients
5-6 sprigs Coriander
200g Kelp Noodles - wash and drained dry.
6 medium Prawns - peeled and deveined
4 Baby Squid - cleaned and cut into thick rings
½ small Red Onion - sliced
½ cup Cashew - roasted
1 medium Carrot - grated with vegetable peeler
1 Tomato - seeded and cut into 10 segments
3 Spring Onion - cut into 2 inches
1 sprig of Mint Leaves
1 Red Chili (optional to garnish) - sliced
Dressing
1 tablespoon Fish sauce
2 tablespoon Lime juice (or rice vinegar)
1 teaspoon Honey
1 Bird's Eye Chili (add more if you can take the heat) - sliced
Instructions
Wash and drain dry the kelp noodles, then use a pair of scissors to cut 2-3 times to make the noodles shorter.
Toast cashews on the pan over medium heat for 5-7 minutes, stirring constantly, until the cashews turn light brown and cooked. Set aside and let them cool down.
On another stove, bring a small pot of water to boil and add in prawns and squid to cook for 1 minute. Strain them dry and add to big mixing bowl.

In a small bowl, mix the dressing ingredients. Add sliced onion to the dressing to tone down the heat in onion.
Cut the vegetables and herbs, and add to the same mixing bowl that is holding the prawns and squid. Once all the vegetables are ready, add the dressing and toss.
Before serving, top with cashews and sliced red chili.

Notes
* If you can't find kelp noodles and want to try this recipe, use glass noodle. Soak the noodle in hot water for 5 minutes until it turn clear. Strain dry and add to the salad ingredients.
* You can replace shrimp and squid with stir fry minced chicken / pork / beef
* For vegetarian version, add pan-seared tofu. Replace fish sauce with soy sauce/tamari