This whole week is going to be full of festivities and food with Hari Raya Aidilfitri celebration. For the Muslims, Hari Raya Aidilfitri celebrates the conclusion of fasting during the holy month of Ramadan. Eid Mubarak to all my Muslim friends.
This post is to celebrate the diversity of Malaysian food. Being a Malaysian, my food & cooking have been influenced by Malaysia's multi ethnic nation – mainly Chinese, Malay, Indian, and Nyonya cuisines. Born & bred in Penang, hawker food or street food is so easily accessible. To most Malaysians, Penang is a food heaven destination.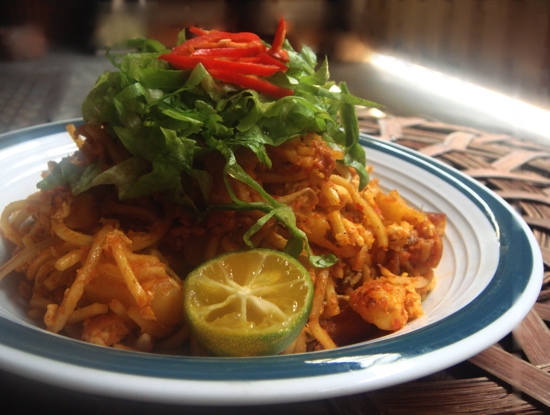 One of my favourite Penang hawker food is Mee Goreng (Fried Noodle), it's an Indian Muslim dish. The sweet tangy taste from the thick tomato gravy mixed with lime juice somehow makes me crave for it every time I go back to Penang. The taste of Penang Mee Goreng is different from any other places in Malaysia. It is quite disappointing that I could not find Penang Mee Goreng in KL.. it's just not the same.
During my schooling days, I looked forward to the days when my mama was not cooking lunch. I would take a 1 minute stroll to the main road of my house, to the Mee Goreng stall. I would buy 1 packet back home, and most of time I would regret not buying 2 packets! It's so delicious and highly addictive. Missed those days in Penang. After I moved to KL, that Mee Goreng stall changed owner, and so does the taste.
Luckily, my mama's Mee Goreng recipe is also "oh so delicious", which I usually could not stop eating. She used to cook Mee Goreng only on special Sundays, and I can't remember when was the last time she cook them. When a friend posted on his facebook status: "eating my mother's mee rebus", I had this huge craving for my mama's Mee Goreng! So immediately I called my mama and to request her to cook Mee Goreng for my visit the following week. What a happy bunny I was to learn that the recipe is quite easy, perfect for me to cook back in KL. Yay..
Oh, I did not have my camera with me, so the photos turned out a little blur.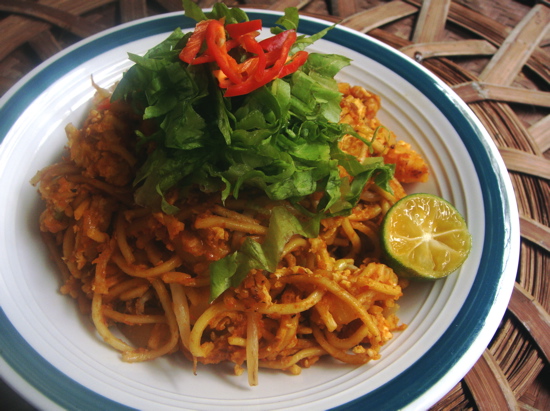 MY MAMA'S PENANG MEE GORENG (FRIED YELLOW NOODLE)
Serves: 4
Sauce:
2 stalk Lemon Grass, chopped into small pieces
3 medium Red Onion, chopped into small pieces
10 cloves Garlic, chopped into small pieces
4 Red Chili, chopped into small pieces
150g Dried Cuttlefish (soak in water) or Fresh Squid
1 piece Firm Bean Curd (Tau Kua)
3 medium Potatoes – cut into bite size cubes
2 tablespoon sugar
1 cup or ½ bottle Tomato Sauce
1 teaspoon Dark Soya Sauce
Salt to taste
2 teaspoon Tamarind (soak in 100ml water)
The Dish:
400g Mee (wet yellow noodle)
100g Bean Sprout
4 Eggs
Lime – cut half
4 tablespoon Ground Peanuts
half Lettuce – sliced thinly
Red Chilli – sliced
Sauce Preparation: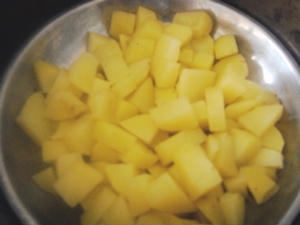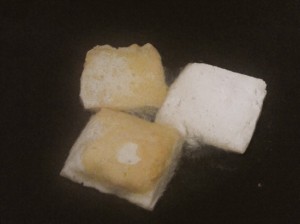 1. Steam potatoes for 5 minutes or until soft.
2. Slice bean curd to 3 pieces and fry with oil in the wok. Remove and slice thinly. Set aside on a plate.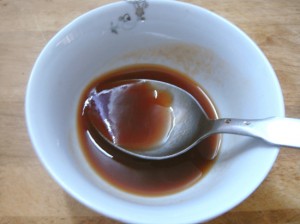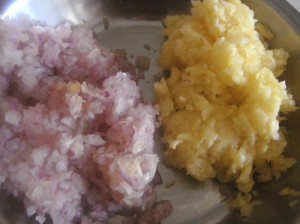 3. In a small bowl, mix tomato sauce, sugar, dark soya sauce, salt and tamarind water.
4. Using a food processor, pulse lemon grass, onion, garlic and chilli until become paste.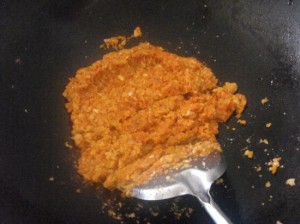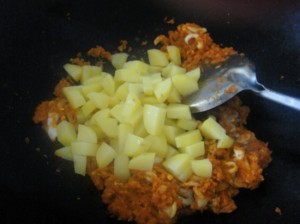 5. Heat up the wok on low fire, sauté the paste for 3 minutes until fragrant.
6. Turn heat to high, add in cuttlefish/squid, potatoes and sliced beancurd, stir until cuttlefish/squid is cook.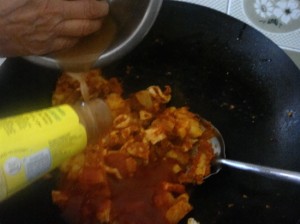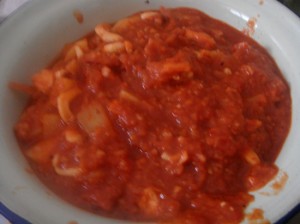 7. Add in tomato sauce mixture. Mix well & simmer for 2 minutes on low fire. Scoop out and set aside. This sauce will be used when cooking the noodles (it can also be frozen to be cook another day).
Cooking Mee Goreng:
Next is to cook the noodles on high heat and fast to have very fragrant dish. It is very important to have all ingredients readily prepared and it is easier to cook 1-2 person's portion at a time (it also tastes better).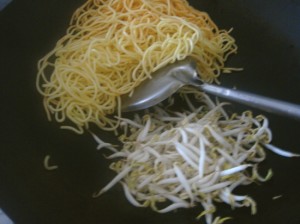 1. In a clean wok, put in 1 tablespoon oil and stir fry 1 portion of bean sprout and noodles for 1 minute on high heat.
2.With the cooking ladle, make a hole in the middle, put in 1 tsp of oil and crack in 1 egg. As the egg starts to slightly cook, mix with the noodles so all is well coated.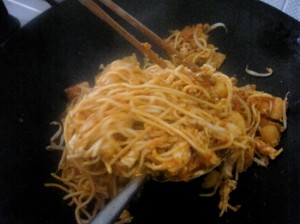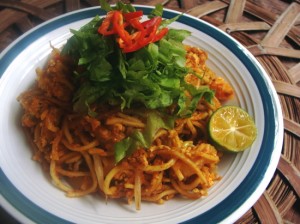 3. Scoop in 2-3 tablespoon of the earlier tomato mixture and stir well. Add sugar & salt to taste.
4. Garnish with lettuce, red chilli and ground peanuts. Serve immediately with lime juice.
TIP:
– My mama tried adding chopped mint leaves to the garnish and it gives the noodle a refreshing taste. Thumbs up!
– She would also make extra sauce (to store in fridge or freeze) to cook up fresh Mee Goreng the next day.  
This Penang Mee Goreng post will be submitted to Muhibbah Malaysian Monday August Round-up &  Merdeka Open House 2011: Makan Through Malaysia.