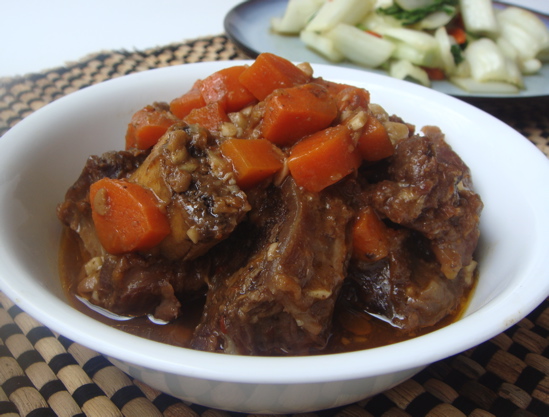 This is one of my mama's ingenious recipe – Ribs with Soy Bean in a slow cooker. According to my mama, this recipe was adapted from Pai Kuat (steamed spareribs with black bean sauce) that is available at any dim sum restaurants. Everyone in my family love this dish. It's one of those no-brainer recipes for lazy days. You can throw all this in slow cooker before going off to work and you will have a ready dish when you get back home.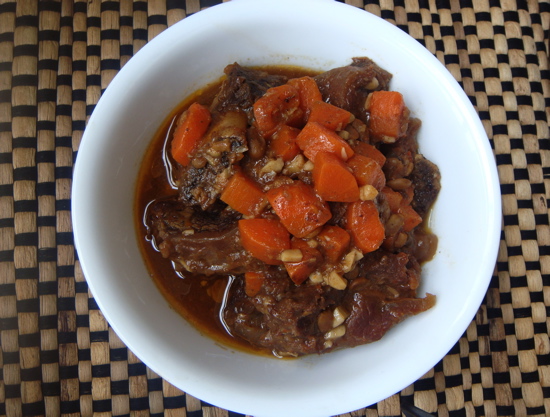 The original recipe calls for Pork Ribs, this time I tried using Beef Ribs instead – to increase my red meat intake. On a lazy Saturday morning, I mix all the ingredients and let the slow cooker do the job!
Lunch is served – Ribs & Bok Choy Stir Fry (quick recipe below) with brown rice. The meat is so soft & tender. Psst.. tell you a secret.. the soft bone is my favourite part!
RIBS WITH SOY BEAN & CARROT (in Slow Cooker) 
Serve: 4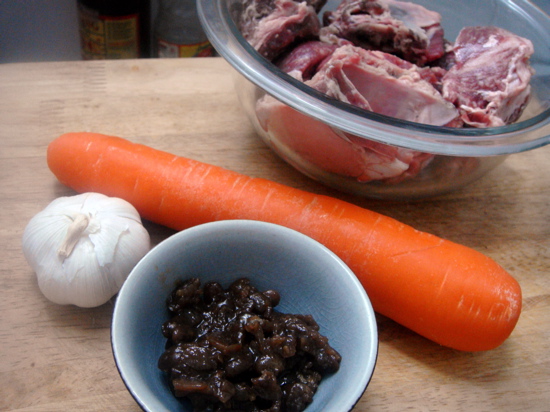 500g Pork Spare Ribs / Beef Ribs
1 large Carrot
1 whole Garlic Bulb
2 tablespoon Fermented Soy Bean (Tau Cheo)
2 tablespoon Tomato Sauce
1 tablespoon Chili Sauce (I love the spicy kick) – Optional
1 teaspoon Corn Starch
1 teaspoon Sugar
1. Mince the garlic and cut carrots into bit size cubes
2. Put all ingredients in a big bowl and mix well.
3. Pour into the slow cooker and cook on High for 3-4 hours (or Low for 6-7 hours)
4. If using beef ribs, there will be a layer of oil on top, separated with the gravy. Do not be horrified. Just take out out the oil by skimming the top with a spoon and throw it away in a small bag. Don't throw it into the sink unless you want a stuck sink later on.
¤¤¤¤¤¤¤¤¤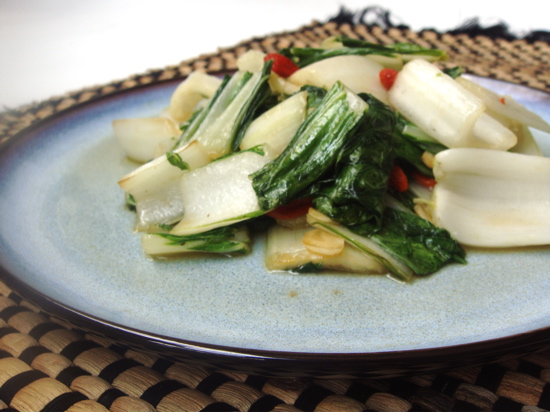 Here is the quick Boy Choy Stir Fry recipe. For more photo details on stir fry method, go to Beef Brocolli Stir Fry recipe.
1. Heat cooking oil in the wok on high heat for 30 seconds and add in garlic & ginger. Stir fry for 10 seconds for it be fragrant and turn slightly brown.
2. Add Bok Choy & a handful of gojiberry and stir fry for about 10 seconds.
3. Add in Soya Sauce/Fish Sauce on the side of the wok just above the vegetables (not directly into the ingredients). Continue stir fry to mix all ingredients.
4. Add water immediately, also to the side of wok. Then stir another 10 seconds until the water slightly thickened and heated through.