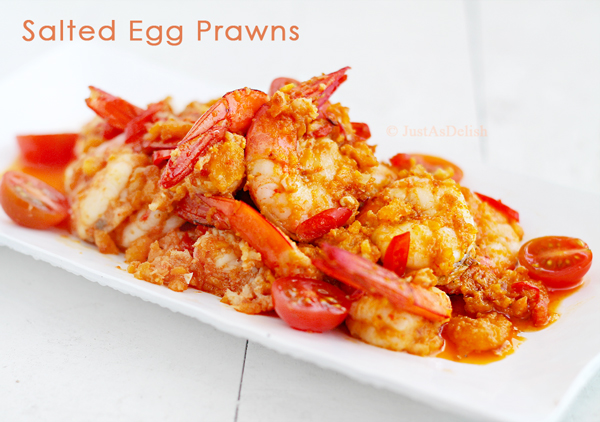 Whoa.. Egg yolk + Prawns = one cholesterol loaded dish!
Very so often, there's an egg controversy. One large egg has roughly 186mg cholesterol — all in the egg's yolk. Since having high cholesterol levels in our blood increases our risk of heart disease., egg yolks have been critisized and health nuts stick to eating strictly egg whites. In recent years, scientists have come to the conclusion that cholesterol in food is not the true villain — saturated and trans fats have a much greater effect on blood cholesterol. If you have been told by your doctor to watch your cholesterol levels, your priority should be to cut down on saturated fat.
In actual fact, the yolk itself contains most of these vitamins and minerals, plus half of its protein. So please eat the whole egg, unless you have a history of high cholesterol and heart disease.  And compared to chicken eggs, duck eggs have twice the nutritional value and more Omega-3 fatty acid. Prawns and seafood contain some cholesterol but they are low in saturated fat and also contain healthy omega-3 fatty acids.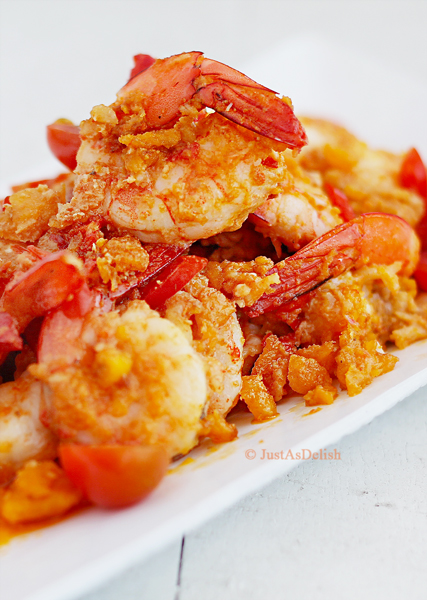 Now back to the Salted Duck Egg Yolk Prawn dish. If you have not tried salted duck eggs (store bought or try my homemade salted egg recipe), this is a very simple and finger licking good dish. Added to a stir-fried dish, the salted duck egg yolk provide an instant sauce, coating whatever you cook in a layer of rich, fatty yolk paste. This salted duck egg yolk prawn is a very simple dish to impress your dinner guests. If you're lazy, cook with the shells intact & and do all the work .
Frothy, buttery, aromatic with a hint of spice, it's guaranteed to get you licking your fingers and slurping up the delicious sauce. Even though eggs and prawns are good for you, I'm not suggesting to have this dish every week, moderation is key. If you want to eat more, move more!
I'm off to start my next batch of salted duck eggs so I can have this again in a month's time!

Salted Duck Egg Yolk Prawns
Frothy, buttery, aromatic salted duck egg yolk prawns that's guaranteed to get you licking your fingers and slurping up the delicious sauce
Ingredients
400 grams of Large Prawns - shelled apart from the tails and deveined)
2 Salted Duck Egg Yolks - mashed with the back of a fork (get from store or make your own batch with my recipe)
1 tablespoon of Cooking Oil
1 tablespoon of Butter
2-3 cloves Garlic - finely chopped
1 Red Chili - finely chopped
Salt & Pepper to taste
Coriander, Cherry Tomatoes, sliced Chillies - for garnish
Instructions
In a hot wok, heat oil and butter. Stir fry garlic and chillies until fragrant. Add in salted duck egg yolks and stir until it starts to froth.
Toss in the prawns, thoroughly coated with the egg mixture, and fry until cooked (about 3-5 mins). Season with salt and pepper
Soure:
http://www.jillianmichaels.com/fit/lose-weight/myth-eggs
http://www.huffingtonpost.com/john-berardi-phd/egss-and-health_b_3499583.html
http://www.betterhealth.vic.gov.au/bhcv2/bhcarticles.nsf/pages/Cholesterol_explained