Wing lovers would love this mildly sweet spicy addictively delicious Spicy Baked Chicken Wings. I could happily have the whole dish to myself.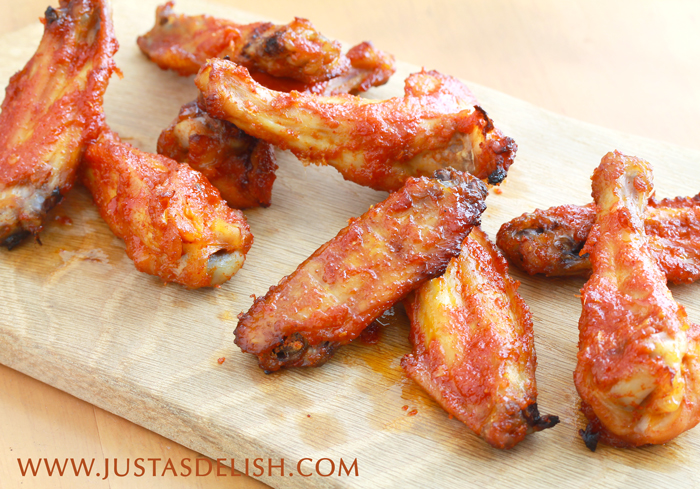 *This post has some 'gory' details that might be uncomfortable to some*
My younger sister CH and I both took after our father's food habit – love of chinese soups, innards, eating sugar cane in our younger days (more like chewing the cane to get the juice), and gnawing on chicken bones.
Yes, you heard me right.. I enjoy chicken just for the sake of gnawing on the bones and crunching the cartilage. Growing up at our dinner table, 3 of us would strip the chicken meat voraciously at the initial stage; leaving the bones to the last for us to slowly enjoy gnawing them. It is definitely not the prettiest sight at the dining table, but what the heck, I'm at the comfort of my own home. And how else could one thoroughly enjoy the chicken without digging in with your fingers? Sometimes I would be eyeing that bone after finishing my meal when I am eating out, and refraining myself.. Oops the secret is out.
Norbert's idea of a chicken dish – chicken breast only.. Oh no! It is because breast are easier to eat.. uh uh. To me, chicken without bones are a sin. My (poor) husband now have to 'endure' eating bone-in chicken, and he knows to pass me the bones for me to slowly enjoy gnawing on them. He said I must have gotten a lot of calcium and collagen over the years..
The part I enjoy the most – the wings, satisfying my every gnawing need.. One thing Norbert does not understand – what is there to enjoy, as there is hardly any meat on the wings. Oh well, only the fans who love to gnaw will understand, no?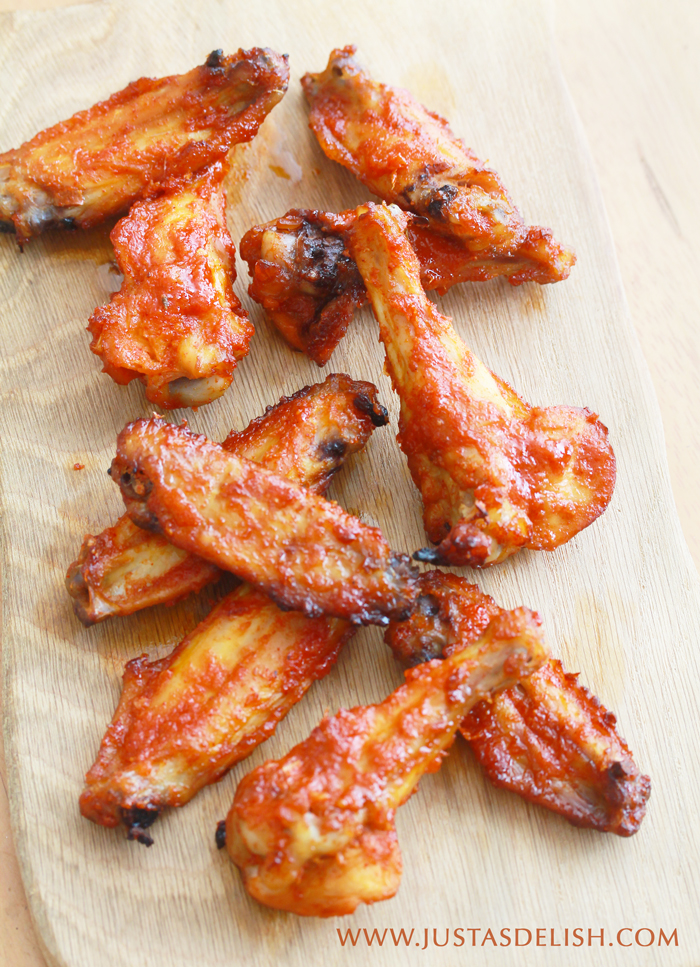 Wings lovers would love this Spicy Baked Chicken Wings, a variation of my Korean Oven Fried Chicken. I'm so into Gochujang (Korean chilli paste) because of its mildly sweet spicy kick that is addictively delicious with just about anything. You won't go wrong with this fool-proof dish. The sticky marinade makes the wings so tasty, that I could happily have the whole dish to myself.
Cook's note:
Free range chicken have tougher meat, so I brine them first with my go-to recipe, before marinating or cooking the chicken. I encourage brining your chickens—and not just for special occasions, as a brine adds flavor and keeps the meat tender and juicy.

Spicy Baked Chicken Wings
Author:
Shannon Lim-de Rooy
Recipe type:
Appetiser / Snack
Ingredients
6 Chicken Wings
2 cloves Garlic - grated
2 teaspoon grated Ginger
2 teaspoon light Soy Sauce (I use gluten free Tamari)
2 teaspoon Toasted Sesame Oil
1 tablespoon Gochujang Korean Chilli Paste (or Sriracha)
1 teaspoon Honey
Instructions
Combine garlic, soy sauce, sesame oil, honey and and chili paste in a container. Add in the chicken wings and massage with the marinade to coat everything. Put in the fridge to marinade for at least 2 hours and preferably overnight.

Heat the oven to 200C (400F). Arrange the wings on the wire rack with the tray lined with foil at the bottom layer. Reserve the marinade for the glaze. Bake in the hot oven for 30 minutes.

BAKE chicken until completely done, remove and baste the wings with the reserved marinade. Put the wings back into the oven for 5 minutes and it's done.
Serve as a side dish or snack