A flavorful, creamy and lip-smacking delicious dish from the humble and economical purple eggplants, that kept me going back for more.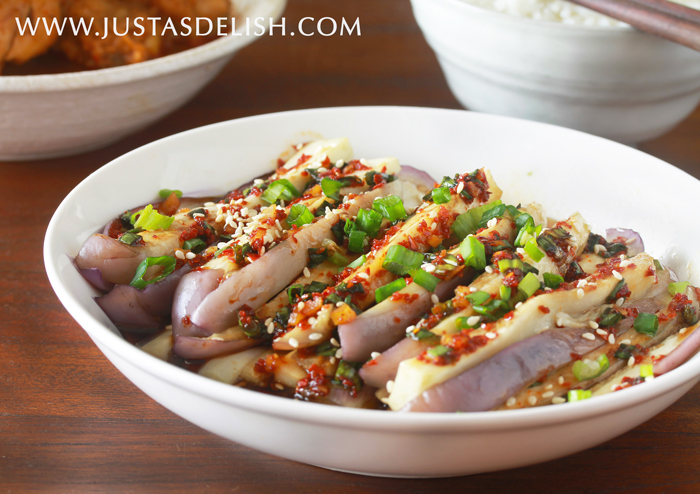 I have been so busy recently, with testing recipes and teaching cooking classes, that I find myself getting less excited about cooking at home. Where has my kitchen mojo disappeared to? I wondered if this happens to chefs as well.. Hence it has been very often quick and simple recipes for me. And one of my favourite new finds is this Korean Style Steamed Eggplants, a flavorful, creamy tender vegetable dish that makes me go back for more and more.
Steaming recipes are amongst my favourites because they are easy, healthy and I can cook 2 items together in the same pot/wok/rice cooker. In the pot filled with water and a metal steaming rack, my bottom layer is usually brown rice in heatproof bowl, and a steamed dish like veggie or protein on top of it. My ever resourceful mama would place 3 stack of items! The metal steam rack is indeed a very useful tool to have. If you're looking to get a rice cooker, get one with a steaming compartment. You will not regret it.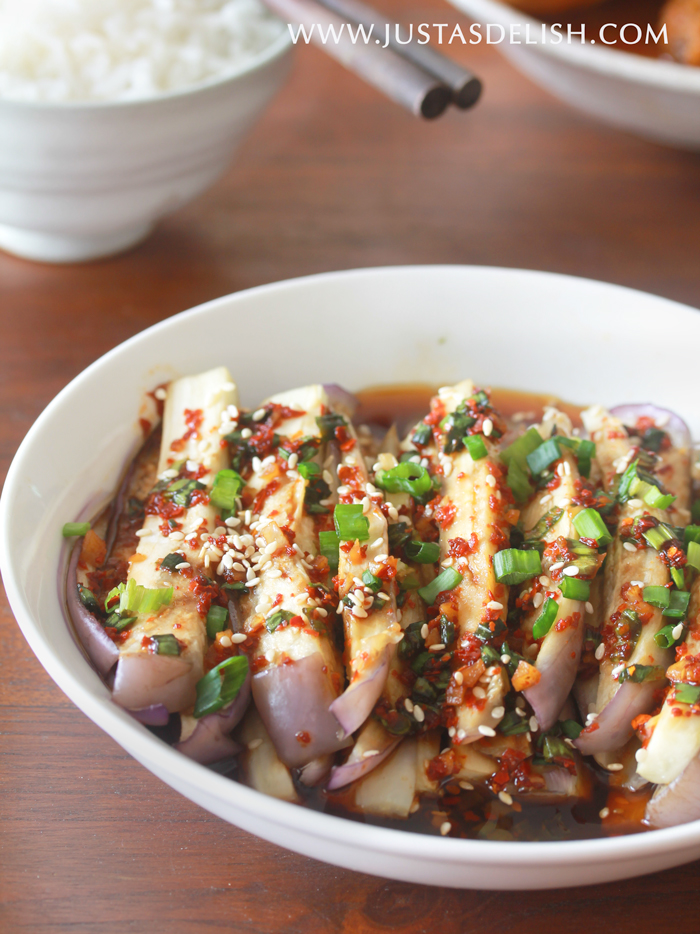 I used to cook my eggplants steamed Chinese style with soy sauce and sesame oil, until I came across this Korean recipe that had me hooked. Both recipes use rather similar ingredients but it is the addition of Gochugaru (Korean red chili flakes) that makes this a fine lip-smackingly delicious dish. If you have Gochugaru for making kimchi, remember to save a few tablespoons of chili flakes for this recipe. The preparation of the humble eggplant is simple but really good, resulting in a magnificent vegetable dish (that disappeared minutes after hitting the dinner table). If you're nervous of the chili, I still urge you to sprinkle a little, as this ingredient is what makes the dish memorable from the humble, shiny and economical purple vegetables.
Cook's note:
Be sure to buy the thin long eggplants (like cucumbers) as they taste more delicate and creamier than the short fat ones.  
More Steaming Recipes to try:
Steamed Chicken (chinasichuanfood.com)
Steamed Eggs (tastehongkong.com)
Steamed Pork with Salted Eggs (malaysianchinesekitchen.com)
Steamed Tofu with Pork (en.christinesrecipes.com)
Hong Kong Style Steamed Cod Fish (justasdelish.com)
Teochew Steamed Fish (justasdelish.com)
Steamed Garlic Prawns (justasdelish.com)

KOREAN-STYLE STEAMED EGGPLANTS
Author:
Slightly adapted from Kimchimom.com
Cuisine:
Main or Side Dish
Ingredients
4 medium (about 600g) long Eggplants - sliced longwise into 6-8 thin pieces.
2 stalk Spring Onions - thinly sliced crosswise
1 clove Garlic - minced
1 tablespoon Roasted Sesame Seeds
3 tablespoons Sesame Oil
3 tablespoons cup Soy Sauce (I used Tamari for gluten free soy sauce)
½ tablespoon gochugaru (Korean Red Chili Flakes) or ¼ Red Chili Flakes
pinch of salt
Instructions
Slice the eggplants long wise, to about 6-8 thin pieces per eggplant.
Fill a large pot with about an inch or two of water and insert the steaming rack. Place the sliced eggplants in a heatproof deep plate and place it inside the pot.

Bring the pot to boil and lower the heat to steam until the eggplant flesh feels soft and saturated with moisture, for about 15 minutes.
Before the 15 minutes is almost up, mix together the remaining ingredients in a small bowl. (Note: I once mixed the sauce too early and the sauce became too spicy because the chili flakes were immersed too long.

Once the eggplant is done, remove the plate and drain the water (that accumulate from the steam) from the eggplant. Drizzle as much or as little sauce over the eggplant. Serve immediately.