There is nothing nicer at the end of a long day than a bowl of homemade vegetable soup.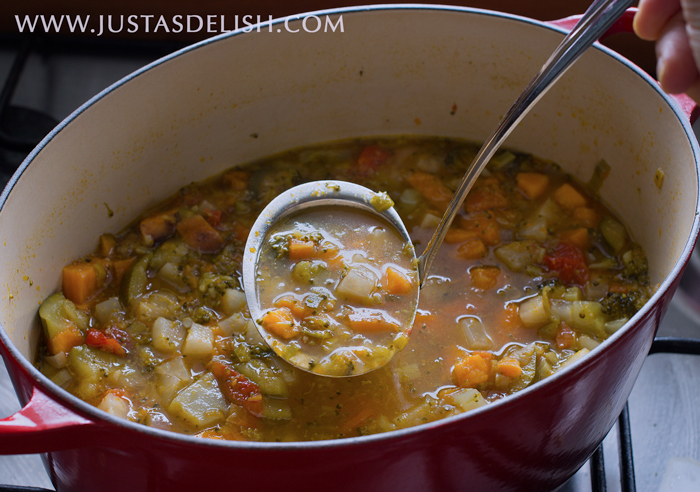 Norbert has been ailing by gout attack these past 3 weeks, which has only started to disappear into the 4th week. During his days working at the university bar, he must have over-drank his lifetime quota of beer (one of the causes for developing gout). Gout is a kind of arthritis, with sudden attack of swelling, burning pain of the joint. His affected toe was hot, swollen and so tender that even the weight of the bedsheet is intolerable. Gout occurs when urate crystals (formed by high levels of uric acid in the blood) accumulate in your joint, causing the inflammation and intense pain of a gout attack.
To reduce the uric acid in the body, he has to limit intake of foods high in purines, such as meat, legumes, beans and seafood.. The food low in purines are vegetables, egg and fruits. Basically be an occasional meat eater, or in his own words – eating grass. I followed along with his 'grass' diet for these 3 weeks, as it was rather similar to my fruit and veggie cleanse 2 years ago, except rice and wholegrain wheat is acceptable (rather low in purine). Even though I eat mostly vegetables now, my body does better with meat protein in the cold weather. But together with my own food intolerances, I was fast running out of dinner ideas that are suitable for us both.
Poor hubs. Even though he has always been an easy eater, I think it was the longest 3 weeks for him. Anti inflammatory medication helped, but this attack took much longer to subside compared to previous attacks. I totally understand the frustration he went through. I was on 1 month Candida cleanse and a couple other phases omitting out food groups to discover for my own intolerances with wheat and dairy.
I was highly tempted to suggest him going on the natural / home remedy route, but held back as he was having difficulty in walking (30 minutes commute to work) and I do not know how fast these natural remedies would react. He knows the natural things I suggested to him is good, and has been very supportive of the route I chose for myself. Years ago, forcing my choice down on someone's throat when they are not ready only caused myself to be upset when my 'good intentions' were not well received. And I became too obsessive and restrictive with my thoughts. Later I learnt to respect other people's decision as it is their body and life. It was difficult for me to be a bystander, but each person is on their own journey and they are responsible for his/her own life. I can only support him by making delicious whole foods and treats, so he does not feel deprived.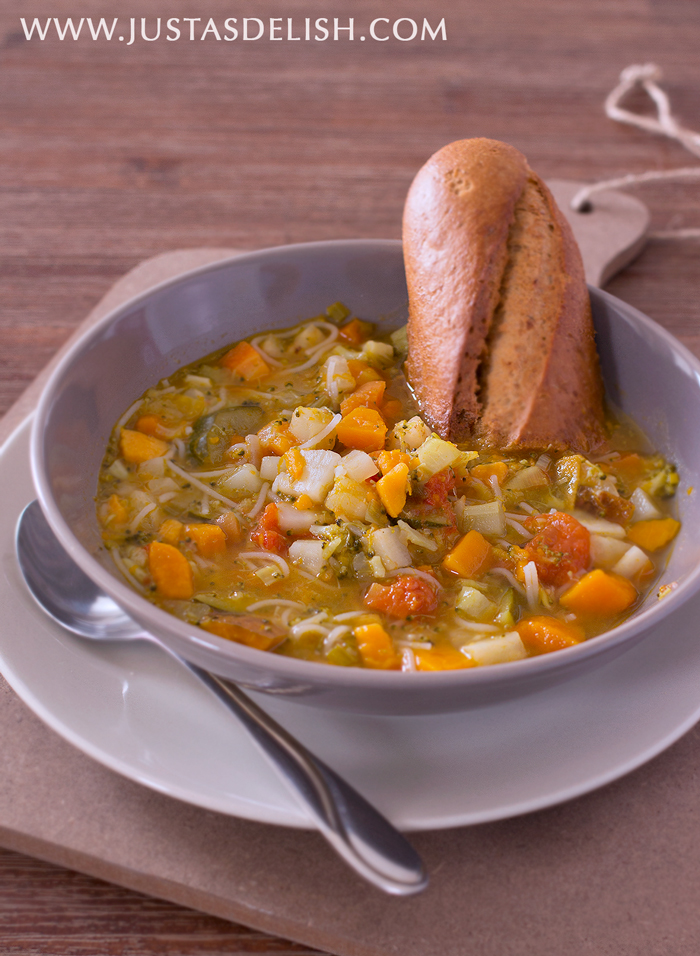 The dish I've made twice in 2 weeks is the Italian Minestrone, adapted for both our conditions. There is nothing nicer at the end of a long day than a bowl of homemade vegetable soup. When I made this soup at Norbert's office Friday luncheon, I was surprised to see the men were going for second and third servings. Just like the Green Minestrone, you can throw in whatever fresh vegetables you have (cut into small chunks), plus frozen peas. Add the hard vegetables (carrots, potatoes, pumpkin) first, followed by softer ones. Normally the inclusion of small pasta shapes and dry beans is to give the soup more bulk, but if you prefer a lighter soup, you can omit them like I did and substituted with some rice vermicelli. Quinoa is also a great addition (like in my Green Minestrone recipe). You can serve it as an appetizer or have a big bowl as a main, just like me. Nobody can't deny that eating more vegetables is good for us.

Minestrone (Vegetable Soup)
Author:
Adapted from Gennaro: Let's Cook Italian
Cuisine:
Appetizer / Main dish
Ingredients
5 tablespoon Extra Virgin Olive Oil
1 White Onion - finely chopped
1 clove Garlic - finely chopped
2 Potatoes - peeled and cubed (or sweet potatoes)
200g Pumpkin - peeled and cubed
2 Carrots - thickly sliced
1 Celery Stalk - thickly sliced
1 small Broccoli head - cut into small pieces
1 Zucchini - cubed
1 Leek - finely chopped
10 Cherry Tomatoes
1 cup Frozen Peas
1.5 litres Water (or vegetable stock)
1 cube Vegetable Bouillon
a handful Rice Vermicelli (or other small pasta shape)
Salt and freshly ground Black Pepper
A few fresh Basil Leaves, finely chopped
Optional Topping: Grated Parmesan
Instructions
Heat the extra virgin olive oil in a large pot on low fire, add the onion and garlic, saute for 3 minutes until onion is translucent.
Add all the vegetables, the hard vegetables (carrots, potatoes, pumpkin) first, followed by softer ones, except the frozen peas, and mix well. Add water and bouillon, and bring to boil, then lower the heat and simmer gently for 30 minutes. Add the frozen peas 10 minutes before the end of the cooking time.
Add the rice vermicelli and boil for 1 minute. If you are adding pasta, cook it in the soup until al dente (about 10minutes) or as per the packet's instruction. Remove from the heat, season to taste and stir in the basil leaves. Serve immediately in individual bowls, with parmesan cheese and garlic bread if desired.