1-pan savory, garlicky Sweet Potato Hash with kale and runny eggs. A hearty brunch, and also lunch.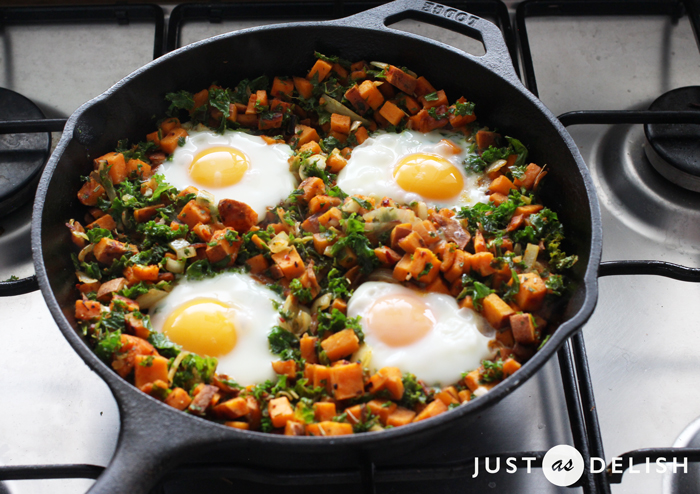 6 months after my surgery, I could slowly introduce high fibre foods back into my meals. How elated I was because soft food was kinda driving me crazy (I think only babies enjoy soft food). I miss having high fibre foods like sweet potatoes, as it is one of my favourite carbohydrates. I used to have them at least twice a week. When I came across sweet potato hash recipe, it quickly became a repeat on my brunch menu.
Sweet potatoe is one of the starchy carbohydrate that is an invaluable addition to your meals. Ranking much lower on the glycemic index than regular potatoes and containing a higher density of nutrients, sweet potatoes have an impressive nutritional profile. Sweet potatoes are a rich source of fibre as well as packed with potassium, vitamin A, vitamin C and vitamin B6 which supports energy.
This recipe is cooked in 1 pan as I love having less washing to do and it's a tremendous help  (especially my right hand is not so mobile at this moment). It takes more than 5 minutes to cook through the sweet potatoes in the pan, usually I use the waiting time for other prep work in the kitchen. If you're rushing, you could also steam them or roast them in the oven. The skins are left on, for convenience and for flavor.
As you can see in my video, I cook without measurements (most of the time), a bit of this and a bit of that. This recipe is really flexible and the proportions are quite forgiving.  
To enhance your dish, add some lentils or white beans (for meatless). For the omnivores, ground meat goes very well with sweet potatoes.
Together with some fruits and a cuppa, welcome to brunch heaven.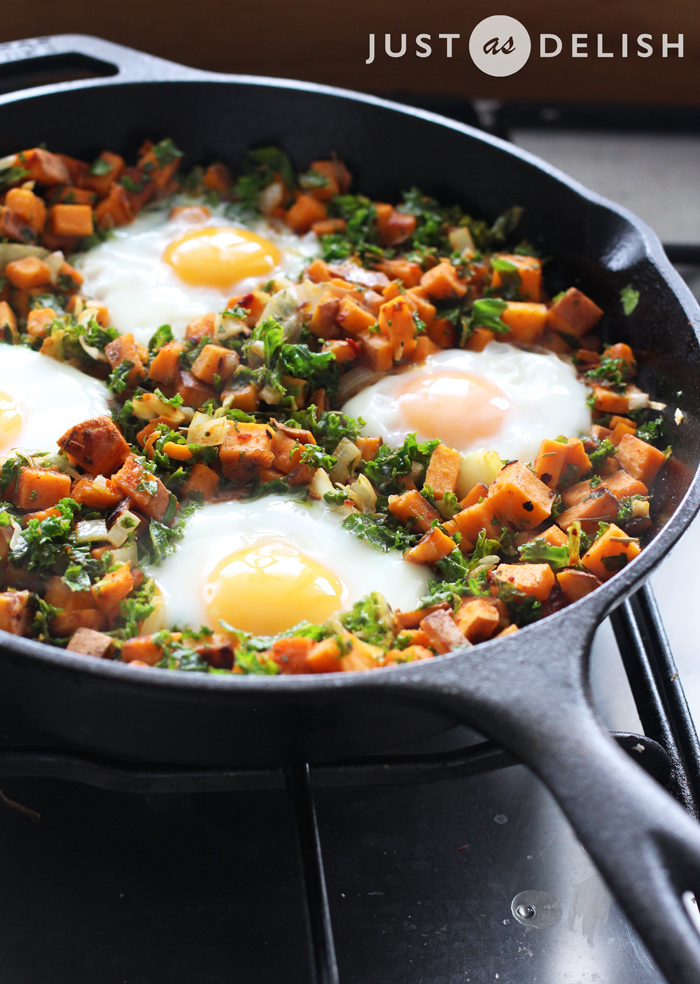 1-Pan Sweet Potato Hash with Poached Eggs
Ingredients
300g (10oz) sweet potatoes, skin intact - chopped into 2cm (½ inch) cubes
1 large yellow onions - finely chopped
2 cloves garlic
1½ cup chopped kale
2 tablespoon olive oil
2 teaspoon smoked paprika
1 teaspoon dried rosemary
a pinch of chili flakes
4 large eggs
Seasalt
Freshly ground black pepper
Instructions
Add olive oil in a pan on low-medium heat. Add in sweet potatoes and saute until soften and almost cooked through (about 5-10 minutes). Splash a bit of water & cover to speed up the cooking process.
Add in onion & garlic and stir a bit to release the flavours.
Add in kale and spices and saute for 1 minute. Season with salt and pepper to taste.
Lower the heat, add in a bit of water, then make 4 holes in the mixture, crack in for eggs. Cover and cook on low heat for 4-5 minutes for runny eggs. For firmer eggs, cook for an extra 1-2 minute.