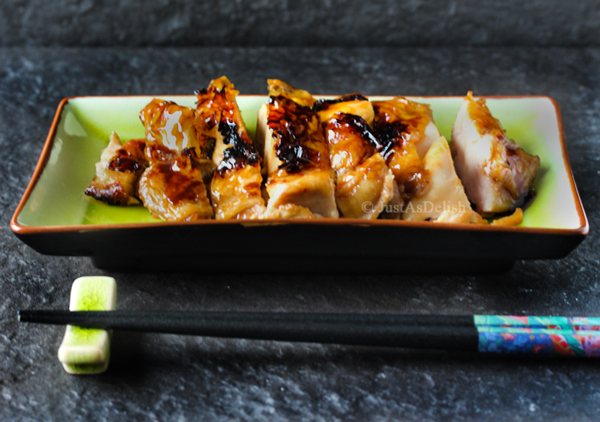 Besides sushi, Chicken Teriyaki has to be one of the most popular dishes in Japanese restaurants all over the world. In Japan, chicken teriyaki is a popular lunchtime staple, mostly found in bento boxes.
If you have not tried cooking Japanese, Chicken Teriyaki is a great first introductory dish to cooking Japanese food with a few easy-to-find but essential ingredients.
Teriyaki is a cooking technique: teri means "luster" given by the sweet soy sauce marinade and yaki means "cooking/grilling" and it's not really the name of the sauce. The bottles of "chicken teriyaki sauce" which I found in stores didn't even have the essential ingredients – which are mirin and sake. Chicken leg meat fillet (drumstick or thigh) are mostly used as it is tender but any cut of chicken can be used. The skin keeps the meat moist and gives a wonderful caramelized & crispy texture in the grill. If you don't have a oven/toaster, try this pan fried recipe.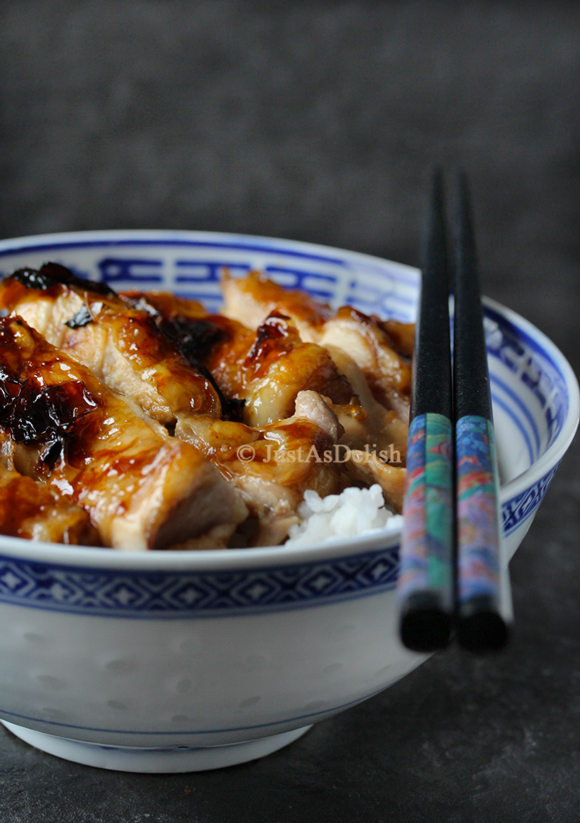 I couldn't get hold of thigh fillet and I had an interesting afternoon 'massacring' and deboning the chicken thigh. Well, there's always a first time and practice makes perfect. If you haven't tried deboning a chicken, here's one good video tutorial. This recipe calls for brining the chicken in soy sauce mixture to give the meat more flavour before grilling it.
Malaysian Food Fest (MFF) has ended, and Asian Food Fest (AFF) starts this month with Japan. Join in the fun and try cooking some japanese food this month. Some easy recipes I've cooked before are Gyudon Don (Beef Rice Bowl) and Nasu Dengaku (Grilled Miso Glazed Eggplant)
I am submitting this post to Asian Food Fest #1 Oct 2013 : Japan, hosted by Alan from travelling-foodies 

Chicken Teriyaki for Asian Food Fest (Japan)
Grilled chicken in sweet soy sauce
Ingredients
2 skin-on filleted (boneless) chicken thighs
Brine
2 tablespoon Water
1 tablespoon Japanese Soy Sauce
1 tablespoon Brown Sugar
1 tablespoon Mirin
Teriyaki Sauce
Instructions
Combine the water, soy sauce, brown sugar and mirin in large ziploc bag and add the chicken thighs. Place in the fridge for at least an hour.
When you're ready to grill the chicken, turn the broiler on. Put the wire rack on a baking tray and put the chicken thighs skin side down onto the rack. Place the tray on the upper slot of oven and grill for about 15 minutes or until it turn brown.
While waiting for the chicken, make the teriyaki sauce. Add the sauce ingredients to a small pot and boil over medium heat until the sauce is glossy and slightly thick. It will have a slight caramelized taste but be careful not to burn it. (If you prepare the sauce in advance, it will further thicken when cooled down).