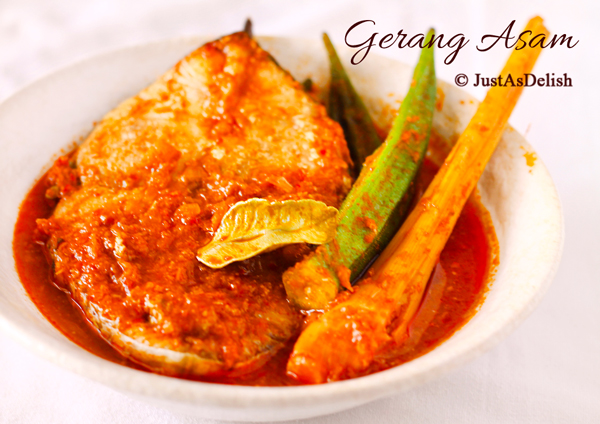 Nyonya Ikan Asam Pedas quite often appears on my weeknight dinner (thanks to my mama's frozen curry paste). I know I still owe you readers the recipe.. coming soon 🙂 I got intrigued to try a similar Nyonya dish – Gerang Asam  (Spicy & Sour Fish Curry), also a popular Malacca Nyonya dish. This recipe is from "Nyonya Kitchen", the cookbook by a Baba Nyonya descendant, who is none other than Chef Florence Tan. She has been teaching & promoting Nyonya cuisine for 50 years.
Baba and Nyonya are descendants of a group of unique Chinese in the Straits Settlements, Malaya (now part of Malaysia), particularly in the state of Malacca. They refer to themselves as "Baba" because of their culture, namely through intermarriages between communities of Chinese and Malay. Over the years, many of the Baba Nyonya have also moved to Penang and Singapore.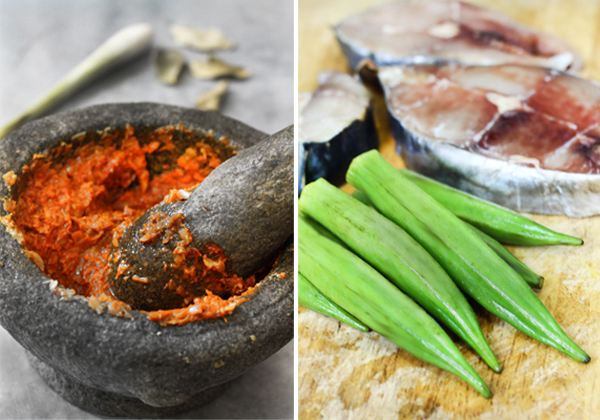 The influence of Malay cuisine give birth to 'Nyonya' dishes using Malay spices, dishes such as Chicken Kapitan – a dry chicken curry; Inchi Kabin – Nyonya Fried Chicken. There is however difference in taste & recipe for the Nyonya dishes from Malacca and dishes from Penang (that I grew up eating).
Usually I would be lazy and blend the paste. This time, I pounded with all my might using my grandma's pestle and mortar (exactly how the Babas used to make the paste). Using mama's tip, I double the paste and keep half frozen. Homemade frozen curry paste (packed for 2 pax serving each) is my saviour on busy weekdays. Just thaw the paste, cook with protein/veggie and you can have a curry dish under 30 minutes.
Even though there is a slight difference in ingredients for Gerang Asam & Asam Pedas (another spicy sour fish curry), the 2 curries gives 2 very distinct taste, and both are equally delicious! If you want to know what is the difference, you'll have to give both of them a try! Best served with a plate of hot rice, I guarantee you will go back for 2nds and 3rds.
I am submitting this dish to:
Malaysian Food Fest , Melaka Month hosted by Cindy of yummylittlecooks
Merdeka Open House : Uniquely Malaysia hosted by Babe in the City – KL
Muhibbah Malaysia Monday hosted by Shaz of TestWithSkewer
Other Nyonya Malacca recipes:
Gerang Asam (Spicy & Sour Fish Curry)
Delicious Spicy & Sour Fish Curry that will gets you going back for 2nds and 3rds
Author:
Florence Tan - Recipes from the Nyonya Kitchen (as seen from Intan's Kitchen)
Ingredients
175ml Cooking Oil
3 cups Tamarind Juice (750 ml water + 75 gm tamarind pulp)
900g Mackerel - sliced into 11/2 inch pieces
2 Kaffir Lime Leaves (optional)
½ teaspoon Sugar
2½ teaspoon Salt
20 young Lady Fingers / Okra
Finely Ground Paste (with pestle & mortar or food processor)
Instructions
Heat the cooking oil and fry finely ground paste until fragrant.
Add the tamarind juice and bring to a boil. Simmer for 4 minutes.

Increase the heat and add fish, kaffir lime leaves, sugar and salt. Cook for 4 minutes.
Add lady's fingers and cooked for another 5 minutes until the fish is done and lady's fingers are tender.

Finely Ground Paste
If using pestle & mortar, add the ingredients bit by bit and pound until it become fine paste. Might take more than 15 minutes.
If using food processor, add all the ingredients and grind until it become fine paste.
If using blender, add all the ingredients and the oil from the main ingredient list to help it grind (because blender needs liquid to blend). Then you do not need more oil when cooking the paste.