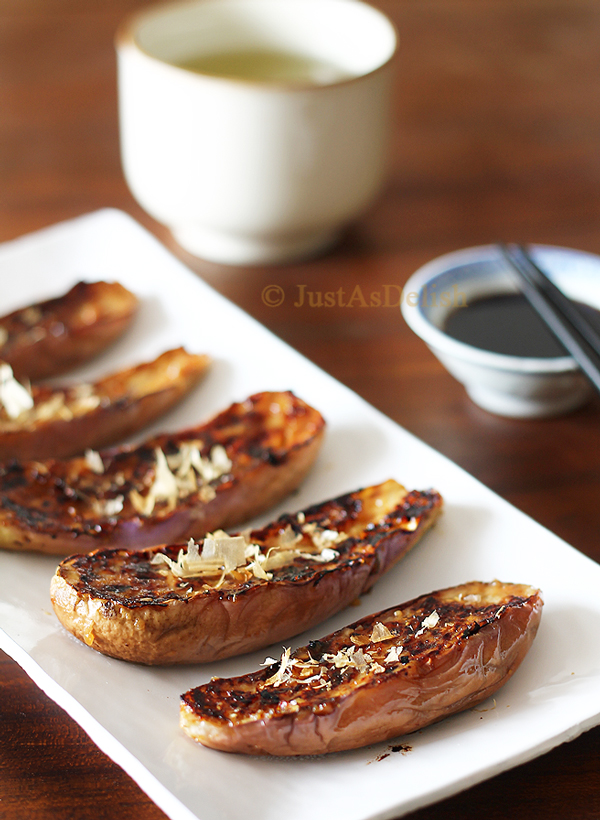 Eggplant (or aubergine) is one of my favourite vegetable. Whenever I come across an eggplant recipe, my heart gives me a tug..
I have not heard of Nasu Dengaku (Grilled Miso Glazed Eggplant) until I saw the recipe topping up in a number of blogs recently.  No wonder I've not tasted this dish as it's a fairly typical Japanese dish you'd get at an Izakaya (Japanese tapas bar). I don't think I've been to an Izakaya..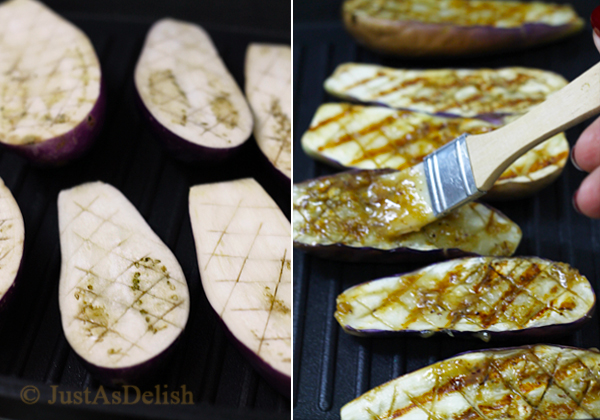 All you do is to grill the eggplant to bring out its smokey flavour, either on the grill over the stove top or in the oven toaster. Grilling over stove top is a little tricky, just turn them over as gently as possible because the cooked eggplant can fall apart. Then serve with a glossy, salty-sweet dengaku (田楽) sauce, adding a well balanced sweet earthy flavour of its own. Place it back under a toaster oven for a minute caramelizes the miso sauce adding even more depth. It's great as an appetizer with some beer or as a main with some hot white rice.
You can double the Dengaku sauce ingredients and keep it in the fridge. The sauce is great with all kinds of grilled veggies, fish or even firm tofu. Just warm the chilled sauce before using.

Nasu Dengaku (Grilled Miso Glazed Eggplant)
Nasu Dengaku (Grilled Miso Glazed Eggplant) is a classic Japanese way serving eggplant. A fairly typical Izakaya (Japanese tapas bar) dish served with beer.
Author:
Adapted from Justhungry.com
Recipe type:
Appetiser, Main
Ingredients
Grilled Eggplant
4 small Eggplants - cut in half lengthwise
Vegetable oil for brushing
Toasted Sesame seeds
Bonito Flakes (optional)
Dengaku Sauce
1 tablespoon Sugar
1 tablespoon Mirin
1 tablespoon Cooking Sake
3 tablespoon Miso
1 teaspoon Grated Ginger
1 teaspoon Sesame Oil
1 tablespoon Water
Instructions
Slice the eggplant in half lengthwise and score a criss-cross pattern into them to help retain the sauce.
Brush the eggplant surface with oil and place onto a grill pan over stovetop (and cover) or in a toaster oven until the tops are a dark brown and the eggplant is cooked when you can pierce through easily with a skewer. It takes about 10 minutes for small eggplant in a toaster oven or 5-10 minutes on the grill pan.
Give the sliced sides a good coating of Dengaku sauce then put under the toaster oven to get a little caramelization (be careful, this sauce will burn quickly).
Garnish with sesame seeds/bonito flakes/spring onion. Serve immediately with rice.
Dengaku sauce
Place all the ingredients in a small pan, and stir over low heat. Adjust the consistency by adding drops of water. It should not be too runny, but should flow thickly, rather like a thick ketchup.